Harrison Bryant went from rookie wildcard to important insurance in a week. With David Njoku requesting a trade, Harrison Bryant may have just moved to the second tight end role. Or the Browns could choose to find a veteran if they trade Njoku. Either way, there will be a role for the fourth-rounder out of Florida Atlantic, but we will get to that later.
Why Harrison Bryant?
Kevin Stefanski. The man loves tight ends and uses them effectively in the zone system he employs. Alex Van Pelt said it best when asked how they would use the abundance of receiving talent they have.
"One week, it could be a three-tight-end day, and the next week, it could be a three-wide receiver-day,'' he said. "We're going to try to give ourselves the best chance to beat you each week, and whatever personnel group that calls for, we feel like we have good people in those positions and depth at those positions, too.

"If it is a day where we come out with two running backs, a fullback, a halfback, and two wide receivers in our regular package, we are going to put ourselves in the position to win each game, and that might look different each week.

"We feel like we have the players at the positions where we have the ability to dictate on our terms how we are going to run the offense each week."

– Alex Van Pelt
Coach pretty much sums up why you would take Bryant and how he would be used right there. Bryant will need some time to grow, but his career at Florida Atlantic proved one thing, the guy can catch a football.
Harrison Bryant, Tight End, Florida Atlantic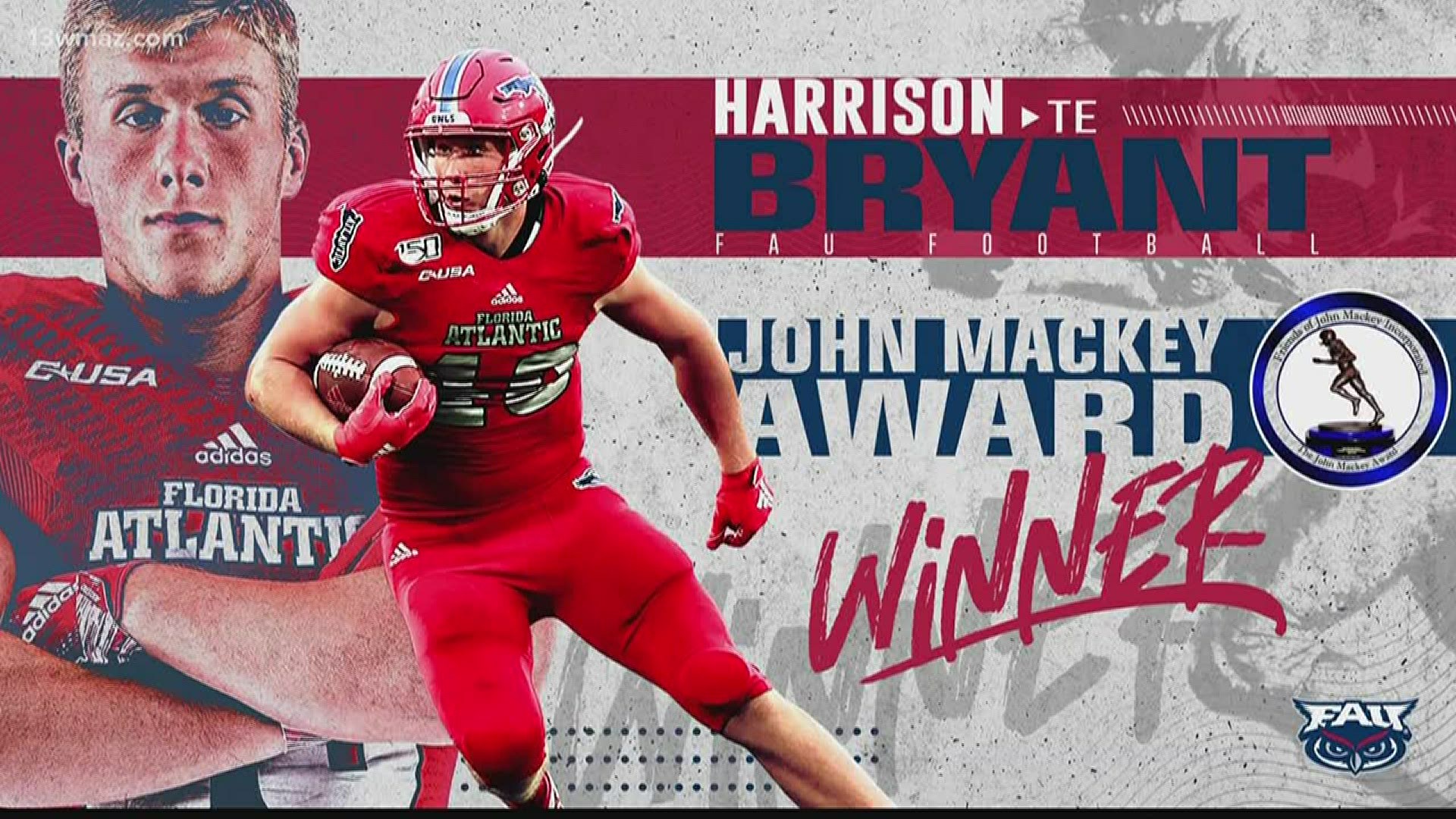 Bryant came to FAU after first being recruited as a defensive player and nearly going to Samford. He would get into six games as a freshman making little impact with six catches for 63 yards. Even with the minimal impact, the coaches at FAU knew Bryant was as talented as they come. Bryant moved to the top of the depth chart as a sophomore and caught 32 passes hauling in five touchdowns. he would remain the starter for the remainder of his college tenure.
2018
In 2018 Bryant was able to put up 45 catches for 663 yards along with four scores in a run-heavy offense. The offense revolved around current Buffalo Bills running back Devin Singletary along with Pittsburgh Steelers back Kerrith Whyte. With talent like that at running back, it makes sense they were the featured talent. 2019 would be Bryant's time to shine.
2019
In 2019, Bryant led FAU in receptions, receiving yards, receiving touchdowns, and scrimmage yards. He finished tied for second in total touchdowns. He was an NCAA All-American, and almost any publication that had an award handed him All-America and All-Conference-USA honors. Pro Football Focus named him the C-USA Player of the Year. Bryant would also become the first John Mackey award winner ever from a group of five school, ever.
While Bryant's receiving got him drafted Pro Football Focus's article College football's best at everything on offense found one more reason why Bryant was the best tight end in the country last season.
BEST RUN-BLOCKING TE: HARRISON BRYANT, FAU

Bryant finishes as arguably the most well-rounded tight end at the FBS level, as he also led in receiving grade and overall grade. FAU running backs averaged more than 2.0 yards before contact when rushing around the tight end spot this season.

– PFF
Will Bryant be that effective in the NFL? Who knows. It just shows that the young tight end is willing to get out there and do his best 100% of the time.
Impact on 2020
Bryant's impact as a rookie in 2020 could take two paths. The first being a developmental third tight end that could see some red zone and three tight end sets. The other path could end up being the second tight end in an offense that is geared around two tight ends. We all know that a third tight end in any offense would struggle to get a lot of playing time. Should Bryant all the sudden find his way onto the field with free agent Austin Hooper, things could get interesting.
Bryant has the receiving skills that could flourish in Stefanski's system. Last season Kyle Rudolph and Irv Smith combined to catch 75 passes and scored eight touchdowns. Bryant catching 30-plus passes in his rookie season would be a significant impact on a talent-laden Browns offense. It looks like we may not know how vital Bryant will be until the Njoku situation is resolved. Either way, Bryant will have a role in 2020. It will be up to him how much he takes advantage of his opportunities.
All Rookie Spotlights:
---
Follow me on Twitter for more great content @WeirdJBronavich.
Be sure to check out our merch store powered by teespring.com and pick up something!
Discuss this and everything to do with sports at the Overtime Heroics forums!