7/17/20 – WRITTEN BY: TOM WITT – SACTOWN CROWN KINGS REPORT
**SPIKEBALLTOM'S SACRAMENTO KINGS PREDICTIONS FOR THE SACRAMENTO KINGS NBA SEASON 'RE-START'**
PART 3 OF 4
– GAMES 5 & 6 –
– ALSO IN THIS ARTICLE –
'FIRST PLAYOFF APPEARANCE IN 13 SEASONS…WITHOUT SAC FANS IN ATTENDANCE?'
&
'IS 2020 THE KINGS BEST CHANCE TO MAKE PLAYOFFS IN THE NEAR FUTURE?'
SACRAMENTO KINGS GAME PREDICTIONS
– PART 3 OF 4 –
Read ahead for part 3 of 4 of SpikeballTom's predictions for the fifth and sixth games of eight in the NBA season restart – 8/7 against the Brooklyn Nets and 8/9 against the Houston Rockets.
Part 1 and Part 2 of SpikeballTom's Sacramento Kings Season Re-Start Preview
EIGHT GAMES TO END 13 YEAR PLAYOFF DROUGHT
The Kings will face four 'current playoff' teams in their quest to end their 13 year playoff drought when the NBA season resumes on 7/30 (hopefully).
Currently Sacramento sits

3.5 games back of the 8th seed

Memphis Grizzlies (whom the Kings finished 3-1 against this season…).
The Kings are amongst a menagerie of teams – including the Memphis Grizzlies, New Orleans Pelicans, Portland Trail Blazers, San Antonio Spurs – vying for the 8th or 9th spot in the west, and a chance at the playoffs!
KINGS TO FACE FOUR 'PLAYOFF' TEAMS
Below is the Kings schedule for the remaining eight games:
7/31: San Antonio Spurs
8/2: Orlando Magic
8/4: Dallas Mavericks
8/6: New Orleans Pelicans
8/7: Brooklyn Nets
8/9: Houston Rockets
8/11: New Orleans Pelicans
8/13: Los Angeles Lakers
(https://www.sactownroyalty.com/2020/6/26/21305053/sacramento-kings-nba-orlando-schedule-release-espn-walty-disney-world-spurs-lakers)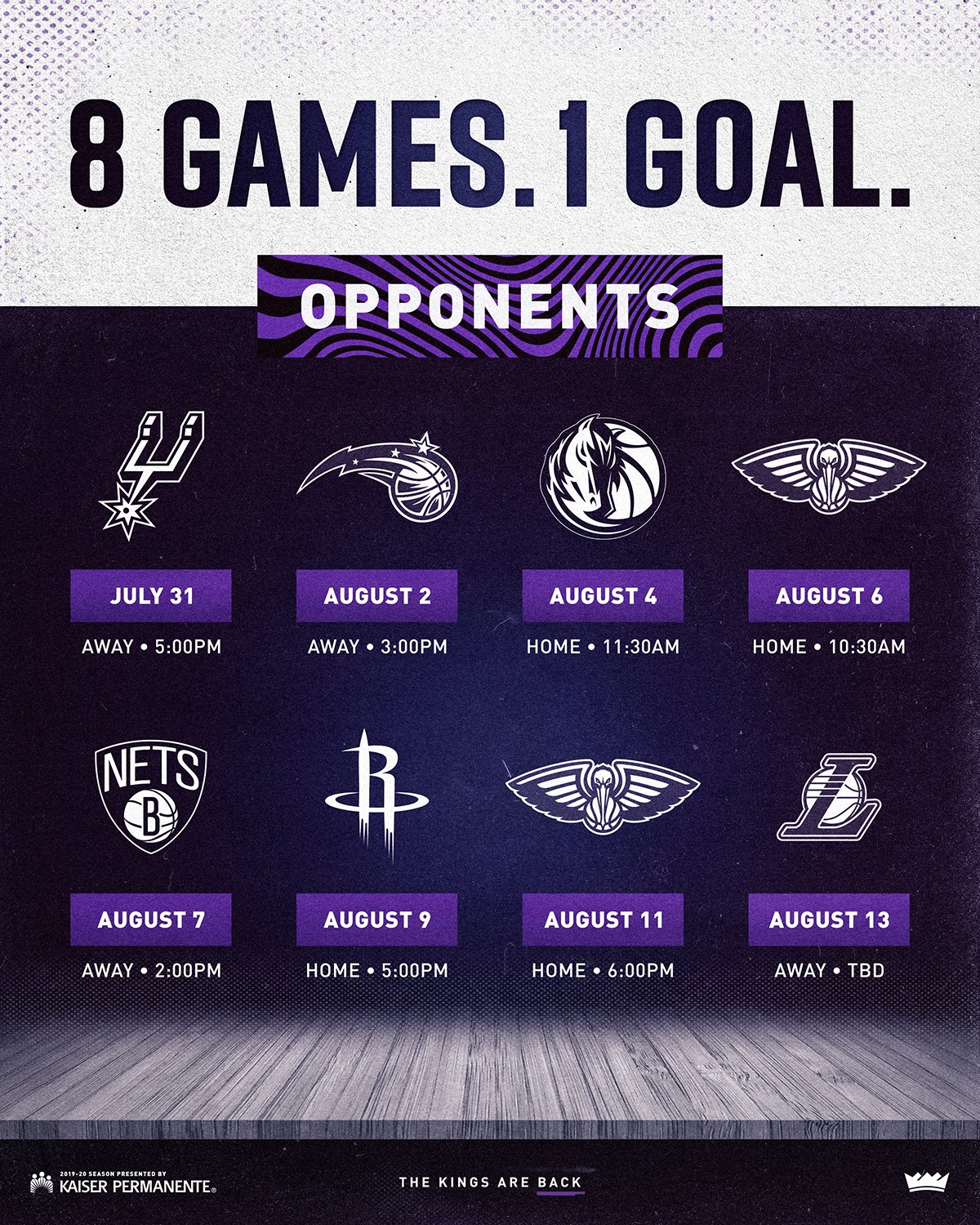 SACRAMENTO KINGS ODDS
Below are odds, and a breakdown of the Kings playoff chances by Ben Zweiman of Draft Kings Nation –
Championship Odds: +50000
Conference Winner Odds: +25000
8th Seed Odds: +1100
To Make Playoffs: Yes (+1100), No (-10000)
"As we can see, the Kings odds to win it all were steep to begin with. They improved a bit from before the season went on break with the new format giving them a shot at making the playoffs. The Kings have a lot of work to do in eight games and will need help from a few teams, but it's possible. Sacramento is 3.5 games back of the Grizzlies along with the Blazers and Pelicans. The Kings play the Pels twice, so they can make up a lot of ground there. Issue is they don't play the Blazers or Grizzlies."
Will the Kings go over or under their win total?
Over 3.5 +175
Under 3.5 -240
Schedule: SAS, ORL, DAL, NOP, BKN, HOU, NOP, LAK
(https://dknation.draftkings.com/2020/6/29/21307290/sacramento-kings-schedule-nba-season-restart-2020-tv-info-dates-times-opponents-playoff-odds)
SPIKEBALLTOM'S SACRAMENTO KINGS PREDICTIONS!
In my opinion, it feels like the Kings need to win at least 5 games to have a chance at the playoffs.
Though, almost more importantly, they need to beat the New Orleans Pelicans AT LEAST once, but most likely twice to have a chance at the 8th or 9th seed.
In their only meeting of the season on 11/22/19 in Brooklyn, where the Kings got STOMPED – 116-97.
Sacramento was without De'Aaron Fox, Bogdan Bogdanovich and Marvin Bagley III in this meeting due to injuries.
Harrison Barnes was the high scorer for the Kings with 18 points.
Justin James, rookie guard out of Univ. of Wyoming, played 33 minutes and scored a career high 14 points to go along with 3 assists and 3 rebounds
Sacramento shot an insanely LOW 15% from 3 point range – 4/26. WOW.
VIDEO: Game Highlights – Nets vs. Kings
SPIKEBALLTOM'S SACRAMENTO KINGS PREDICTIONS:
I PREDICT A WIN!
The Nets will still be without stars Kevin Durant and Kyrie Irving.
Spencer Dinwiddie will be out of the season restart as well.

This is a game the Kings NEED to win.
Up to this point, the Kings split the season series with the Houston Rockets 1-1.
In their first meeting in Houston on 12/9/19 ended in EXCITING fashion!

With just over 20 seconds left in the game – former King and Pizza Guy Ben McLemore hit a three point shot to give the Rockets a three point lead 116-113.

With 8 seconds left – Buddy Hield hit a leaning three pointer to tie the game at 116!

Russell Westbrook drives down the court, full speed ahead… gets to the rim…lays it in… the Rockets take the lead with 1.0 seconds left – 118-116.
The Kings set up for one last chance… a few Kings run off screens… Nemanja Bjelica comes open six feet behind the three point line… sets his feet… puts the shot up before the buzzer goes off…. IT'S IN!
KINGS WIN 119-118!
VIDEO: Game Highlights – Nemanja Bjelica GAME WINNER!
In their second meeting of the season on 12/23 in SacTown the Kings fell to the Rockets 113-104.
De'Aaron Fox had himself a GAME!
Fox scored 31 points, grabbed 9 rebounds and dished out 6 assists.
No other Kings scored over 12 points.
The Rockets star duo of James Harden and Russell Westbrook were just too much for the Kings.
James Harden scored 34 points. Russell Westbrook scored 28 points, 7 rebounds, 6 assists.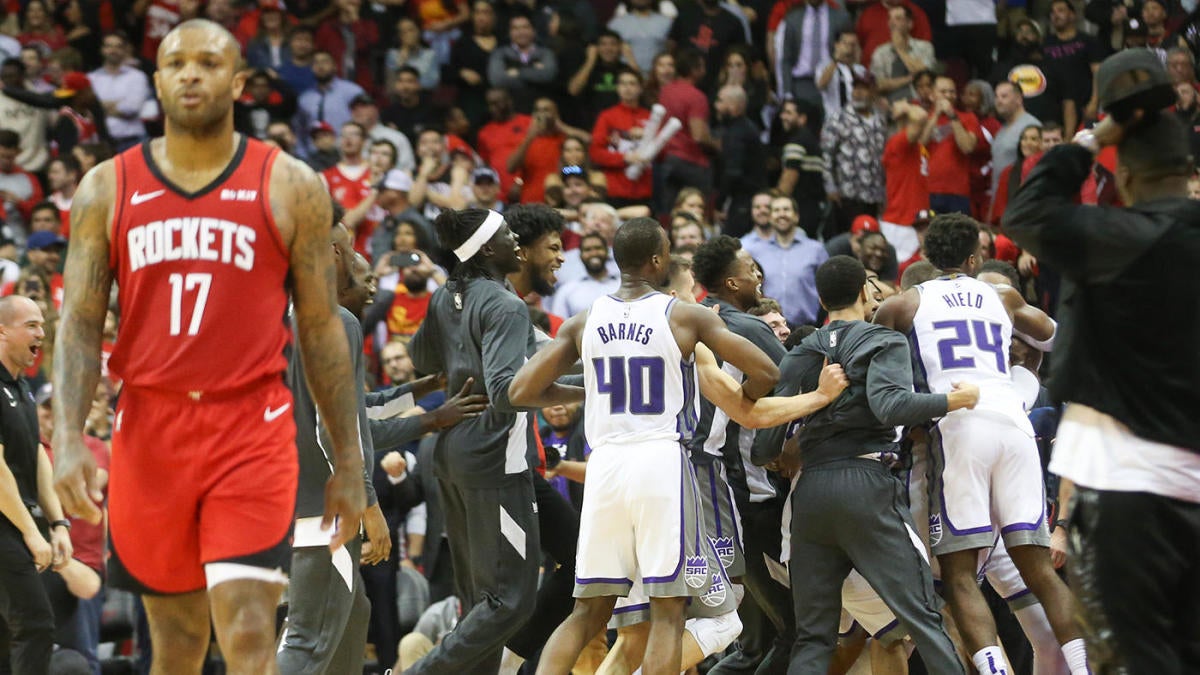 SPIKEBALLTOM'S SACRAMENTO KINGS PREDICTIONS:
I PREDICT A LOSS!
The Kings will have their hands full trying to cover the Rockets star duo of Harden and Westbrook.
The Kings saw some success playing a 'Box and 1' defense – essentially a zone defense with four players protecting the paint, with one player on top usually covering the 'star' player.
Cory Joseph did a great job covering James Harden in their previous meetings.
I think that Kings have a chance to hang with Houston if they can hold Harden and Westbrook to under 55 points combined and don't let another Rocket player score over 15 points or so.
SLOW STARTS IN SAC-TOWN
The Kings have been plagued by slow starts games, quarters, and the season in general.
According to 'Sacramento Kings: Keys for the Kings to surge in the season's second half', "… during the 0-5 start at the beginning of the season, the majority of the Kings' woes occurred in the 3rd quarter and the Kings were outscored 158-95 during this stretch."
Consistency will be key!
FIRST PLAYOFF APPEARANCE IN 13 SEASONS…WITHOUT SAC FANS IN ATTENDANCE?
It would be AWESOME if the Kings had an amazing run, and made the playoffs to end their 13 season drought.
A question I have thought about as a Kings fan is :
DO WE REALLY WANT OUR FIRST PLAYOFF TRIP IN 13 SEASONS TO NOT HAVE ANY GAMES IN HELD SACRAMENTO?
IN OUR BRAND-SPANKING NEW DOWNTOWN SACRAMENTO GOLDEN1 ARENA, WITH COWBELLS CLANGIN', THE 6TH MAN GOIN' WILD!
IT'S GIVING ME CHILLS JUST THINKING ABOUT IT!
Just a thought that crossed my mind…
BIBBY, K-MART, ARTEST … OH MY!
Sacramento currently holds the longest postseason-less drought in the NBA.
13 seasons.
The last time the Kings made the playoffs was 2006.
That was with a team featuring an aging Mike Bibby, a sharp shooting Kevin Martin, and a suspended Metta…. Ron Artest.
IS 2020 THE KINGS BEST CHANCE TO MAKE PLAYOFFS IN THE NEAR FUTURE?
This is the Kings 'best chance' to make the playoffs.
With an injured Warriors squad not making the playoffs this season, there will be one less spot in the already playoff heavy west in the upcoming seasons.
There are also many teams near-ish to the Kings that are only going to improve – Memphis, New Orleans, Portland, even Phoenix with their young core.

This season may be the Kings best chance – without a change to a sixteen team playoff system, regardless of eastern or western conference, etc. – to make the playoffs in the near future.
**CHECK BACK FOR PART 4 OF 4 OF SPIKEBALLTOM'S PREDICTIONS!**
GO KINGS!
-SPIKEBALLTOM
READ PREVIOUS ARTICLES BY SPIKEBALLTOM:
REFERENCES: