– IN THIS ARTICLE –
**Kings vs Heat Game Breakdown**
**

NEW Section

–

The Positive and The Negative

**
**NBA and Kings Regular Season Schedule**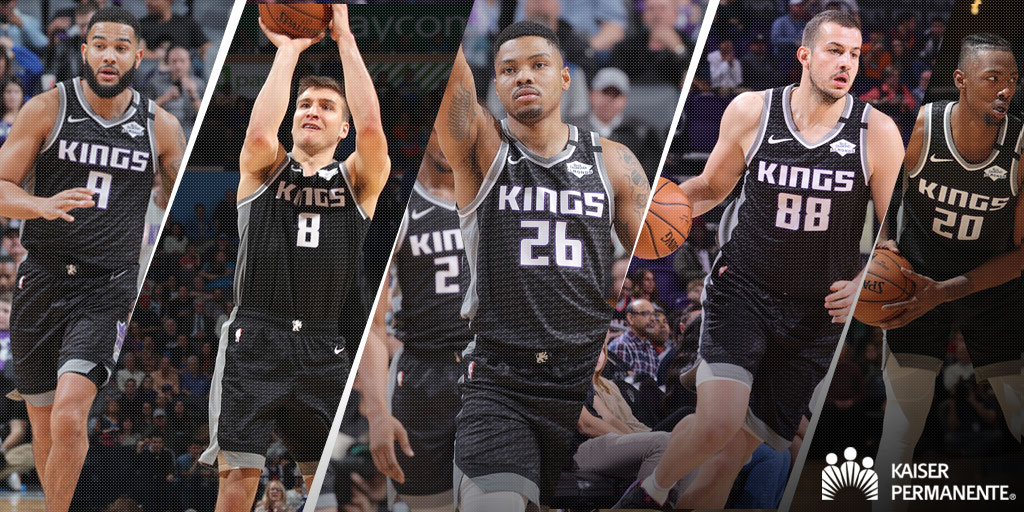 By: Tom Witt – 'SpikeballTom'
The NBA is Back!
Each team in the NBA 'bubble' will play three preseason games before the regular season begins 7/30 – 7/31 for the Kings. – Read more about my King's regular-season bubble predictions HERE.
Depleted Kings Fall to Sharp Shooting Heat
Firstly, Sacramento was without many of their top players for various reasons – Harrison Barnes, De'Aaron Fox, Marvin Bagley III, Richaun Holmes, Alex Len… am I forgetting anyone?
The Heat got off to a fast start – starting off 7/9 from 3-point range – the young Kings battled back multiple times in the game – keeping the game within 7 points for most of the second half – but ended up falling to the Heat 104-98.
Working Off the Rust
The Kings looked a bit rusty for the first quarter and change (10 minute quarters for this first preseason game ONLY).
Sacramento was down by double digits most of the first quarter.
A smooth alley-oop from Yogi Ferrell to Da'Quan Jeffries gave the Kings a spark – and brought the game 23-27 early in the 2nd quarter. After that, the Kings started playing better.
VIDEO – Yogi to Jeffries ALLEY-OOP
Second Half Action
Sacramento was down double digits early in the 3rd quarter – but the young Kings kept chipping away – ending the 3rd quarter down two points at 71-73.
In addition, Buddy Hield scored 15 points through three quarters.
The game ended with both coaches playing younger players – with Kyle Guy and Justin James getting a good chunk of minutes and experience!
In conclusion – The NBA is BACK!
VIDEO: Game Highlights
Sacramento Kings Stats
Buddy Hield: 19 points, 5 rebounds
Nemanja Bjelica: 13 points, 3 assists
Kent Bazemore: 11 points, 4 rebounds
DaQuan Jeffries: 12 points
Miami Heat Stats
Jimmy Butler: 9 points, 3 rebounds
Duncan Robinson: 18 points, 5 three-pointers
Tyler Herro: 15 points, 6 rebounds
Andre Iguodala: 11 points
The Positive
Firstly, the Kings looked good when moving the ball!
Above all, the offense was FLOWING when the ball didn't hit the floor and kept moving between Kings players – creating scoring opportunities.
Nemanja Bjelica looked like he was in the FLOW early.
With his hair, in addition to his performance.
For instance, Belli got to the free throw line and made his free throws – sinking 7/8 free throws in the game.
Buddy Hield started off sloppy – but played a very positive last 20 or so minutes – scoring 19 points and looking more 'in system' – rather than playing isolation basketball.
In addition, Da'Quan Jeffries and Jabari Parker looked good! Both players were moving well, scoring inside and outside, and gave the Kings a needed spark off the bench!
The Negative
The Kings looked RUSTY and sloppy to start the game and at points throughout.
Bogdan Bogdanovich went 1-5 shooting, while committing FOUR fouls. In other words, he was a non-factor.
Buddy Hield looked good overall – but committed three completely unforced turnovers.
EIGHT GAMES TO END 13 YEAR PLAYOFF DROUGHT
The Kings will face four 'current playoff' teams in their quest to end their 13 year playoff drought when the NBA season resumes on 7/30 (hopefully).
CURRENTLY, SACRAMENTO SITS 3.5 GAMES BACK OF THE 8TH SEED MEMPHIS GRIZZLIES (WHOM THE KINGS FINISHED 3-1 AGAINST THIS SEASON…).
The Kings are amongst a menagerie of teams vying for the 8th or 9th spot in the west, and a chance at the playoffs!
Those teams include – Memphis Grizzlies, New Orleans Pelicans, Portland Trail Blazers, San Antonio Spurs.
KINGS TO FACE FOUR 'PLAYOFF' TEAMS
Below is the Kings schedule for the remaining eight games:
7/31: San Antonio Spurs – 8/2: Orlando Magic – 8/4: Dallas Mavericks
8/6: New Orleans Pelicans – 8/7: Brooklyn Nets – 8/9: Houston Rockets
8/11: New Orleans Pelicans – 8/13: Los Angeles Lakers
(https://www.sactownroyalty.com/2020/6/26/21305053/sacramento-kings-nba-orlando-schedule-release-espn-walty-disney-world-spurs-lakers)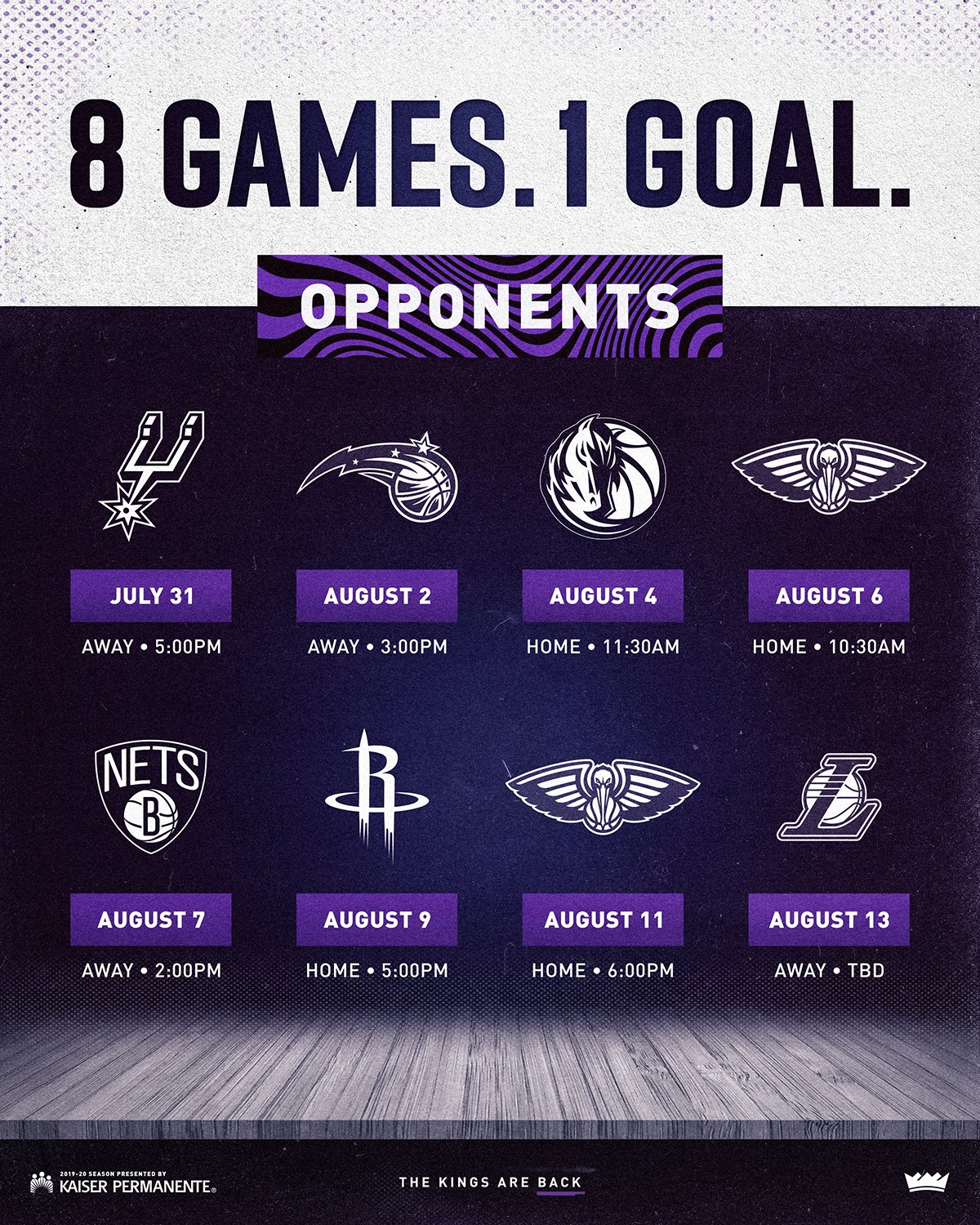 SACRAMENTO KINGS ODDS
Below are odds, and a breakdown of the Kings playoff chances by Ben Zweiman of Draft Kings Nation –
Championship Odds: +50000
Conference Winner Odds: +25000
8th Seed Odds: +1100
To Make Playoffs: Yes (+1100), No (-10000)
"As we can see, the Kings odds to win it all were steep to begin with. They improved a bit from before the season went on break with the new format giving them a shot at making the playoffs. The Kings have a lot of work to do in eight games and will need help from a few teams, but it's possible. Sacramento is 3.5 games back of the Grizzlies along with the Blazers and Pelicans. The Kings play the Pels twice, so they can make up a lot of ground there. Issue is they don't play the Blazers or Grizzlies."
WILL THE KINGS GO OVER OR UNDER THEIR WIN TOTAL?
Over: 3.5 +175
Under: 3.5 -240
Schedule: SAS, ORL, DAL, NOP, BKN, HOU, NOP, LAK
(https://dknation.draftkings.com/2020/6/29/21307290/sacramento-kings-schedule-nba-season-restart-2020-tv-info-dates-times-opponents-playoff-odds)
Go Kings!
-SpikeballTom
Recent Sacramento Kings Articles By Tom Witt
References
Go Kings!
Follow me on Twitter at  @Tomtoowitty and follow us @oth_basketball for more great content!           
Also, be sure to check out the Overtime Heroics Forums page to join in on the discussion!