7/28/20 – WRITTEN BY: TOM WITT – SACTOWN CROWN KINGS REPORT
Kings Beat Clippers in Final Preseason Scrimmage – Face Spurs FRIDAY in Season Opener
Big Shot Belli! The Sacramento Kings beat the Los Angeles Clippers 106-102 in their third and final game of the NBA restart scrimmages.
21 Point Comeback
Sacramento outscored the Clippers 33-19 in the fourth quarter. Consequently, that late push helped the Kings nab a victory against the championship contending Los Angeles Clippers.
Big Shot Belli
With just under 30 seconds left in the game, the Kings were trailing 100-99.
Coming out of a time out, Nemanja Bjelica inbounds the ball to Barnes.
Firstly, Belli runs off a screen set by Bogdanovich. As a result of that great screen, Nemanja turns and receives the pass from Barnes above the arc the top of the key.
After that Belli set his feet, and drained a DEEP three pointer to give the Kings the lead!
Above all, that a lead which they would never give up.
Certainly a BIG shot by Bjelica – which were his FIRST points of the game!
Bright Spots for Kings
Bogdan Bogdanovich scored 21 points on 4 of 10 shooting from three point range.
Richaun Holmes and Harrison Barnes Make 'Bubble' Debut!
Holmes scored six points in 18 minutes. That was in addition to grabbing five rebounds.
Barnes scored 12 points. Along with grabbing six rebounds in 21 minutes.
De'Aaron Fox played in his second game since returning from suffering an ankle injury in practice. Fox recently said he feels '100%'.
Fox played 27 minutes while scoring 12 points. That was in addition to dishing out six assists and grabbing four boards.
The DaQuan Jeffries Show
DaQuan Jeffries continued his STELLAR play during the Kings three restart scrimmages.
Against the Clippers on Monday Jeffries scored 11 points. Where he sank four of six shots from the field. That was in addition to playing strong defense.
Similarly to his previous appearances, Jeffries made a positive difference when he was in the game.
As a result, Jeffries has shown he deserves a spot in the rotation.
In addition, Jeffries is listed at 6'5″ 230 lbs. However, in terms of size he is between the 'typical' shooting guard and small forward position. Certainly though, his big, strong body and scoring skills partially make up for that.
Where will Jeffries fit into the Kings lineup as the regular season begins?
Video – Scrimmage Highlights
Season Opener Against Spurs FRIDAY
The Kings play the San Antonio Spurs Friday in the season restart opener. Which will be the first of eight games in the season restart.
Above all, the Kings are mostly healthy for the first time this season.
Consequently, the Kings have a shot at making the playoffs.
To sum up, I am excited for the season to start!
PART 1 AND PART 2 AND PART 3 OF SPIKEBALLTOM'S SACRAMENTO KINGS SEASON RE-START PREVIEW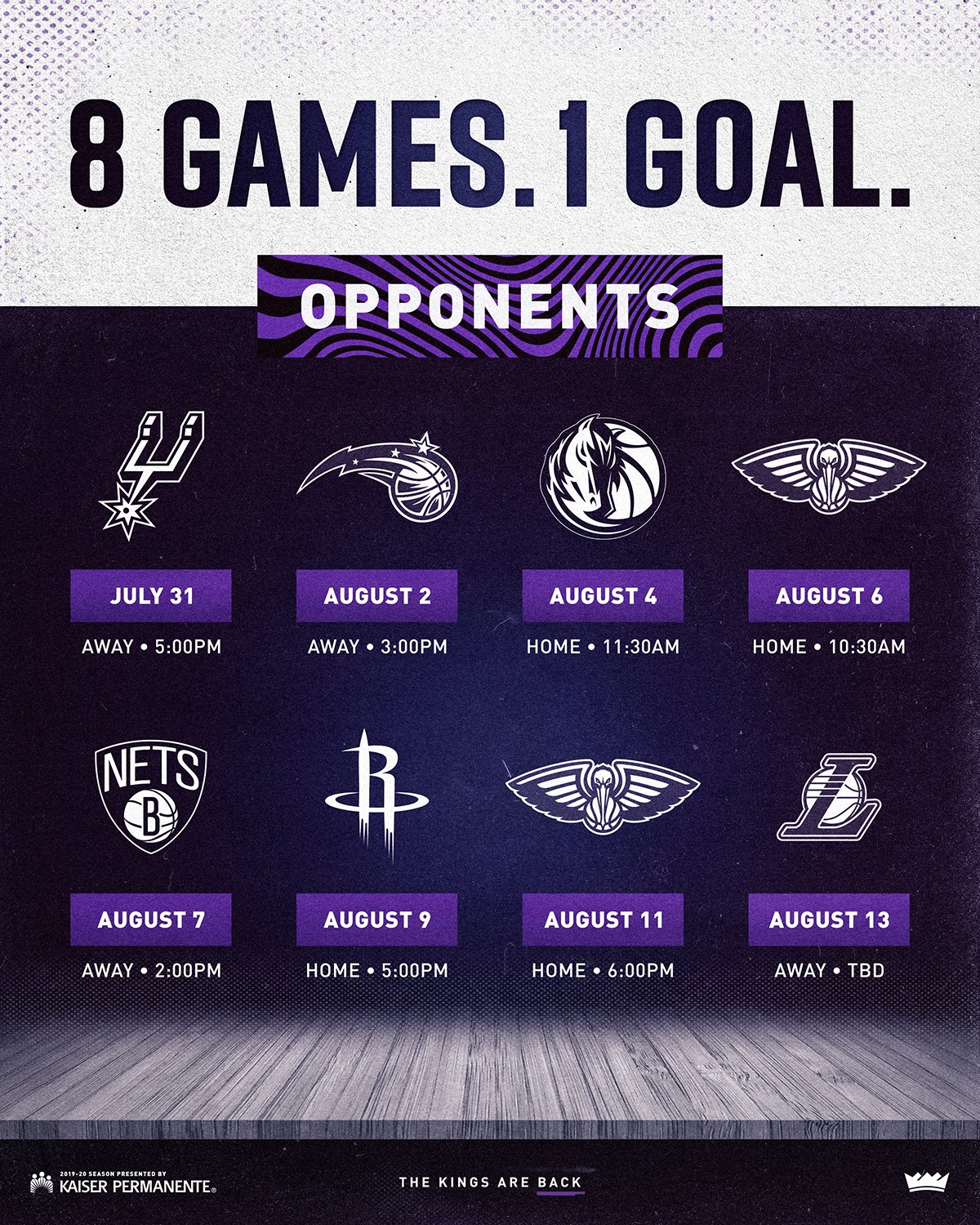 GO KINGS!
-SPIKEBALLTOM
More Kings Articles by SpikeballTom
References
Kings vs Clippers, 7/28/20, KHTK 1140 AM, https://khtk.com/12932/kings-clippers-scrimmage-recap/