The Mets swept the Boston portion of their four-game series with the Red Sox on Tuesday night. New York won by a score of 8-3, another strong showing from an offense that struggled in their opening series. They will look to keep the good times rolling at Citi Field.
Bats show up again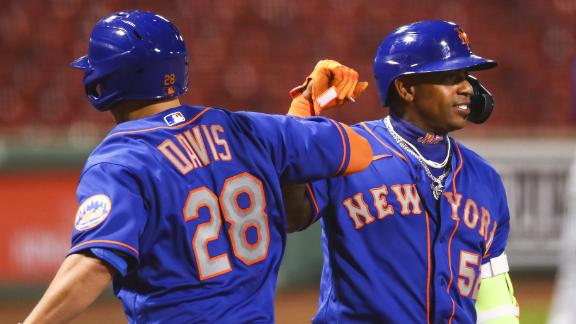 The Mets got their offense going in the second inning with a three-run rally. Robinson Canó picked up his first extra-base hit of the season with an RBI double. Additionally, Amed Rosario knocked in two runs with a single. J.D. Davis added to the scoring by smacking his first homer of the year. It was a two-run shot that banged off the Pesky Pole.
While Pete Alonso has continued to struggle, Davis and Jeff McNeil both looked very good at the dish in Boston. McNeil picked up his second straight multi-hit game, and also chipped in an RBI double. In addition, Brandon Nimmo continued his solid start to the season with an RBI double of his own.
Peterson performs well in his debut
Former first-round draft pick David Peterson made his Major League debut, and he impressed. He picked up the win, pitching 5.2 innings and allowing seven hits, two walks, and two runs, with three strikeouts. Additionally, he became the first Mets pitcher since Steven Matz in 2015 to get the win in his Major League debut. Peterson is expected to hold down his rotation spot until Marcus Stroman returns from his calf injury.
Up next
The Mets will now head back to Citi Field for two more games with the Red Sox. Jacob deGrom will be on the hill for them against Nathan Eovaldi for the Red Sox. deGrom was on a pitch limit on Opening Day, but he still managed to rack up eight strikeouts in five innings, while only allowing one hit and no runs. Eovaldi is also coming off a strong showing on Opening Day, when he allowed one run in six innings of work. First pitch tonight is at 7:10 P.M. EST.
Excited for the games? Head over to our forums to discuss them, and make sure to follow me on Twitter @Mathias_A_K