IT'S REALLY HAPPENING!! After four painfully slow months without basketball, the NBA is finally returning. As much as I enjoyed watching replays of Magic and Kareem dominate Larry Bird and the rest of the league on NBATV night after night, I can officially say I am beyond ready to get to watch LeBron James and the Los Angeles Lakers play live, meaningful basketball again. In case you weren't already counting down the hours until the first official game, here are 17 reasons to be excited about Lakers basketball returning!
1. LeBron & AD
Reasons 1-17: LeBron James and Anthony Davis. That is all. Thank you for reading.
But seriously, LeBron and AD really are that fun to watch. Throughout his career, LeBron has had to make do with some pretty forgettable teammates (see Cedi Osman, Jordan McRae, Greg Oden…), but he's also played with a handful of all-time talented players in D-Wade, Chris Bosh, Kevin Love, Ray Allen, and a (sometimes) healthy Kyrie Irving. That's what makes the fact that Anthony Davis has already emerged as one of LeBron's best-ever teammates in their first year playing together so unbelievable. Yet, 63 games into this season, that's already the case.
Dynamic Duo
So far this season, the duo has proven to be a nightmare offensively for other teams, outscoring opponents by 10.7 points per possession when they are on the floor together, the eighth-best total for any pairing in the league. The emergence of LeBron's transcendent passing ability has also been particularly beneficial for AD, who has been on the receiving end of 169 assists from the league's assist leader (10.6 APG), more than double the amount provided for the next teammate on the list in Kentavious Caldwell-Pope (73). That's the Walter White level chemistry you want to see between your team's biggest stars.
The Secret Sauce?
But what is the Krabby Patty formula that makes these two work so well together? Well, for one, they're both top-10 (borderline top-5) players in the league, so that never hurts. And neither does the fact that both players are 6'9"+ with the skillsets of guards, skillsets that have proven to be deadly in the pick-and-roll.
If teams send help to guard the 265 pounds freight train that is LeBron James driving down the lane, then you risk leaving AD open under the basket or Danny Green with space behind the three-point line. But if you don't send help, well, this happens.
While the Lakers don't rely on the pick-and-roll as often as they perhaps should, they remain confident in their ability to utilize it when necessary. AD has spoken highly of his partner in crime:
"The two-man game pick-and-roll is tough to guard. When you have a guy like LeBron going downhill at the big, and then me rolling to the basket. You kind of have to pick your poison. He does a great job of reading it, when to pass it and when to go finish. It's been effective. We're constantly learning each other, trying to get better, and finding ways to score beside the pick-and-roll. But it's been effective for us."

via Los Angeles Lakers
The moment Anthony Davis was officially traded to Los Angeles, the Lakers title odds jumped from +800 to +390, making them the favorites overnight. In the 63 games since that moment, this pairing has been everything it was expected to be and more. With LeBron's historic assist numbers and AD's tremendous versatility, there's really no limit to the success LeBrow (Is this a thing? Why isn't this more of a thing??) can have together on the court.
2. AD for DPOY
In case the first point wasn't clear enough – Anthony Davis is really good at basketball. The Brow's dominance on offense alone is enough to put him in the conversation with the best players in the league. But when you couple his offensive skillset with his elite defensive ability, you get one hell of a special player.
After fundamentally changing the outlook of the Lakers' defense this season, AD has deservedly emerged as one of the favorites to win the Defensive Player of the Year award. With the NBA's decision to instruct voters to not consider the remaining regular season games when making their selections, we are now at the mercy of the basketball Gods (aka the NBA media members). Here's what AD has on his defensive resume this year:
Lakers' improvement in PTS/POSS
Leads the league in "STOCKS" (steals + blocks) with 3.9

1.5 STL/G & 2.4 BLK/G

2nd in defensive win shares with 4.1 (Giannis has 4.8)
T-3rd in Def +/- (2.8)
2nd lowest dfg% (Opponents shot only 38.5% against him)
And in case the numbers weren't enough, here's the tape to watch it for yourself
Achieving Milestones
As the numbers and the tape will tell you, AD is absolutely dominant on defense. The stark difference between last year's lackluster Lakers defense and this year's stalwart defensive prowess can largely be attributed to the addition of The Brow. At this point, the only thing in the way of AD achieving his goal of becoming the DPOY is the same terrifying thing that is likely to prevent LeBron from winning another coveted MVP award – Giannis Antetokounmpo. Here's one last vote of confidence for AD, though I wish I had an actual vote to make a difference.
3. Dion Waiters & JR Smith
I could bring up numbers to discuss the importance of the Lakers adding the league's newest favorite meme duo. I could also make a case for why the Lakers might still struggle to fill Avery Bradley's shoes. I'm not going to do either. Why? Because this is Dion Waiters and JR Smith we're talking about – this point is about the enjoyment of getting to see two of the wildest personalities in the game together on one team, reunited with LeBron.
JR Being JR
It didn't take long for JR Smith, or 911 as LeBron used to call him, to settle back into his troublemaking ways.
And it took even less time for JR to do, well, whatever you want to call this classic JR Swish move.
But most importantly, it's good to see that the new guys are already feeling at home with the team. Let's hope they can translate these good vibes into something special at the end of the year.
4. The Lakers are a Walking Bucket
Basketball is a simple game at its core. You put the ball in the basket. The more times you put the ball in the basket, the better. Well, I've got good news for you, Lakers fans – the Lakers are pretty damn good at putting the ball in the basket.
The Numbers
While the Lake Show may not boast the league's most efficient offense this year (see the Dallas Mavericks), they certainly have shown an aptitude for scoring at will. Currently, the Lakers lead the league in FG% (48.5%), which is likely related to the fact that they are 5th in the percentage of their shots taken that are 2 pointers (55%). When you have the size and length that the Lakers do with AD, LeBron, Javale, and Dwight, why not pound the rock inside when you can?
But since the statheads will be quick to point out that FG% is not the most accurate measure of a team's offensive production, here are a few other numbers to make Lakers fans smile. This year, we are also 4th in effective FG% (54.8%), 4th in offensive rating (113.0), 2nd in margin of victory (7.4), and 2nd in net rating (+7.4). Like I said, the Lakers are pretty damn good at putting the ball in the basket.
5. The "Battle" of LA
Since the Clippers' controversial relocation from San Diego in 1984, there have officially been two professional NBA teams in the beautiful city of Los Angeles. But if you ask anyone who has spent any time in LA, you'll know that this is not the case. LA only has one NBA team in the minds of the people – the Los Angeles Lakers. Don't believe me? Here's a quote from the Clippers Wikipedia page and, no, I didn't make this up.
[The Clippers] were frequently seen as an example of a perennial loser in American professional sports, drawing unfavorable comparisons to their historically successful city-rivals, the Lakers.

via Wikipedia
Ouch.
This year, the Clippers started 2-0 against the Lakers before a huge statement win by the Lake Show turned the momentum of the series on its head. Of course, with the shutdown of the league, it's impossible to know which teams are going to be able to carry their hot streaks into the Disney bubble, but with the energy and positivity the Lakers have demonstrated since being back together, I'd like to think their chemistry is enough to keep the good times rolling.
No, I don't want the Clippers to be good, I enjoy the dominance of the Lakers in LA. But if that's how it's going to be this year, then let's use this as just another chance to show who runs this city.
6. LeBron vs Zion & the Baby Lakers
While we don't know if we'll get to see this glorious matchup yet, the possibility of getting to watch LeBron take on the league's future poster child in Zion Williamson already has me (and the league, as many have joked) excited. If the single matchup these two had earlier this season is any indication of what is to come in a playoff series, we are in for some fun. After 17 years as the face of the NBA, LeBron doesn't look like he's ready to give up his title as the King just yet.
The back and forth between these two players alone is enough to make my mouth water, but there's more to this matchup than just LeBron and Zion. While I think my ears might bleed if I ever have to hear LaVar Ball fabricate stories about his sons again, I enjoy seeing the development of Lonzo, Brandon Ingram, and Josh Hart and look forward to a possible chance to see them seek revenge. With that said, I hope the Lakers sweep the series, but if the Pelicans can fend off the surging Trailblazers and overtake Ja Morant's Grizzlies, this series will be beyond exciting for Lakers die-hards and basketball fans alike.
7. A "Dominant" Kyle Kuzma
Kyle Kuzma is one of the Lakers most interesting players for a number of reasons. For one, he has an… eccentric fashion sense.
And he also has been in the headlines for his lively dating life. But most importantly, Kuz is an integral part of the future of the Lakers franchise on the court. Whether you love Kuz's game or not, you can't deny his value as a prospect, even if he's already 25. Yes, he's had his fair share of no-shows like certain Presidential rallies, but he's also had his mic drop moments of brilliance.
"Free" Kuz
Let's also not forget that Kuz is currently averaging the third-most points per game on the team (12.5 PTS/G) behind AD and LeBron. While LeBrow (yes, I'm making this a thing) are undoubtedly the core of this team, the Lakers still need players who can score when those two are off the court. When he's playing freely, that's exactly what Kyle Kuzma can do.
And thankfully for Lakers fans, it sounds like we might be getting a free Kuz for the NBA restart. According to Coach Vogel, Kuzma has been one of the team's best players since returning to the team and has been "dominant" for stretches. After what I'd call a "bumpy" first preseason game, Kuz showed flashes of that dominance in game two of project restart, putting up 25 points and 7 boards and scoring at will. If the Lakers get this version of Kuz for the playoffs… start getting excited.
8. Honoring Kobe
I couldn't make a Lakers list without mentioning the late, great Kobe Bryant. While I already poured my soul into an article explaining why he meant so much to the entire Lakers community as well as me personally, I don't think it will ever be possible to fully capture the importance of The Black Mamba to the Lakers organization. And though I could write another thousand pages on how deeply affected I still am by this tragic loss, I think it means more to hear it from the centerpiece of the Lakers himself.
Each day he steps onto the court, LeBron wears his emotions on his sleeve (his finger, if we're being exact). Basketball has been and will be different without Kobe "Bean" Bryant, and LeBron has made it known that this season will be dedicated to The Mamba's legacy.
"The Lakers franchise isn't what it is today without Kobe's presence. Kobe's presence, his legacy, you put on purple and gold, you put on Laker apparel you think about basketball in general even before I became a Laker his legacy was cemented… If you are a ballplayer, if you like the game, if you play the game, even if you don't play the game just as a fan, there's no way that you can't think about Kobe on a day-to-day basis."

via ClutchPoints
"KOOOBEEEEE – THIS ONE'S FOR YOU!!!"
9. THT!!
After giving up half of the squad and what felt like our last pick for the next thirty years for AD (can definitely say now it was wayyyy worth it), Lakers Nation wasn't expecting much from this year's draft. Yet, in what has become one of the sneaky great selections of the season, the Lakers ended up with a highly touted prospect in Talen Horton-Tucker.
In his first season with the South Bay Lakers, THT put up 18.1 PPG, 6.4 REB, 4 AST, and 1.2 STL and has shown flashes of brilliance on the offensive end. His ability to drive aggressively to the rim has helped him put up strong numbers on offense throughout the year, including a 37 point performance against the Memphis Hustle. If the Lakers can help develop his shot (29.9% on jump shots and 30.9% from three), THT can grow into a serious offensive threat.
"Upside"
Now it's time for everyone's favorite buzz word – let's talk about this kid's "upside." THT is 6'4" 235 lbs, or, in other words, he's an absolute tank. His 7'1" wingspan makes him significantly longer than his height shows on paper, and his hand size is allegedly comparable to Kawahi's. Also, he's also only 19 YEARS OLD. Wait, hold on… this kid is 19? HE WAS BORN IN 2000?? Are kids aging faster or something these days? What am I missing…?
Teammates Showing Love
Since joining the Lakers in the Disney bubble, the Gen-Z phenom has turned heads within the organization. Dion Waiters has already developed a soft spot for the rookie, praising his potential and offering him some words of wisdom.
"I like Talen a lot. I built a relationship with Talen, I've been in his ear a lot, telling him to make sure he's doing the little things and watch the group that goes before him (in drills) and just stay locked in. He's got a lot of upside also."

via Lakers Nation
I don't doubt that Dion can offer good advice to young players, but let's hope he keeps that advice to his on-court experience…
It's safe to say that even though we likely won't see a ton of the 19-year-old when the playoffs roll around, we can expect to see plenty of him in the future of this organization.
10. Frank Vogel for Coach of the Year
This one seems unlikely to actually happen, but I want to speak the possibility into the world and give it a fighting chance. Head coaches in the NBA have a tough job sticking around for reasons that are largely out of their control. When a team has bad players and loses a zillion games, it's the coach's fault. But when you have LeBron James and Anthony Davis on your team, your job is now considered "easy." Here's the deal – Frank Vogel has done a hell of a job this season as the head coach of the Los Angeles Lakers.
After starting his tenure in the murkiest of situations, including a backstabbing war between Rob Pelinka and all-time Laker legend Magic Johnson, an uncertain roster, and, oh ya, the longest playoff drought in Lakers history, Vogel has led the Lakers to the second-best record in basketball. Last year, the Lakers finished the season 37-45, 10th in the Western Conference. This year, the Lakers are 49-14 and comfortably hold the 1 seed in the West. Yes, the Lakers have LeBron and Anthony Davis, but even the best teams need a coach who can maintain the dynamic of the squad. Vogel has been able to do that and more, and he is entirely deserving of mention in this year's Coach of the Year voting.
11. The End of the Lakers' Playoff Drought!
In the broader context of a full, healthy lifetime, six years is but a grain of sand in the beautiful Southern California beaches. But when you're a fan of the Los Angeles Lakers and your team hasn't made the playoffs in six years, that's a whole different story. For the league's most storied franchise, a six-year playoff drought was something of nightmares, yet the reality was so, so much worse. I wouldn't even wish this matchup on my worst enemy…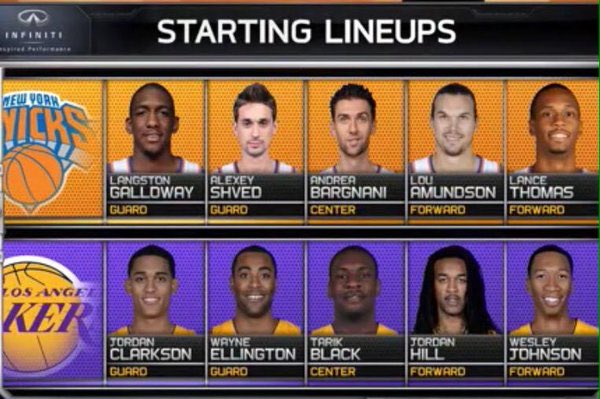 Even after pulling off a historic free-agent signing and landing LeBron in free agency last year, the Lakers still couldn't find a way into the playoffs. But after years of enduring the pain of mediocrity, the Lake Show is BACK, and the playoff drought is no more! Here's to carrying the 1 seed into the playoffs for the first time since 2010… and we all know what happened that year…
12. LeBron Winning in the West
For 15 years, LeBron James absolutely terrorized the Eastern Conference; yet, for those same 15 years, he was doubted and told he couldn't have the same success in the West. Last year's disappointing 10th place finish only gave a larger platform to those doubters looking to diminish the King's accomplishments. But this season, in year 17… YEAR 17, LeBron James is proving everyone wrong, and he's well aware of it.
There are few milestones in this game that LeBron hasn't yet accomplished, but the coveted 4th ring and 1st in the Western Conference will certainly be one that Lakers fans are all hoping he can check off his list this year.
13. The Carushow!
The Carushow is BACK! This season, the internet's favorite player Alex Caruso is averaging 5.4 PTS, 1.9 REB, 1.8 AST while shooting 31.5% from the field on jump shots, including 21.4% from mid-range and 35.5% from 3-point range. Nooootttt the most impressive numbers on paper. So why is there so much hype around this guy?
Well, for one, he looks like this.
And the flashy highlight dunks never hurt anybody.
More Than a Dunker
But for the Lakers, Caruso is so much more than a balding hairline and flashy dunks. In his 17.8 mpg this season, Caruso has developed into an indispensable role player on the defensive end. According Five Thirty Eight, Caruso has the best defensive RAPTOR of any guard and the 4th best overall for players who have played at least 1,000 minutes. When asked about what has allowed him to be so effective on the defensive end, AC attributed his success to his ability to read the game:
"I'm not as athletic as these guys … I got called up to varsity my freshman year of high school, and people see me now, and I can jump and I can move, and I look like I'm a little stronger now, but I used to be a scrawny white guy in high school, and I wasn't dunking like I am now. So I had to figure out ways to affect the game, and that was always something I had a good anticipation for what the flow of the offense was doing, and obviously getting back to this year, we've got a great defensive team in general.

Obviously my numbers are a product of me working hard and me doing something, but it helps when you have Anthony Davis, JaVale McGee, and Dwight Howard out there protecting the rim."

via Silver Screen & Roll
The Bald Mamba x LeBron
As AC acknowledges, when you get to play with the potential Defensive Player of the Year in Anthony Davis, it's inevitable that your defensive numbers are going to improve. But while the Bald Mamba may play the majority of his minutes with AD, his relationship with LeBron has actually proven to be his most successful. In fact, LeBron and Alex Caruso are tied with Giannis and Eric Bledsoe for the best net rating in the league (20.8), and AC is proud of it:
"I think me and him have a, you have the same thought process too, we're just head basketball players. Like you know spacing, you know defensive awareness, you know guys' tendencies. I feel like me and him just have a connection of understanding the game."

via Silver Screen & Roll

With Avery Bradley choosing to sit out the remainder of this season, Caruso is going to need to play a more significant role in the team, and I am here for it. Admittedly, I'm a bit nervous about replacing Bradley and his stalwart defense, but I believe AC and the new budding partnership (haha) of Dion Waiters and JR Smith will be able to step up to the challenge.
14. The Chance to Make a Difference
I'm as excited as anybody for basketball to return. That is, after all, what this article is about. But right now in this tumultuous time, there are far bigger matters that deserve attention. With the NBA restart earning the lion share of attention over the next few weeks, there is no better time for the players to speak up than now. I for one, am excited to see how they'll choose to do so.
We already know that LeBron and AD have opted out of wearing the league-selected phrases on the back of their jerseys, and for many, their decision came as a surprise. But let's be real here – as much as LeBron wants to win a title this year, we all know he sees the bigger picture. There's a reason behind every LBJ decision, and I'm hoping that means he has something big planned. We already have seen LeBron use his media availability to eloquently call for justice for Breonna Taylor, but I still expect to see more from him. Let's hope the Lakers and the rest of the league are united in their efforts to make real change – the whole world is watching.
15. The Lakers Nation Community
It took a global pandemic for me to realize this, but playing sports without fans is really freaking weird. I mean, I never knew how much I enjoyed watching players spill wine all over old men as they dive into the front row while chasing an errant pass. Or what about the incessant boos that follow every call that goes against the Lakers, regardless of the clarity of the play. And how could I forget the roar of the crowd after LeBron pulls one of those weird "let me stare at the ball for three seconds before draining this in your face" threes. I miss it all.
But the thing I miss most about having live, meaningful Lakers games is the community. No fanbase rides harder for its team than Laker Nation (anyone who has used Twitter during a Laker game can attest to this), and I'm pumped to get back to sharing the spike of adrenaline that comes with meaningful games with you all again soon. We're back!
16. Playing the Odds
"Put your money where your mouth is." I like our odds, Lakers fans.
17. The Elusive Ring Number 17
And finally, reason number 17 to be excited for Lakers basketball to return – the elusive 17th NBA title. This is what it's all about at the end of the day. I've talked about how important this ring would be for LeBron, but now it's time to talk about what it means for the Lakers organization. Those 16 banners hanging in the Staples Center mean EVERYTHING to Laker Nation, but we're ready to get excited about a new one.
What It Means
Now, I can totally understand how fans of other teams could find it annoying for Lakers fans to complain about being stuck on 16 rings. Hell, the next most trophies in the NBA is 6 (Bulls & Warriors); what right does anyone have to talk about 16 as if it were a curse? Wellllll, when your team's biggest rival, the Boston Celtics, has 17 rings, that one ring sure does make a difference. And to make matters worse, the Lakers were on the losing end of that 17th title when the Celtics took down Kobe and Pau in 2008. So yes, 17 rings really IS that important.
But what better way to finally catch up to the C's than with another legend of the game leading the team through the most difficult season in NBA history. Sure, some people want to put an asterisk next to this season after everything that has happened. Let them. With everything that has happened during these "unprecedented" times (had to work the buzzword in here somewhere!), it's going to take the perfect balance of talent, focus, and luck to win it all, and that deserves special recognition. Here's to hoping the Lakers lockdown that coveted 17th title when this season is all said and done. LET'S GO LAKERS!
For more information on the Lakers and your favorite sport teams, check out our website at Overtimeheroics.net
Make sure to follow @OTHLAL for all of your Laker related content.