The Mets suffered yet another gut-punching defeat on Friday night. They led by the score of 8-2 in the fifth inning, and still led 10-6 entering the bottom of the eighth. However, even the reliable arms in the Mets' bullpen imploded. Dellin Betances failed to throw strikes, and Seth Lugo surrendered a go-ahead, bases-clearing double to former-Met Travis d'Arnaud. Once again, the Mets' bullpen had let the team down, surrendering seven runs in four innings. While this bullpen is a disaster right now, this isn't the first time the Mets' bullpen has repeatedly disappointed.
The Mets' Bullpen Isn't Just a 2019 and 2020 Problem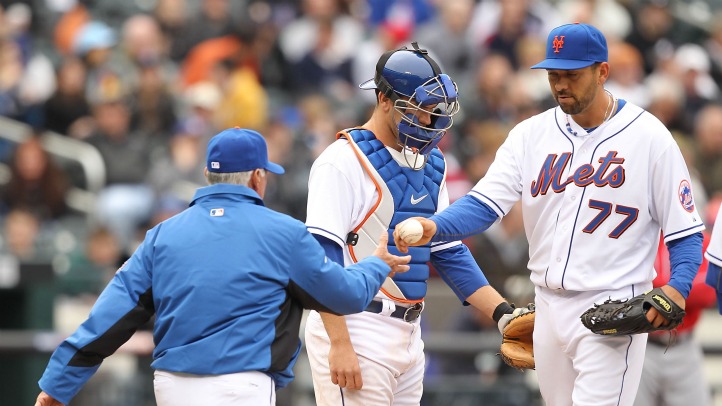 Mets fans fondly remember the 2006 division championship-winning bullpen. Anchored by Billy Wagner and with contribution from arms such as Duaner Sánchez and Chad Bradford, the Mets' bullpen had an ERA of 3.14. That ranked as the second-best bullpen in the majors. However, from 2007 to 2019, the Mets have finished in the bottom-10 in bullpen ERA seven times. Six of the seven bottom-10 finishes have occurred in the past nine years. Additionally, their bullpen, despite numerous of additions, has somehow gotten worse every season since 2014.
The last three seasons, the Mets have finished in the bottom-five in the majors in bullpen ERA. The 2019 bullpen ERA of 4.99 looked as if the bullpen had nowhere to go but up. However, they now sit at a horrendous 7.09 ERA after Friday night's blow-up.
Too Many Different Closers in the Past Decade
After Wagner underwent Tommy John surgery in 2008, the Mets splurged to improve their bullpen. They signed Francisco Rodriguez (better known as K-Rod) and swung a trade to acquire J.J. Putz from the Mariners. K-Rod lasted about two and a half seasons with the Mets, and had some success with the team, racking up 83 saves with a 3.05 ERA and 10.0 K/9. However, in the Summer of 2010, he was arrested for assaulting his father-in-law, and was placed on the restricted list for the remainder of the year. K-Rod was traded to the Brewers in July of 2011. Since that incident specifically, the Mets have tried many different closers. The following players were given the ninth-inning role at some point or another:
Hisanori Takahashi, Jason Isringhausen, Frank Francisco, Bobby Parnell, LaTroy Hawkins, José Valverde, Kyle Farnsworth, Jenrry Mejia, Jeurys Familia, Addison Reed, Robert Gsellman, Edwin Diaz, and Seth Lugo.
That list of players shows that the Mets' bullpen have had no real sense of identity since K-Rod was their closer. While some may argue that the closer's role is over-glorified, most fans and players recognize teams if they have an established closer. The Mets have changed their closer almost every year, due to injuries, struggles, or drug suspensions. It's hard to enjoy success when there's no shutdown arm to go to on a near-daily basis.
Even Established Relievers Disappoint
Many fans viewed K-Rod's time with the Mets as a disappointment. He came to the Mets after racking up a Major League-record 62 saves in 2008. However, his ERA in 2009 rose from 2.24 to 3.71, and he blew seven saves. Overall, in his two and a half seasons with the Mets, K-Rod only converted 84.6-percent of his saves. That was a far-cry from his 90-percent conversion rate from 2005-2008.
Before the 2012 season, the Mets brought in Frank Francisco, Jon Rauch, and Ramón Ramírez to try to shore up the bullpen. Francisco was given the closer's role, and he struggled to a 5.33 ERA and 1.606 WHIP in 42.1 innings. Additionally, Ramírez was hit around too, with a disappointing 4.24 ERA and 1.461 WHIP in 63.2 innings. Rauch was the only one who produced serviceable results, and the Mets' bullpen finished that year with a 4.65 ERA. That placed them with the second-worst number in the majors.
Before the 2018 season, the team signed Anthony Swarzak, who was coming off a strong 2017 campaign, to a two-year contract. Swarzak got injured very early in the season, and was lit up by opposing hitters when he was activated. His ERA skyrocketed from 2.23 to 6.15, and his FIP rose from 2.74 to 5.48. Additionally, his home run rate tripled from 0.7 per nine innings in 2017 to 2.1. The bullpen ERA rose from an already awful 4.82 to 4.96, which ranked third-worst in the majors. This led the Mets to be aggressive in their hunt for relievers heading into 2019.
Multi-year contracts given to relievers have backfired
Swarzak and Francisco were not the only multi-year contracts that backfired on the Mets. Before the 2011 season, the Mets tried to give K-Rod some help by signing D.J. Carrasco to a two-year contract. After pitching to a 3.77 ERA/3.61 FIP from 2008-2010, Carrasco had a disastrous 6.11 ERA during his time in Queens. The only event he's known for, is when he balked home the winning run at Turner Field in June of 2011.
Before the 2019 season, the Mets brought Jeurys Familia back to Queens on a three-year, 32-million-dollar contract. However, Familia had a rough 2019, as his ERA to rose to an ugly 5.70 and his WHIP was 1.733. Most notably, he walked 42 batters in 60 innings, which gave him an unsightly 6.3 walks per nine. Some may attribute these players' struggles to being overused (as shown by Justin Wilson's struggles on Wednesday). These deals may serve as a warning to relievers that signing with the Mets can send their careers down the wrong path.
The Edwin Díaz dilemma
Edwin Díaz was coming off an outstanding 2018 season when the Mets traded for him. He went 57-for-61 in save opportunities with a 1.96 ERA/1.61 FIP, and struck out 124 batters in 73.1 innings (15.2 K/9). Additionally, he was awarded the Mariano Rivera Award for his excellence. The Mets gave up a hefty amount, including 2018 first-round pick Jarred Kelenic, and agreed to take on Robinson Cano's contract to acquire Diaz. His 2019 season, on the other hand, failed expectations. While some may point to his insanely high 20-percent HR/FB ratio, his performance was extremely disappointing regardless.
2020 got off to a fast start for Díaz with a save on Opening Day and getting the first two outs against the Braves the following day. However, he served up a game-tying, two-strike, two-out home run to Marcell Ozuna. Four days later, Díaz completely lost the strike-zone in his appearance against the Red Sox, and he only recorded one out. After Díaz's latest meltdown, it's hard to disagree with the thought that no matter who the Mets have in their bullpen, they will always be a problem for the team.
Final thoughts
The Mets' bullpen has been a problem for a long time now. Every time their bullpen struggles, they try to shore it up with more acquisitions, yet somehow the problem gets worse. Whether Dellin Betances' last outing will lead to further proof that re-enforcements don't even help is tough to determine. For now, the Mets and their fans are left wondering if anything will ever solve the case of their bullpen.
Want to discuss this further? Head to our forum, and make sure to follow me on Twitter @Mathias_A_K