The players have begun to enter team facilities in what figures to be an unprecedented season. 2020 for the NFL will be filled with highs and lows, peaks and valleys, and overall inconsistency as players drop in and out of the league via the opt-out clause; as well as the inevitable Covid-19 injury designations that will surely be put on players, if not on whole position groups and teams. As of now, everyone is healthy, but as you will see with who I have rising and falling in my redraft PPR ADP evaluation, it is clear that Covid-19 will and already has had an impact on fantasy sports.
Writers note: When reading ADP, the number before the decimal is the round, and the number after the decimal is the pick. The ADP used here is for twelve team PPR leagues.
Players who will make you cheer
Tyler Higbee | Current ADP: 8.01
Through week 12 of the 2019 NFL season Tyler Higbee had just 212 receiving yards. This was not surprising, because that is a known fact that Sean McVay's offense does not feature the tight end position prominently. Then, because of looming matchups with teams that struggled to defend Tight ends, McVay had no choice but to adjust his gameplan in a way that he had never done before in his Rams days.
After receiving just 23 catches all season, Higbee caught 43 over the last five games. Those catches turned into yards, and lots of them–512 to be exact–over that final stretch of the season. Yes, the production was against some of the bottom barrel teams in the league at guarding that position, but the production is great regardless of the competition. The opportunity is there for Higbee to put up a Travis Kelce-like season. He just needs to step up and produce for a full season. Being drafted behind Rob Gronkowski and Hayden Hurst is crazy, as I alluded to in issue one.
Damien Harris | Current ADP: 11.11
Let's face it: Sony Michel has got to improve on his 4.0 career yards per carry if he is going to keep this job. New England loves to keep you guessing when you're on defense. The best way to do that is to get to second and short because it opens up almost the entire playbook. If Michel fails to impress in camp, or is not fully recovered from foot surgery, this job could go to Damien Harris.
Not only is Harris the younger, fresher back, nut he is also the better receiver of the two. Harris had more receiving yards in his final season at Alabama that Michel had in both of his first two NFL seasons combined. That will allow the Patriots to be even more unpredictable, and a perfect compliment to their great third-down back James White. As a late 11th round pick, this one has steal written on it with sharpie.
Josh Allen | Current ADP: 8.11
I hate to say it to Aaron Rodgers and Drew Brees fans, but Josh Allen is going to out produce both of them this season. You would not believe that if you saw the current ADP that has Allen behind the former fantasy gods. Sorry Brees, but you're going to have to throw the ball farther than ten yards down the field to get a Super Bowl. Sorry Rodgers, but your organization hates you and apparently the passing game altogether. Josh Allen is going into his "QB jump" year, has added Stephon Diggs and has the fire inside of him to come back from that playoff choke.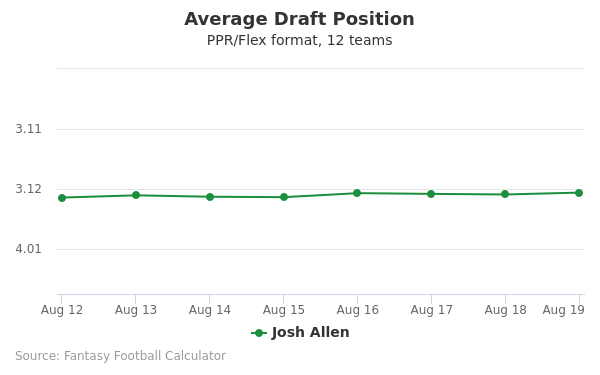 All of these factors scream fantasy star to me. Add in the fact that he has shown the ability to be a fantasy star with his legs during games that his arm might not be cutting it. I also believe in Sean McDermott and Brian Daboll. Those are two of the best in the game at not putting players in positions they can't handle. So for those who think Allen might have been "exposed" last season as an inaccurate passer, think again. He will work on those skills and if they are still subpar then he will be put in better positions to succeed. Good coaches–like the one's they have in Buffalo–get the most out of their talent, and Josh is the perfect example of a player who can and will benefit from that type of coaching.
Players who will make you cringe
Alexander Mattison | Current ADP: 8.09
The ninth pick of the eighth round is way too high for a pure handcuff fin my opinion. Dalvin Cook may be threatening a holdout, but he has zero leverage under the new collective bargaining agreement. He will absolutely be there and the Vikings will be riding him until the wheels fall off because they are not invested in him in the future. So, if we're excluding a holdout, this all adds up to two ways that Mattison may come into fantasy consideration.
One is an Injury to Cook and that's the obvious reason. The other is if Cook decides late in the year that he's played enough games to reach free agency. The first situation–injury– warrants a 13th round pick at best. Adding in the small shot at late season carries–Cook leaves the team– isn't good enough to consider him anything more than a handcuff. Buy him in dynasty and try to trade for him a few weeks into the season when his owner might be selling him for peanuts.
Devin Singletary | Current ADP: 3.10
Let me start off by saying that I do like Singletary. He is an ascending second year back who has some LeSean McCoy to his game. That may be the case, but i do not like this price tag. He has the receiving work locked up and he did have a hefty 5.1 YPC in 2019. But he is very small and often injured. Singletary did not play the full season in 2019, prompting the team to draft bulldozing power back Zack Moss in the third round of this years draft.
With the split in carries, Singletary should be compared closer to guys like Kareem Hunt— current ADP 6.07–or even James White–current ADP 10.06. Don't jump on the bandwagon here. He's not going to be the next great back who takes a second year leap. Grab him if he falls to the fifth, but stay away up until that point.
Le'Veon Bell | Current ADP: 3.06
Bell is a recent addition to this list because up until last week I had no qualms with his price. The Jets have a very improved offensive line, and his second year in the same system can only help him. Then, the Jets traded Jamal Adams and the Covid-19 opt-outs started to roll in.
Le'veon is still going to have a decent offensive line by all accounts. The only lineman who opted out was a backup. The team lost depth there and also when they released veteran guard Brian Winters. That's not the huge issue for Bell. The issues for him comes from the Jets defense. After the trade of Adams, C.J. Mosley added to Jets fans' frustration by deciding to take the opt-out. This Jets defense is suddenly looking even more terrible than before. Playing behind in most games absolutely killed Bell's fantasy value in 2019 and will do so again in 2020. The recommendation here is to stay away from "Lev" until the seventh round. Skip Bayless would be proud.
Follow me on Twitter @JbellSportsTalk for more of my content and follow @OT_Heroics!
Come discuss this and much more at the Overtime Heroics forums!
Check out the OTH Merch right here!