ONE has made its long-awaited return. Though it's the shortest card in the promotion's history, it gave us a lot to talk about and think about.
The results of this event will have massive implications not just for the people who took part, but for all the fighters watching it as well.
These are the seven takeaways from ONE: No Surrender.
Superlek Next for Rodtang
The greatest thing about ONE: No Surrender is that every single fight has a tremendous effect on the promotion.
RELATED: ONE: No Surrender Previews: Rodtang vs Petchdam
When the very first fight of the night is essentially a title eliminator between the #1 and #2 of ONE Muay Thai, you know it's a good show.
That said, Superlek should be the mandatory next challenger for Rodtang.
When that will happen is yet to be seen, but the hype should start building now.
Welcome to ONE, Fabricio Andrade
Making his ONE debut in the best possible way with a win over OWS graduate Mark Fairtex Abelardo.
Turning his career around in 2018, this fight gives him a three-fight win streak and a big decision to make.
Featherweight or Bantamweight?
This was a Catchweight bout at 67 kg. Right in the middle of Featherweight and just a couple of kgs. over Bantamweight, where Abelardo made the most impact.
If he goes over to Bantamweight, he has a good argument to call for someone like Troy Worthen or #5 Daichi Takenaka. These are big opportunities that can change the life of a 22-year old.
But he might get a better performance if he sticks to his natural division at Featherweight. In this case, he'd be starting from near bottom of the totem pole.
Does he grab the leg up that Abelardo's name gives him in Bantamweight, or stay where his weight is naturally closer? Only time will tell.
Stamp Marches Towards Angela
First, props to Sunisa for taking this fight. Not only did she take the fight against one of the best in the sport, but this was also her first fight after three years.
Nobody thought she stood a chance but showed up all the same.
With this win, Stamp remains undefeated in MMA at 5-0. This strengthens her argument to get the next shot at the winner of Lee/Zamboanga.
The Muay Thai champion has so far crushed every woman put in her path. The only problem is that (again) she's yet to face anyone with a ground game.
Much like Hirata's win over Nyrene Crowley at ONE: Warrior's Code, a win over Sunisa ultimately does little for Stamp's profile. It doesn't answer any of the questions we have about her game.
As she marches toward that inevitable shot at MMA gold, questions about her readiness against Lee's jiu-jitsu are quick to follow.
Superbon Should Fight For a Belt(s)
Buakaw's heir has finally come to ONE Championship, and he made the Banchamek name proud.
With this win, Superbon guarantees his match against Giorgio Petrosyan for the inaugural Featherweight Kickboxing belt. That's the only fight that makes sense for both men.
Superbon was already ranked #2 in the official Featherweight Kickboxing rankings before he even had his first fight in the promotion. Now he's just beaten the most dominant Lightweight Champion in Glory Kickboxing.
The crazy thing is since Petchmorakot just defended his title, Superbon can challenge for that belt as well.
Superbon is also the number one contender for the Muay Thai Featherweight title. Regardless of which way he goes, he can legitimately challenge both men.
Superbon's next fight needs to be for the belt. It doesn't matter which, the man deserves a shot.
Is This Yodsanklai's Last Title Fight?
From a plethora of golden opportunities, we move to someone who might have missed his last shot at a title.
Petchmorakot legitimized his title as Champion and did so against one of the best to ever do it. But what about the man he beat?
The Boxing Computer is on a three-fight losing streak, the first of his career. One of those defeats was even a knockout.
When it comes to Muay Thai, he's as far away from another title shot as a living legend can be. Petchmorakot's next two assignments are pretty much set in stone – Jamal Yusupov and Superbon Banchemak.
Depending on the Champion's health and the difficulties of booking fights in the COVID-19 era, those two fights will easily take a year at best.
On the Kickboxing side of things, he's in an even worse spot, because the belt doesn't even exist yet.
All four men ahead of him have better cases for the eventual Featherweight Kickboxing belt. Which makes it an even tougher ladder to climb.
Not to mention that Yod is knocking on the back end of his 30's. Time is not his friend.
Petchdam Had The Perfect Gameplan – It Just Wasn't Enough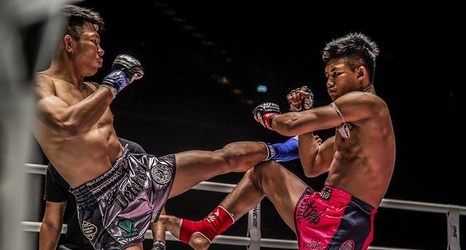 For anyone that's followed any of my articles on Muay Thai or Kickboxing, they'll know that I'm not the biggest fan of Petchdam Petchyindee Academy.
RELATED: ONE: No Surrender Previews: Rodtang vs Petchdam
With that in mind, I honestly think that Petchdam exposed Rodtang a little bit in this fight. Not enough to win, but enough to give someone else the template of how to beat the Ironman.
All throughout the fight, both men were showing what made them special. Rodtang is a better boxer and Petchdam is the better kicker. For the first two and a half rounds, the kicker was dictating a lot of the pace.
Petchdam noticeably kept Rodtang at distance with teeps in the first round. Anytime the Champ came close with a flurry, Petchdam would either sneak in an elbow or go straight to the clinch.
He's not getting 10-8 rounds, but it definitely frustrated Rodtang up until a late flurry in the third flustered Baby Shark.
All the diversity in kicking technique vanished after that, allowing Rodtang to get comfortably in boxing range.
It was a legitimately good effort, and if he won, I would have said that this belt was well-deserved. He earned my respect in this fight if not the win.
Fortunately, he's only 22 and has lots of time to climb back up the ladder for another shot.
The Schedule is Insane
According to the insane schedule ONE put out some time ago, their next event (No Surrender II) is less than two weeks away.
Then the event after that (No Surrender III) takes place seven days later, and the next event after that (A New Breed) is also seven days later.
That's four events within thirty days.
This isn't really a problem for ONE, since they'll be staying at the same venue until September. But this is going to be a nightmare for US.
ONE is notorious for booking and releasing fight cards incredibly late. Covering these things will be exciting no doubt. But we're going to be in for a wild ride.
---
Follow me on Twitter at @BjornPossel and follow us @OT_Heroics for more great content!
Also, be sure to check out the Overtime Heroics Forums page to join in on the discussion!
ONE: No Surrender Takeaways ONE: No Surrender Takeaways ONE: No Surrender Takeaways ONE: No Surrender Takeaways