The NFL has had several Red Raiders who succeeded in their respective careers. With the season approaching, I decided to rank Texas Tech's top five most valuable NFL players. The rankings will be based on their college and NFL performances.
#5: Michael Crabtree, Wide Receiver
To this day, Michael Crabtree is still regarded as probably the best wide receiver to ever play for the Red Raiders. Crabtree had initially committed as a quarterback, but after redshirting his freshman year in 2006, he switched to wide receiver. In just two seasons (2007 & 2008), he recorded 231 receptions, 3127 receiving yards, and 41 touchdowns. Crabtree had multiple outstanding performances but many remember one performance the most. On November 1, 2008, with eight seconds left on the clock, Crabtree caught a pass inside the 10-yard line and shook a defender to upset #1 Texas. He finished the game with 127 receiving yards and one touchdown. Crabtree finished the season as a Walter Camp Award Finalist and placed fifth in the Heisman voting.
Crabtree was selected 10th overall in the 2009 NFL draft by the San Fransisco 49ers. During his rookie season, he led the league in rookie receiving yards with 56.8 yards per game. He went on to have multiple successful seasons and also played in Super Bowl XLVII but fell to the Baltimore Ravens 34-31. Crabtree signed with the Oakland Raiders in 2015, where had 2,543 receiving yards and 25 touchdowns in his three years with them. He then went on to play with the Ravens and the Cardinals. Despite Crabtree having an amazing college career at Texas Tech, he currently only has two seasons with over 1,000 receiving yards in his 10 seasons in the NFL which puts him at the bottom of this list.
#4 Wes Welker, Wide Receiver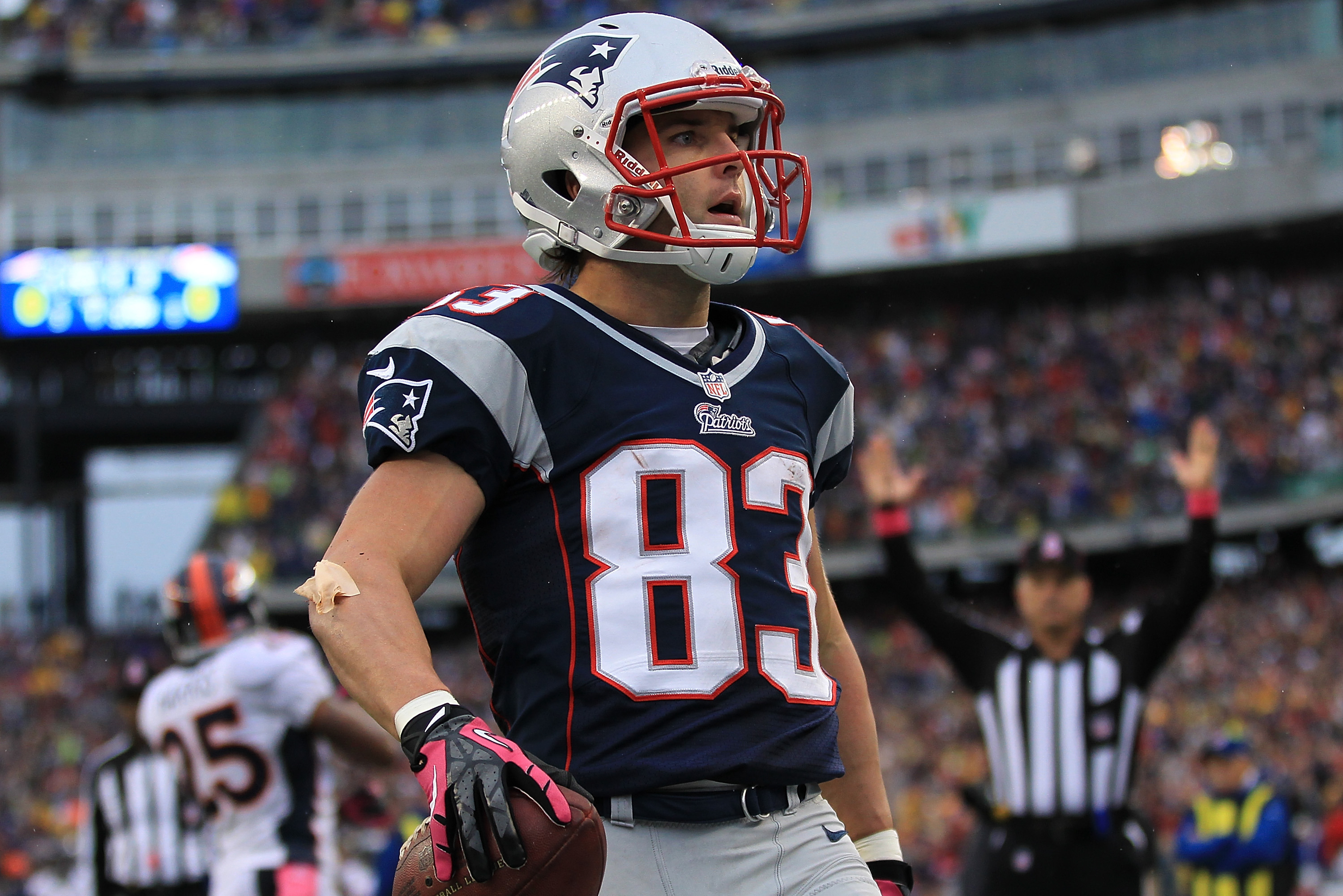 This list wouldn't be complete without including one of Tom Brady's favorite targets in Wes Welker. In his four seasons as a Red Raider, he recorded 259 receptions, 3,069 receiving yards and 21 receiving touchdowns. Catching the ball was not the only thing he was exceptional at, he was also a return specialist. He had eight punt returns throughout his college career which makes him tied at second place for the NCAA record.
Despite being undrafted in the 2004 NFL draft, Welker went ahead to have a very successful NFL career. Throughout his 12 year career, he recorded 903 receptions, 9,924 receiving yards, and 50 touchdowns. From 2007-20012, Welker had more catches than any receiver in the league and set an NFL record by reaching 500 receptions in just 70 games. He had five Pro Bowl appearances, led the NFL in receptions three times, and has an NFL record 99-yard reception. Unfortunately, he played in three Super Bowls and lost in all of them. Welker now coaches the San Fransisco 49ers as their wide receiver coach.
#3 E.J. Holub, Linebacker/Center
If you've ever been to Jones AT&T Stadium then you most likely have seen the name E.J. Holub somewhere around. He played on both sides of the ball for Texas Tech from 1958-1960 as a center and linebacker. As a Red Raider, Holub was second-team all-American as a junior and also became the first consensus all-American as a senior. As a matter of fact, his nickname was "The Beast", because of his impact on the field. Holub was the first player in Texas Tech football history to get his number retired. In addition, he was inducted to the Texas Tech Hall of Fame.
In 1961, Holub was selected sixth overall by the Dallas Texans in the AFL draft and 16th overall in the NFL draft. He was a rarity as he played both offense and defense in the NFL. He started on both sides of the ball in two Super Bowls (Super Bowl I & IV), making him the first to do so. Holub's impact was apparent throughout his time in the league and his achievements make it clear. He is a Super Bowl IV champion, two-time AFL All-First team member, and a member of numerous Hall of Fame lists. Holub sadly passed away in September of 2019 but his legacy definitely lives on.
#2 Zach Thomas, Middle Linebacker
When talking about Texas Tech's all-time defense, Zach Thomas is the first name to come to mind. He started at the linebacker position for three years as a Red Raider. Thomas was unanimous first-team all-American, Butkus Award Finalist and Southwest Conference Defensive Player of the Year. He recorded 390 tackles as a Red Raider and made a school-record against Missouri with 20 tackles. He is one of five Texas Tech football players to be named unanimous all-American. Thomas was named to the college football hall of fame in 2015
Thomas went on to excel in his NFL career despite falling to the fifth round of the 1996 NFL draft and being called "lousy" by NFL scouts. He played for the Miami Dolphins, Dallas Cowboys, and the Kansas City Chiefs through his 13 seasons in the league. In the span of his career, he recorded 1,720 tackles, 20.5 sacks, 17 interceptions, and 17 forced fumbles. He got selected to the Pro Bowl seven times, named All-Pro five times, and was named to the 2000s All-Decade team. Thomas is also one of five ex-Red Raiders to have his name written in the Jones AT&T stadium.
#1 Patrick Mahomes, Quarterback
Anyone who follows the NFL consistently would agree that Patrick Mahomes is arguably the best quarterback in football at this moment. His accuracy and arm strength show how talented he is. He won an MVP and became a Super Bowl champion in just three seasons. I witnessed Mahomes' final season at Texas Tech (2016) and it was nothing but phenomenal. He finished the season with 5,052 passing yards and 53 touchdowns which was the best in NCAA. That same season, he tied the record for most passing yards in a single game with 734. Mahomes decided to forgo his senior season and entered the 2017 NFL draft.
He was selected 10th overall in the draft by the Kansas City Chiefs but spent the majority of his rookie season as a backup. Mahomes was named the starting quarterback for the 2018 season and took the NFL by storm. He threw for 5,097 yards and 50 touchdowns making him the only player to throw for over 5,000 yards in college and in the NFL. That season, he led the Chiefs to the semi-finals of the playoffs and was named the league's MVP. Despite missing 3 games in the 2019 season, Mahomes still had 4,031 passing yards and 26 touchdowns. He led the Chiefs to a Super Bowl title and was named the MVP. Despite Mahomes not being in the league very long, I believe he deserves the number one spot because of the achievements he has made in a short amount of time.
The list could go on, but I will keep it to the top five for now. The Red Raiders just produced another NFL talent in Jordyn Brooks and fans will be looking to see his impact in the league.
Honorable Mentions:
Danny Amendola, Jakeem Grant, Kerry Hyder Jr, Keke Coutee, Jordyn Brooks, Dave Parks, Donny Anderson, etc.
For more sports coverage follow me on twitter @KingABE_31 and make sure to subscribe to my youtube podcast.
Our brand new @OTH_Football Weekly podcast will be available on Spotify and Anchor this Friday! 
Come discuss this and much more at the Overtime Heroics forums!