Monday was a massive day for college basketball. It was the withdraw deadline for any player who entered their name in the NBA draft. This year was not like any other year. Usually you would see star players who enter their name in the draft, stay in the draft but this year was different. Due to the COVID-19 Pandemic, a lot of players had very BIG decisions to make. Stars like Luka Garza (Iowa), Jared Butler (Baylor), Corey Kispert (Gonzaga), and many more star players have all decided to come back to school. Who are the top team 25 teams in the country? Lets find out.
25. Arkansas Razorbacks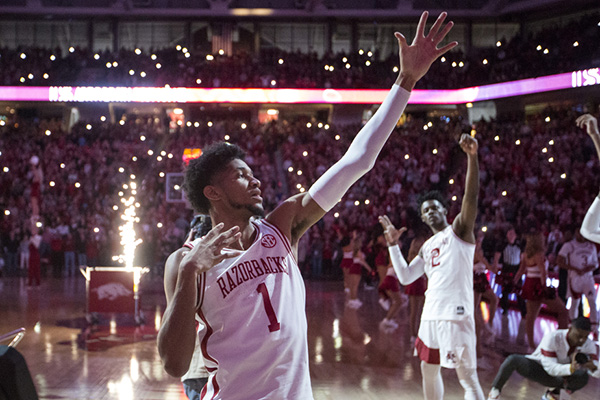 Arkansas was a major winner this offseason. Head coach Eric Musselman is bringing in a top ten recruiting class headlined by four-star guard Moses Moody. Then he landed two top graduate transfers in Justin Smith (Indiana) and Jalen Tate (Northern Kentucky). And to top it off, star guard Isaiah Joe announced he would be coming back for his Junior season. Last year Joe averaged 16.9 ppg and 4.1 rebounds. Arkansas did lose their leading scorer Mason Jones but with Isaiah Joe coming back and the top recruiting class coming in, Arkansas will be a top contender in the SEC and possible NCAA tournament team.
24. LSU Tigers
LSU has a chance to be one of the best teams in the SEC this upcoming season. Will Wade has his deepest team he has ever had at LSU. He has a top ten recruiting class in the country that is headlined by five star Cameron Thomas. Thomas is one of the top scorers in the 2020 class. LSU will bring back former five stars Trendon Watford and Javonte Smart for another season in Baton Rouge. They are also bringing in some top transfers that include Shareef O'Neal (UCLA), Bryan Penn-Johnson (Washington), and Josh LeBlanc (Georgetown). With a mixture of youth and experience, LSU could surprise a lot of people this college basketball season.
23. Memphis Tigers
If things go in the right way for Penny Hardaway, Memphis could be higher on this list. They welcome DJ Jeffries, Boogie Ellis, and Lester Quinones. Then they landed two major transfers in Landers Nolley (Virginia Tech) and DeAndre Williams (Evansville). And to finish it off Penny Hardaway landed local five-star center Moussa Cisse. Cisse is the top shot-blocker in high school basketball. If Nolley and Williams land immediate eligibility, Memphis could rise on this list. Either way, the Tigers should be a top-three team in the AAC this season.
22. UCLA Bruins
UCLA will be one of the top teams in the PAC-12 this upcoming season. They have a bunch of talent returning including former four-star recruit Tyger Campbell. He averaged 8.3 ppg and 5.0 APG last season for the Bruins. Mick Cronin also landed former Kentucky guard Johnny Juzang who should be one of the best shooters in the conference this season. UCLA will be one of the more experienced teams in college basketball and the PAC-12 this upcoming season.
21. Oregon Ducks
Dana Altman will have a very good squad this upcoming season. He will have a former five-star recruit, N'Faly Dante, back for his sophomore season. Chris Duarte is expected to be one of the top players in the conference this season. In addition to all that is coming back, Coach Altman landed transfers Amauri Hardy (UNLV) and LJ Figueroa (St. Johns) and four-star point guard Jalen Terry. Oregon will be at the top of the PAC-12 standings once again.
Please follow @EditsRecruiting and @WorldofCollege1 who collaborated on the rankings!
Overtime Heroics – Made By The Fans, For The Fans
Come discuss this and everything to do with sports at the Overtime Heroics forums!