Coach K and the Duke Blue Devils are off to a strong start in the class of 2021, with a commitment from five star wing A.J Griffin. Griffin is a 6'7'' freak athlete that is ranked first on nearly every early 2022 NBA draft big board. To go along with his elite athleticism, Griffin also has a smooth jump shot, and a knack for blocking shots. Griffin makes for a nice foundation to what is shaping up to be another elite recruiting class in Durham. Here's a quick look at Duke's top remaining targets in the class of 2021, as well as where Duke stands in their recruitments…
Patrick Baldwin Jr.
Following Jonathan Kuminga's reclassification into the class of 2020, Patrick Baldwin Jr. leapt into the number one spot in the 247sports composite rankings. It isn't hard to see why he became the youngest player to ever receive a scholarship offer from Coach K. At 6'9'', Baldwin might be the best shooter in the entire class of 2021. He shoots at a high level both off the catch and off the dribble. He has the versatility to play multiple positions, to go along with a high basketball IQ. Duke has long been considered the leader in his recruitment, but Wisconsin-Milwaukee (where Baldwin's dad is the head coach) may be tough to beat.
Paolo Banchero
Banchero is one of the top prospects in the class of 2021, ranking as the third overall player by the 247sports composite rankings. He's a powerful big man that can play at both the four and the five. He rebounds at a high level, shoots well from the mid range, and is physical in the post. Duke has remained in contact with him since the summer of 2019, but are not among the perceived leaders. Recently, Kentucky has picked up the most buzz, and Tennessee may still be in the mix especially if they land Banchero's buddy, Kennedy Chandler.
Caleb Houstan
Caleb Houstan recently reclassified from the class of 2022 to the class of 2021. He currently ranks inside the top ten of the class, due in large part to an elite three point stroke. He was a key piece in last year's Montverde team, which went undefeated, and is considered one of the best high school basketball teams ever assembled. It's too early in Houstans recruitment to identify clear frontrunners, but Duke is considered to be in a good spot along with North Carolina, Michigan State, Gonzaga, Arizona, and Oregon.
Trevor Keels
Duke jumped into the recruitment of Keels after watching him light up national powerhouse IMG Academy. Since then, Duke has remained in constant contact with Keels. And, while early on Virginia and Villanova were considered the heavy favorites in his recruitment, Duke has picked up traction as of late. It appears that Mike Krzyzewski and the Duke staff have prioritized Keels. And as a result, Duke has become the new leader in his recruitment. On the court, Keels is a strong shooting guard that is a high level three point shooter, and a gritty defender.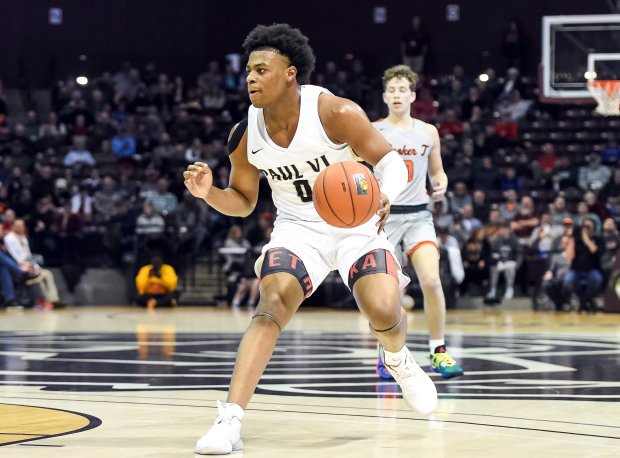 Chandler, the top ranked point guard in the class of 2021, has been prioritized by nearly every top college basketball program. He has picked up offers from the likes of North Carolina, Kentucky, Duke, and Kansas. Chandler once called Duke his "dream school", but it appears like Tennessee has taken a firm lead in his recruitment. Currently, 100% of crystal ball picks have Chandler committing to Tennessee. Whoever wins the Kennedy Chandler sweepstakes will be getting a quick guard that is a known winner. Chandler is surprisingly athletic, a pesky defender, and a very good playmaker.
Charles Bediako
Charles Bediako is a five star Canadien center that recently transferred to IMG Academy for his senior season. He is a raw, yet talented big guy with length and athleticism. Long term, he looks like he'll be a high level rim protector and floor runner. So far in his recruitment, Duke and Alabama appear to be the frontrunners, although Alabama appears to be the slight leader right now.
Make sure to follow me on Twitter @OTHDuke for all of your Duke Basketball related content.