Cleveland Browns training camp has had a bit of a buzz over the weekend. The front office made another move on the offensive line with J.C. Tretter on the mend, and there are rumors they may not be done. Owners Jimmy and Dee Haslam spoke about the hype of last season and the challenges of starting this one. Mack Wilson had some thoughts on what the media has been saying about the linebacker group. Last but not least, it seems Odell Beckham Jr. finally feels at home as part of the Cleveland Browns.
Front Office switches out lineman, veteran coming in the future?
J.C. Tretter was crucial in getting the NFL to step up its game regarding COVID. He is now out a couple of weeks after a knee procedure but should be ready for the season. During Tretter's absence, expect rookie Nick Harris to pick up some valuable experience with the ones.
The front office also made a move to add depth at center waiving guard Jovahn Fair then signing center Casey Dunn. There have also been reports that the Browns hosted veteran guard Ron Leary near the end of the week. Could we see a signing soon? He would certainly add some competition at right guard if healthy.
Jimmy and Dee Haslam zoom interview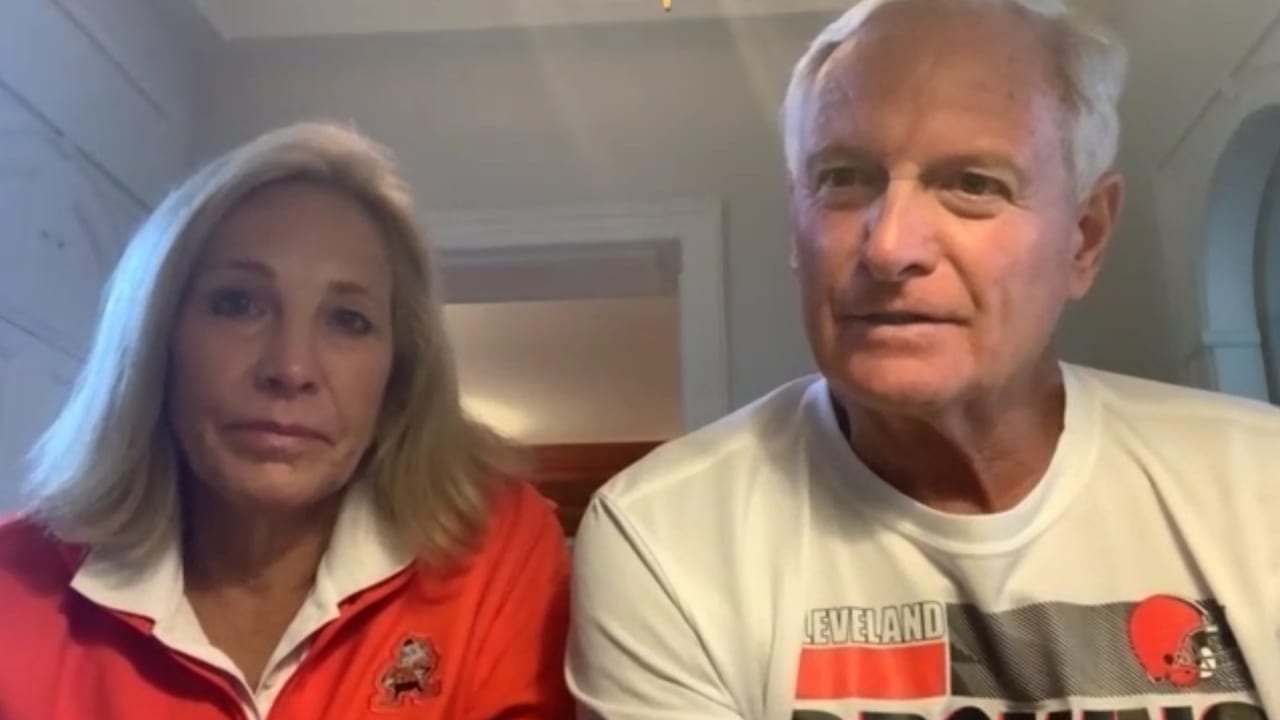 The Haslams are happy to be back in Berea but understand that the work has just started.
"It has been challenging, but we are excited now to be on the field," Jimmy Haslam said Sunday on a Zoom call after practice. "None of us know if there is going to be a full season, but we are going to do everything we can to get a season in, but do so in a safe manner."
The Haslams also mentioned how strange camp is without the fans there enjoying it.
The Haslams have submitted a plan to the governor's office that would allow 20 percent capacity (approximately 14,000 fans) at FirstEnergy Stadium. They feel that, per the task force put in place to govern such things, they have met the necessary protocols. Haslam made it clear that it is ultimately the governer's decision, but they are ready to go and feel the fans are also.
Managing Expectations
Jimmy and Dee also spoke about last year's team and how the organization could have done better managing expectations. Jimmy feels they are doing a better job this year, but are still excited about where the team and organization are currently.
"We talk at our business about RPRP — right people in the right place," he said. "It has been a long, hard road, but we really think we have that in coaching, personnel, Paul (DePodesta, chief strategy officer) with his strategic role and in players, whether it be Baker or whomever."
The Haslams have been happy with the way Andrew Berry and Kevin Stefanski have handled themselves during this challenging time. Jimmy is especially impressed that coach Stefanski has not used it as an excuse.
Keeling During the Anthem
The most controversial topic the Haslams touched on was keeling during the anthem. The Cleveland Browns owners will support their players if they choose to kneel.
"One of the great things about this country, one of the many great things, is the ability to have freedom of speech and being able to express yourself, so we are going to support our players," Haslam said. "At the same time, I think all too much attention is called to whether somebody kneels or stands or what their statement is, and not nearly enough attention is called to what they do afterward. Dee and I can issue some great statement, but what you all really ought to look at is what ourselves, our coaches and our players are doing the rest of the week, if you will, to make this country a better place to live, work and raise a family."
Coach Kevin Stefanski also mentioned that the Haslams are fully involved in discussions around promotion and improving social justice.
"I just think they are very supportive in all avenues, but it is certainly a place where they let the team know that they want to be part of the solution," Stefanski said.
Mack Wilson Feels "disrespected" by the Media
Second-year linebacker Mack Wilson does not like what he sees in the media regarding the Cleveland Browns linebacker group. He had no problem letting it be known when asked. Wilson is using it as motivation for the 2020 NFL season.
"Yeah, definitely," Wilson said after Sunday's practice. "Because when you say things like that to the media where everybody can see it and really do not know what these guys bring to their position, bring to the field or what these guys bring to the team.
"You are basically saying that they are a piece of crap," he said. "To me, that is how I am taking it because you say we are the 32nd linebacker core in the National Football League, and that is just total disrespect. I know the guys in the room have seen it, and I make sure that I remind those guys of what these people think of us. I just always tell them, 'We are going to prove the world wrong. We are just going to continue to work. Keep our heads down and just focus on the task at hand.' That is just taking it one day at a time because everybody is going to find out, and that is what we are going to do. We are just going to keep working and show everybody otherwise."
Mack Wilson and the rest of the group will be on a mission in 2020.
OBJ Finally Feels "at home" with the Browns
Both Dee Haslam and Jarvis Landry had some interesting insights on where Odell Beckham is this year compared to last. Haslam spoke with OBJ on the field Sunday and had this to say regarding that conversation.
"I had a great conversation with him today." [He's] excited to be back in his house, and that has made a big difference to him. We did an exercise with the team Friday night – the four H's, which is your history, heartbreak, heroes, and hopes. Odell texted me and told me that he really related to a lot of the stuff. We had a great conversation about that."
"It just feels like he's just so much more comfortable here, and he said that. He says 'I'm in my home. I'm more comfortable.' I think it was a transition, but I think he's doing really well and love the fact that he's talking about how happy he is to be here and how comfortable he is. I think it is a great improvement so we're really excited that he feels that way."
OBJ's best friend Landry provided some more insight on where he thinks Odell is at in this transition.
"He's continuing to grow,'' Landry said Friday. "He's continuing to grow each and every day, each and every week. That's something that being here and being around the guys over time that gives you. You begin to get comfortable. You begin to be where your feet are. I think that he's really making this place home and accepting that. That's something that, I know for me personally, I'm happy that he's here and hopefully can continue to be here for the rest of his career."
OBJ is healthy and more comfortable in his surroundings. Could we see a big season from the star wideout?
---
Follow me on Twitter for more great content @WeirdJBronavich.
Discuss this and everything to do with sports at the Overtime Heroics forums!