The Kings Have Four Selections In 2020 NBA Draft … Still On The Hunt For A New General Manager
2020 Sacramento Kings Draft Preview … Preview!
The Sacramento Kings finished the 2019-20 season 31-41, 12th overall in the NBA Western Conference.
NBA Draft Lottery 8/20
The Kings currently hold four selections in the 2020 draft. One in the first round and three in the second round.
The NBA draft lottery, which takes place on 8/20, will determine the Kings first round selection. Their second round picks include the 35th, 42nd, and 52nd selection.
According to Tankathon NBA Draft Lottery Board the Kings are most likely going to have the 12th selection in the 2020 NBA Draft.
Sacramento has a 1.3% chance of landing the number one pick, and a 6.3% chance of a top four selection.
Sacramento will most likely be selecting 12th -18th in the draft – barring a trade, or unlikely lottery fortune.
Below is a draft board by Sam Vecenie of 'The Athletic'
Kings Draft Needs
I think the Kings need to draft a '3 and D wing' player.
The 2020 draft is not 'stacked' with 'superstar' talent. Although, there do seem to be a slew of players which some NBA scouts deem as future NBA starters and playoff team role players.
That might bode well for the Kings. Sacramento will most likely select in early teens. Which will potentially allow them to not have to 'overpay' for an early pick who isn't a 'superstar'. While also getting a solid, more 'NBA' ready player with their selection.
This is all speculation of course.
In my opinion, the Kings need a player who can play some sort of role relatively quickly. Whether that is hitting three point shots, being a solid defender, grabbing rebounds. In other words, essentially being a solid NBA player while the starters are resting.
At the moment, the Kings don't really have the team structure to 'develop' a raw rookie with huge upside and large potential to be a 'bust'.
Offseason Movin' and Groovin' (Maybe Even Some Boogie-ing?)
One of the things that I love about the NBA offseason and draft is the excitement around potential trades. Trades involving draft selections, as well as already established NBA players.
A 'knock' on Sacramento is that it is not a free agent destination.
If the Kings organization are unable to sign big name free agents, they need to acquire players through the draft and through trades.
SUBSCRIBE TO MY BLOG – TOMTOOWITTY SPORTS BLOG
Trading an asset or two may prove fruitful for the Kings!
For example, trading their 2020 draft selection, one or more of our current players, a potential future draft selection – or a combo of the three.
The Kings need to kind of get 'lucky' in terms of timing when it comes to landing a 'franchise' changing player via a trade.
They need to find a team that is looking to deal a star player at a 'logged jam' position.
Another possibility is finding a trade with a team that is rebuilding or has an unhappy superstar – and get a 'good deal' for them.
Three team trades are always fun too!
'Front Office Shuffle' Official Dance Of SacTown
Kings general manager Vlade Divac resigned from his role just a few days after the Kings were eliminated from playoff contention.
Sacramento announced that NBA hall of famer and former NBA Executive of the Year award winner Joe Dumars will fill in as interim general manager.
Dumars is 'leading the search' for the next GM, though some speculate that he may be the next Kings GM.
One of the biggest keys to this off season, and what the Kings choose to do with their draft picks, relies heavily upon who is hired as GM.
Most talks around the Kings circles claim that head coach Luke Walton is 'safe' no matter who the new GM is. Historically, most new GM's like to install their own 'team' of trusted accomplices.
In my opinion, Joe Dumars seems like one of the best candidates to be the long term Kings GM.
The Kings are a young team, with a young coach and a new owner. They need a veteran in there SOMEWHERE.
Dumars won championships with teams he built around DEFENSE in Detroit. He traded Grant Hill and others for Ben Wallace and others. Dumars acquired Rip Hamilton, and helped to revitalize Rasheed Wallace's career and legacy.
There weren't any 'superstars' on those Detroit teams. That is the mold the Kings need to follow if they want to be successful in Sacramento, which is a not a 'free agent destination' city.
One negative in Dumars career is when he drafted Darko Milicic second overall in the 2003 draft, who is seen as a major 'bust'.
I think that Dumars makes sense for the Sacramento Kings.
Other Names Mentioned In GM Search
One name mentioned is former member of the Kings front office and current New York Knicks GM Scott Perry. Perry played a role in drafting De'Aaron Fox.
Jerry West and a handful of others have been mentioned in EARLY talks, but nothing is anywhere near serious at this time.
Kings Draft Prospects I Will Profile
Barring a trade, or draft lottery fortune, the Kings will most likely be selecting in the early to mid teens in the 2020 draft.
Some of the potential players I will be outlining in the upcoming days and weeks are listed below.
Among a few other draft prospects
GO KINGS!
– TOM WITT – 'SPIKEBALLTOM'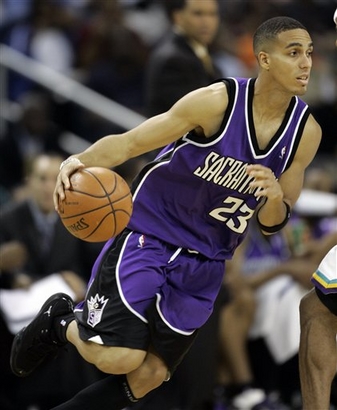 LINKS TO MORE KINGS ARTICLES BY TOM WITT