After missing four games due to positive COVID-19 tests, the Mets are set to resume play on Tuesday. They will play four games against the Marlins at Citi Field, beginning a stretch where the Mets will play 34 games in 34 days. The last time these two teams met, New York had taken the first three games of a four-game series. The Mets currently sit at 12-14, just a game-and a-half-back of the Marlins. Meanwhile, the Fish have come crashing down to earth since their 7-1 start, having gone just 5-10 since. Here's how the Mets look heading into this showdown.
Offense finding its rhythm?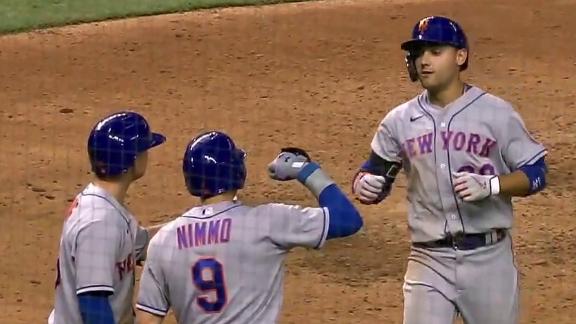 The Mets bounced back from a horrific performance against the Phillies with a very strong showing in Miami. New York's offense scored 24 runs across their last three games, with big performances from a few different players. Dominic Smith has continued to swing a hot bat, with 16 of his 21 hits this year going for extra bases. Additionally, he leads the team with 21 RBI and is hitting a scalding .323/.403/.754 (214 OPS+). Michael Conforto has continued to impress as well, and came up big with a game-winning two-run homer last time out. Additionally, Brandon Nimmo picked up two hits in the last contest and has walked as many times as he has struck out this season.
The Mets have also continued to give Luis Guillorme more playing time, and he has impressed. He picked up two more hits and is now batting a strong .464/.517/.571 (204 OPS+) with six RBI. Pete Alonso continued to show signs of breaking out his slump by going 5-for-9 with two homers and drawing five walks in Miami.
Ups and downs in the bullpen
While they came away with a victory, the Mets' bullpen was far from spotless in their last outing. Jeurys Familia and Dellin Betances both struggled with their command and were both charged with runs. Betances' outing was particularly concerning, as he still hasn't regained his high-90s velocity from years past. However, the Mets received scoreless outings from Justin Wilson and Edwin Díaz. After he walked the first batter he faced to force in an inherited runner, Díaz struck out the next four batters. He earned his first win on the year and will continue to get reps as the team's closer with Seth Lugo moving to the starting rotation. Overall, this has been a great season for Díaz, who has a 2.53 ERA/1.54 FIP, a 1.313 WHIP, and a whopping 24 strikeouts in 10.2 innings pitched this season (20.3 K/9).
Mets' starters
The Mets will have Rick Porcello start game one of Tuesday's doubleheader, followed by Seth Lugo. Porcello was pitching well through five innings of his last start, having only allowed one run up until that point. However, he was roughed up for three runs in the sixth inning and was charged with the loss. Meanwhile, Lugo is making his first start since 2018. He has served as the team's closer up until this point, recording three saves and pitching to a 2.61 ERA/2.84 FIP, a 0.968 WHIP, and 11 strikeouts in 10.1 innings pitched (9.6 K/9).
Jacob deGrom will start for the Mets on Wednesday. He is coming off a no-decision in his last outing, though he pitched brilliantly. deGrom pitched six shutout innings, allowing four hits and striking out seven. The team hasn't announced their starter for Thursday's game.
Marlins' starters
The Marlins will have Daniel Castano start in game one on Tuesday. Castano was pulled in the first inning of his last start, after throwing 23 pitches and only recording one out. He was charged with two runs and allowed one hit and two walks. The team hasn't announced their starter for game two.
Elieser Hernández will start for Miami on Wednesday, followed by Sixto Sánchez on Thursday. Hernández was solid in earning the win in his last outing, going five innings while allowing two runs, three hits, and one walk with six strikeouts. For the season, he has worked to a 2.29 ERA/3.34 FIP (195 ERA+), a 0.763 WHIP, and 25 strikeouts in 19.2 innings pitched (11.4 K/9). Meanwhile, Sánchez made his Major League debut last time out and earned the win. He pitched five innings while allowing three runs and six hits with four strikeouts.
Have a baseball lover that you need to get a gift for? Check out our partner at Dugout Mugs! Create a personalized mug made out of the barrel of a bat. Great for any baseball fan, or, let's be honest, yourself!
Follow me on Twitter at @Mathias_A_K for more of my content! Don't forget to join our OT Heroics MLB Facebook group, and feel free to join our new Instagram – @overtimeheroics_MLB. We'll see ya there!
Come join the discussion made by the fans at the Overtime Heroics forums! A place for all sports!