UFC Vegas 8: Anthony Smith vs Aleksander Rakic
Anthony Smith (#5) faces off against Aleksandar Rakic (#8) – one of the hottest prospects in the UFC today. Both come into this "title elimination" contest after tasting defeat. But, this has all the makings of a masterclass between two Light-Heavyweight giants.
For those living under a rock, Jon Jones has recently announced that he has relinquished the Light-Heavyweight belt. This opens up the division as Jones pursuits Heavyweight glory. Blachowicz and Reyes will likely fight for an interim title in September, so a win for both is paramount. This is a great chance to to stake their claims as title contenders. And a big win for either men would likely put them one win away from a shot at the belt.
ANTHONY SMITH BACKGROUND
"Lionheart" (32-15) comes into the contest after experiencing one of his worst losses during his stellar UFC career. In a previous article I had written on Smith, I discussed the respect he typically shows his opponents. Against Glover, Smith adopted a wildly different approach. Smith was heavily favored against Teixeira but came out of the gates like a bat out of hell. While most would've expected an early flurry, he was careless and gassed badly after the first. Glover ensured Smith suffered the consequences.
While Smith is still a top contender, his performance against Glover was worrisome. It was bizarre to see Smith disrespect the Brazilian Veteran so openly. Particularly as he's always been so calculated in his approach. Smith threw nearly 100 strikes in the first round and had Glover hurt on multiple occasions. However, it was clear that Smith arrogantly thought he run Glover over without breaking a sweat.
He'll likely have learned from the experience, as the loss has set him back significantly. He needs to get back to his calculated mindset immediately against Rakic. Losing several teeth against Glover (which he handed to the ref mid fight) might help him rethink his game plan this time 'round…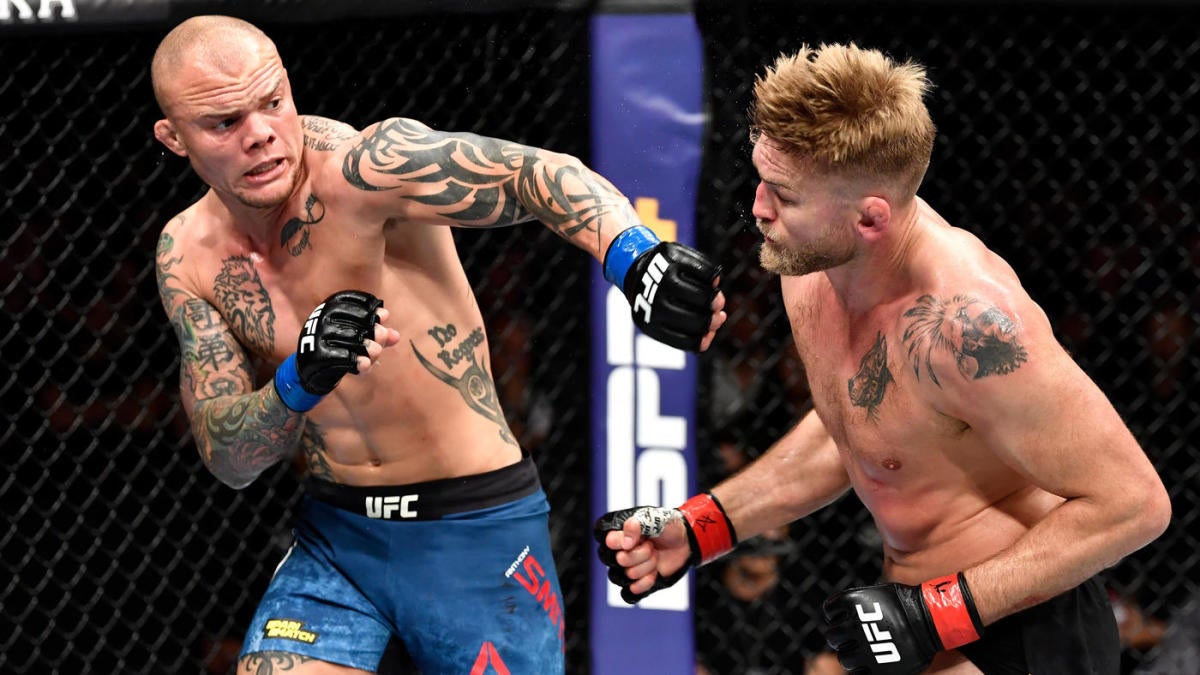 It's worth reminding people that Smith has won four out of his last six. The only blemish (aside from Glover) on his record being the former Light-Heavyweight King, Jon Jones. Aside from the losses to Jones and Teixeira, Smith has performed dominantly, with finishes in all four of those wins.
This includes wins over UFC Veterans, Rashad Evans, Mauricio "Shogun" Rua and top contenders, Volkan Oezedemir and Alexander Gustaffson. Smith finished Evans and Rua via TKO, while Oezdemir and Gustaffson fell victim to Smith's rear-naked choke. This highlighhis versatility and well-rounded game as a mixed martial artist.
ALEKSANDAR RAKIC BACKGROUND
Rakic (12-1) is also coming off a loss, his first in the UFC, a razor-sharp split decision against Volkan Oezdemir. A result that many believed he should've got the nod from the judges. Even watching the fight back, Rakic had the better moments through and was supper aggressive, while remaining grounded.
He really highlighted his striking prowess and his kickboxing looked terrifying at times. Almost everything Rakic threw got a reaction from the crowd and it got people talking about the Austrian prospect. He constantly walked Oezdemir down and lands nearly 5 strikes per minute. And Rakic throws with purpose on every occasion. He also highlighted phenomenal head movement and rarely keeps his head on the center line.
Prior to the loss against Oezdemir, the 28-year-old had won four straight in the UFC. This includes his biggest win to date against Manuwa. Rakic turned Manuwa's lights off with a lightning fast head kick that earned him a performance of the night bonus. This was Rakic's first real test that he passed with flying colors. "Welcome to the big leagues" was heard by Dan Hardy that night as Manuwa lay unconscious on the canvass.
The Austrian also has over 40 kickboxing fights to his credit before entering into the world of MMA. So, while he's only 28, he's an experienced 28-year-old that has been knocking people dead since his teens. At 6"4 with a reach of 78", he has a colossal physique and has the skills to back it up. While it's no secret that Smith will be another tough test, he looks battle ready every time he steps into the octagon.
SMITH BREAKDOWN
During Smith's rise to the top of the Light-Heavyweight division, he continuously highlighted his broadly developed skillset. Smith had a crazy streak and racked up a catalogue of unique finishes. His strength and power are the obvious stand outs for Smith, but he's also diverse in his striking. In his last nine fights, he has a head-kick KO, two elbow finishes and who can forget the knee he landed on Rashad Evans to close the show at UFC 225. Let's not leave out the two submissions he has in his last three fights.
Strangely, at 6'4 with a 76" reach, Smith almost looks unassuming and even somewhat labored at times. He doesn't appear to be throwing "power" strikes. However, his opponents who have felt his jab and straight right would all beg to differ. Smith is a master at finding his range and staying on the outside of punches. He then quickly closes the distance when he smells blood.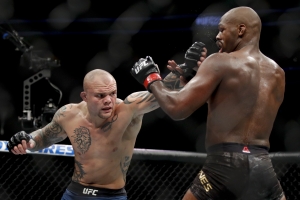 Although Smith is "orthodox", his variety makes him unpredictable. He's dominated in the clinch (as seen against Evans). He can go high and low with kicks when mixing up his striking and he has smooth and crisp boxing. That provided the foundation when he surged up the rankings at Light-Heavyweight.
He's also a threat on the ground and he holds a major advantage over Rakic in that department. Smith is a high level BJJ black belt with TWELVE submission victories. This is often forgotten about, but it was a crucial when he went on his streak that resulted in a title shot. We haven't seen how Rakic deals with high level grappling yet. This could be a route to victory for Smith that he needs to exploit.
In short, Smith has an assortment of weapons at his disposal and he's hungry to fight for a title once again. If he can get back to his roots, ease into the fight and pick his moments, he can put the Teixeira result behind him. A win over the 28-year-old Austrian prospect will certainly put him back in good stead in the rankings.
RAKIC BREAKDOWN
Rakic is a fearsome kickboxer that has had a sublime start to his UFC career. Now 4-1, with wins over Devin Clark and Jimi Manuwa (his best performance to date), he should come into the contest high on confidence. Ready to face his "next" toughest test in Anthony Smith.
The knockout of Jimi Manuwa will be replayed countless times during the buildup and for good reason. That KO was one of the scariest we've seen in the UFC. Manuwa laid lifeless on the canvass for what seemed like an eternity. While it was horrifying seeing Manuwa laid out like that, the explosion and set up from Rakic was wasterful. On watching the reply several times, you may notice that Rakic set up the kick by throwing fake shots. Rakic went to the body, Manuwa dropped his hands and the kick landed flush on the Englishman's chin.
These "fake shots" aren't exactly feints, but they've been just as effective in luring opponents into terrible defensive positions. He did this several times in the first round against Oezdemir and of course, Manuwa. This makes him incredibly difficult to predict. Rakic's ability to constantly keep his opponents guessing, along with frightening KO power always makes him a threat.
Rakic also uses rear hip feints regularly. When he does this, his opponents drop their hands or expect a leg kick, which Rakic capitalizes on to let his hands go. He landed several big shots on Oezdemir, particularly the overhand right and left hook. Oezdemir seemingly expected him to throw kicks in these exchanges. These set ups are sign of a high level kickboxer. This is an instrumental tool for Rakic's success thus far in his UFC career.
The one area of potential weakness is Rakic's grappling as mentioned previously. While Rakic has looked good in the clinch, we're yet to see him against a takedown heavy offense. And although Rakic's size and strength will likely result in him stuffing poorly timed shots, Smith certainly has the ability to take him down and keep him there. As Smith is a BJJ specialist, it'll be interesting to see if he mixes this in. Particularly early in the fight.
KEYS TO VICTORY
The level of competition that Smith has fought over the last number of years is testament to how good a fighter he's become. But, Smith needs to get back to his approach that led to a title shot and put the Teixeira fight behind him. He's already fought and beaten some of the best in the division. He needs to utilize his effortless boxing and continue to keep Raktic guessing. Smith will likely switch stances regularly and will try control center of the Octagon by moving in-and-out of range.
This is easier said than done against a highly technical and powerful athlete in Rakic. Rakic is masterful at luring people into a false sense of security and then explodes when he gets an opening. Smith has got to be fully respectful of that power and use all five rounds at his disposal.
We saw Rakic slow down drastically in the second round against Oezdemir which is worth noting. Smith, prior to the Glover barrage, has been well known to have one of the best gas tanks in the game. There are still question marks over Rakic's conditioning. He's an incredibly muscular athlete and that takes a toll over the course of five rounds. Even if Smith loses the first round or two, if he can wear Rakic down in the clinch and mix in his underrated wrestling, he can do exactly that.
Lionheart also lived up to his name against Teixeira. He took an ungodly amount of punishment and somehow survived until the fifth round. Smith has only bee finished four times in almost 50 pro fights. That toughness is the key to riding out a decision or potentially stopping Rakic in the championship rounds.
PREDICTION
This will likely be a technical chess match to begin with. Both men have the capabilities of stopping the fight and they'll need to be respectful of that. Smith should look a completely different fighter and adopt a more precise and efficient approach.
Rakic should get the better of Smith in the early exchanges. After Smith's loss to Teixeira, Rakic may try to get Smith out of there quickly. The APEX probably gives the Austrian a big advantage too. He'll be able to control range. A big concern for Smith is Rakic's output and Smith has also endured a lot of punishment in his last several fights.
This is incredibly difficult to predict. If it weren't for Smith's experience, conditioning and grittiness, this would have knockout reel highlight written all over it. That said, I can see Smith weathering the early storm from Rakic. If he can keep Rakic at bay, I can see him riding out a decision or getting a late stoppage himself.
But don't be surprised if Rakic adds one of the biggest names in the LHW Division to his resume though.
PICK
Anthony Smith (Unanimous Decision)
---
Follow me on Twitter at @TAtlanticMMA/@NeilVorster1 and follow us @OT_Heroics for more great content!
Also, be sure to check out the Overtime Heroics Forums page to join in on the discussion!