Our main event features Heavyweight legend, Alistair Overeem (#6) and Brazilian prospect, Augusto Sakai (#9). Overeem has publicly stated that he wants to challenge for Stipe Miocic's belt again. Whereas Sakai is 15-1-1 and faces his tough test to date in Overeem. At 29, Sakai knows a win over "The Demolition Man" could kickstart his own title run.
Additionally, the Heavyweight Division has gone through a great deal of change in the last number of weeks. Daniel Cormier, one of the most accomplished athletes in UFC history has officially retired. Thus making room for Jon Jones to move up from 205 in the pursuit of Heavyweight glory. This has shaken things up, losing the former champion while gaining one of the greatest fighters of all time.
This adds further opportunity at Heavyweight for the likes of Overeem and Sakai. The English born Hollander has labelled this upcoming challenge as "The Final Run". Overeem (46-18) has been amongst the top 10 for his entire UFC career and wants to challenge for the belt one more time. At 40-years-old, it really is now or never. Sakai has a lot more time on his hands, but a win over Overeem would be a statement of intent.
Overeem Background
If you know anything about MMA, you know who Alistair Overeem is. A former Strikeforce, DREAM and K1 Champion, this man has accomplished everything in his MMA career. Everything but a UFC belt that is… This is clearly on the forefront of his mind and has openly stated that he thinks this is his time.
Overeem is coming into the contest with a win over Walt Harris. Harris had just gone through a huge amount of personal turmoil. It was his first fight since losing his daughter Aniah in the most heart wrenching way imaginable. Seeing Harris come back from that, he gained worldwide support and the consensus wanted him to triumph.
Overeem brought everyone back to reality as he's done countless times in the past. Harris hurt Reem badly in the 1st and nearly stopped the fight, only for Overeem finish in the next round. He showed his mental toughness, stamina and fight IQ to get past an incredibly motivated Harris. Then he covered himself in grace as he always does when comforting Harris at the end of the fight.
Prior to this, Overeem put on a stellar performance against top contender and perennial powerhouse, Jairzinho Rozenstruik. He looked like the Overeem we had all come to love and respect, then suffered one of the latest KO finishes in UFC history. He was cruising his way to a unanimous decision victory, only to feel Rozenstruik's force with 4 seconds left on the clock. It was a tough blow to take for Reem, particularly as he had put on a phenomenal performance.
Despite the loss to Jair, he's 3-1 in his last four and has fought EVERYBODY at Heavyweight. Since making his UFC debut, he has fought Brock Lesnar, Big Nog, Travis Browne, Frank Mir, Stefan Struve, Roy Nelson, JDS, Arlovski, Miocic, Hunt, Fabricio Werdum, Francis Ngannou, Curtis Blaydes… the list goes on. If you're one of the best fighters on the planet at Heavyweight, you've almost certainly fought Alistair Overeem. And it's likely you lost. Overeem is the only man in MMA to hold three belts at once and it would be a fitting way to go out, wrapping UFC gold around his waist.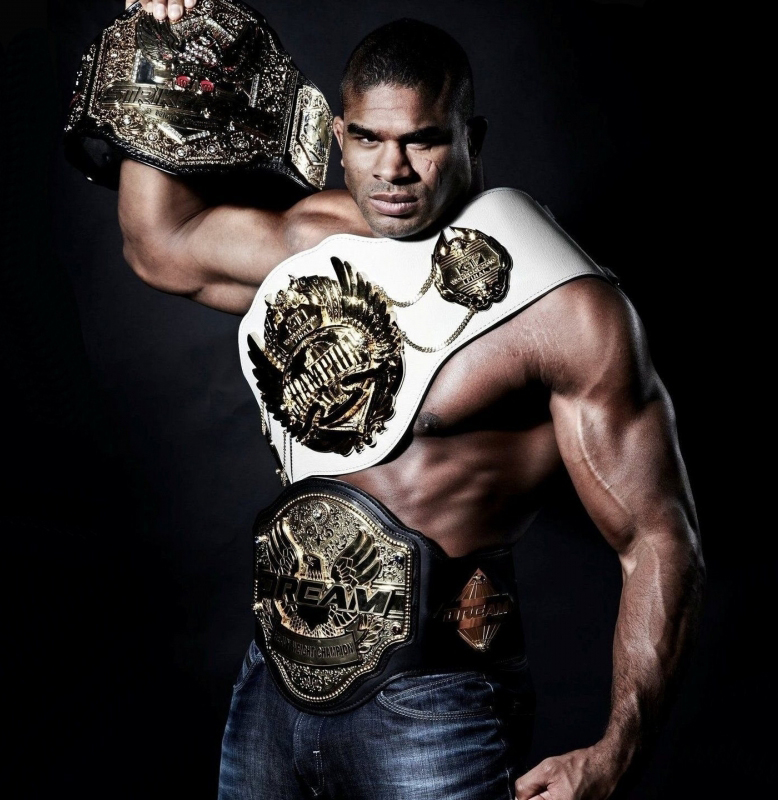 Sakai Background
Sakai may not have a record like Overeems', but he will provide a genuine challenge. The Brazilian is 15-1-1 as a mixed martial artist and has won 6 in a row. This alone is a challenging feat at Heavyweight. In his 15 career wins, he has 11 TKO's so he's always a threat on the feet. Sakai is a Muay Thai specialist with great boxing and for a man of his stature, he has a surprisingly good gas tank.
At 29-years-old, Sakai has accomplished a great deal already in his career. He spent four years in Bellator before making a name for himself on DWCS. His only loss came at the hands of Cheick Kongo in a split decision. He's never been finished in his career either which is a captivating statistic. It's incredibly rare for a Heavyweight with 17 pro fights to have never been stopped. Particularly as Sakai has taken punishment throughout his career.
The Brazilian is yet to face a test like Overeem yet though. He got the nod in a split decision against Balgoy Ivanov in his last fight. Inanov was arguably the highest caliber opponent he'd faced thus far. He also crept to a split decision victory over Arlovski last year, but Arlovski isn't exactly a top contender anymore. Not to take away from his performances, but Overeem is a big step up in competition.
That said, Sakai has the makings to be a genuine top contender and potential title challenger. He's found a way to win and has heavy hands that can put anyone to sleep on his night. Hit output and durability create an awkward matchup for a lot of current UFC heavyweights. If he can get through Overeem, he'll announce himself as a force to be reckoned with.
Overeem Breakdown
Overeem is a calculated and precise Heavyweight that creates openings with high technical IQ and ability. His kickboxing, powerful clinch game and brute strength have been key to his many successes over his career. And even at 40, Overeem is still in pristine physical condition. He can carry his power and stamina through 5 rounds with relative ease.
"The Reem" boasts some of the most violent finishes in UFC history. His kickboxing is some of the cleanest in the sport and if he secures the Thai Clinch, his opponents crumble. He generates so much speed and velocity with his knees and kicks that it looks like more of an assault than a sanctioned fight. He has a death grip in the Thai Clinch and with such long arms, it's incredibly difficult to break free of it. And while he may not be as athletic as he was earlier in his career, Overeem can explode with flying attacks that stunt his opponents from moving forward.
Overeem loves to punish the body in the clinch and when the punishment takes its toll, he does not stop. He finished Mark Hunt and Brock Lesnar in this fashion. In his UFC debut, he finished Lesnar with a monstrous kick to the body exiting the clinch. What's most impressive as this is rarely telegraphed. Heavyweights can throw labored and predictable strikes at time. Overeem on the other hand throws like a Welterweight with the power of a Heavyweight.
His head movement is also something that has set up several finishes. Overeem feints with his hands and then head which resulted in the one punch KO of JDS. This gets his head out of the center line while lining up his next attack. Against JDS, he dipped his head, feinted to the body and JDS covered his midriff expecting Overeem to level change. JDS was met with a monstrous left-hook that came over the top instead which dropped him.
And if Overeem smells blood, it's already over. The ground and pound that he lands after he drops an opponent is terrifying. When he dropped Stefan Struve, it was a massacre that left Struve unconscious and it looked more like a crime scene than a fight. He's lethal in this position and if Overeem drops you, he follows up with a barrage from anywhere, inside or outside the guard.
Sakai Breakdown
Unlike Overeem, Sakai isn't as calculated but puts a pace on opponents that you don't expect to see at Heavyweight. Also a Muay Thai specialist, he loves to throw knees and uppercuts in the clinch and carries enormous power. A major difference between the pair is Sakai's output/pressure. The Brazilian constantly moves forward and invites a brawl. He often eats one to throw two of his own. This is dangerous against Overeem, but Sakai has a granite chin and seems unphased when eating shots.
We've seen this sequence time and time again with Sakai. He gets tagged, walks his opponents down and catches them clean on the chin and it's over. Against Sherman, Sakai landed countless knees in the clinch and Sherman still managed to stay on his feet firing back. He barely flinched and continued to punish Chase with powerful knees to the head in his favored Thai Clinch.
Sakai also effortlessly changes from single hand grip, backs off, throws flurries then engages in the clinch again. Against Tibura, he landed multiple shots to back him up against the cage. Then threw countless short arm uppercuts, disengaged to box, then finished in the clinch with uppercuts. All of this was seamless and Tibura was helplessly trying to defend to no avail.
So while Sakai may not be as technical as Overeem, he makes up for it with volume and power. It may not look pretty at times, but Sakai knows exactly what he's doing and its paid dividends. That volume has broken his opponents thus far. If Sakai senses an opening, he capitalizes and is so aggressive that the ref typically has no choice but to stop the fight.
Fight Prediction
I expect violence of the highest order. While it may be a slow starter, they will likely meet in the middle of the Octagon and trade in rounds 2 and 3. Neither of these men are likely to take this fight to the ground and given somewhat similar styles, we may see gargantuan exchanges in the clinch. If they meet in the middle and engage, it could get very bloody.
The elements that make this fight so fun is the difference in approach. Overeem adopted a perfect game plan to beat Rozenstruik and I can see him trying to emulate that performance. He did a phenomenal job at controlling range and with a 3" reach advantage, he can do this against Sakai. Overeem will likely respect Sakai's power early on and try to break his stride by chopping down the lead leg.
Sakai needs to stay composed as best he can. While he has the power to knock anyone out, he cannot be careless like we've seen before. Overeem is far too technical and will find openings throughout the fight, particularly in the latter rounds.
Overeem can be guilty of moving forward with his hands low though, which could give Sakai openings. Reem has been TKO'd multiple times throughout his career, so he needs to ensure he doesn't give the Brazilian easy opportunities to touch his chin. The same can be said for Sakai however, who eats nearly 7 shots per minute. While he's got away with this in the past, he does not want to further test his chin against Overeem.
I don't see this fight going to ground, but if it does, Overeem holds a sizable advantage. He has 17 submission victories in his career and Sakai has never been tested in that realm. If Overeem hurts Sakai and can't get the finish via ground and pound, he has a real opportunity to submit Sakai.
All-in-all, I think this is too much too soon for Sakai. Styles make matchups and although Overeem has weaknesses, he has 65 professional fights. That experience will likely be too much for Sakai. Either Overeems rides out a decision victory or weathers the early storm and becomes the first man to stop Sakai. Although the former is more probable, Sakai is clearly hungry to add a huge name to his already impressive resume. So do not sleep on Sakai.
Either way, I think most fans would love to see "one final run" from Overeem. Although he's never got the timing right previously, he seems motivated as ever to reach the pinnacle of the sport.
Pick
Overeem via Unanimous Decision
---
Follow me on Twitter at @TAtlanticMMA/@NeilVorster1 and follow us @OT_Heroics for more great content!
Also, be sure to check out the Overtime Heroics Forums page to join in on the discussion!