The Cleveland Browns and Baker Mayfield bounced back in a big way last night. The ground game got going, and play-action passing was on fire. A lot went right on the offensive side of the ball. Head coach Kevin Stefanski liked what he saw and is hoping there is even more to come.
"Great throw and catch on the touchdown to Odell — really well-executed," head coach Kevin Stefanski said, "We just want to keep growing as an offense. I hope this is not the ceiling." via Mary Kay Cabot of Cleveland.com.
As with any game, win or lose, we get the good the bad and the ugly.
The Good
According to the NFL's next-gen stats, Mayfield was 4/5 for 87 yards and a touchdown in play-action passing. Coach Stefanski called the game we all thought we would see Sunday last night. Mayfield had multiple rollouts off play-action, helping with his vision downfield and freezing the defensive backs just enough to open up receivers.
Aside from one bad throw late in the game that was intercepted, Mayfield was excellent. He had that Baker swagger back and threw with confidence and pinpoint accuracy all night. We finally saw a hint of what could be on a deep pass to Odell Beckham Jr. for a touchdown. Best of all, Mayfield got OBJ involved and still spread the ball around to seven other players.
It was a game that brought back vibes of 2018 Baker Mayfield, now we just need to see that continue against Washington ten days from now.
Chubb and Hunt
Everyone fan in Cleveland screamed, RUN THE DANG BALL, and that is what they did. Maybe not in quite the order expected, but it worked. Nick Chubb had 22 carries for 124 yards and two touchdowns. Kareem Hunt only received ten carries but ripped off 86 yards, most coming in a key drive with roughly five minutes left. Hunt had a touchdown rushing and receiving on the night. Stefanski said his system is built on a foundation of running the ball and marrying it with the pass. That was on full display against the Bengals defense.
Defensive Line
Sheldon Richardson had his best game as a Brown. Myles Garrett did Myles Garrett type things and the rest of the line followed. Olivier Vernon was out but Adrian Clayborn stepped in and had a sack before leaving the game with a hip injury. Porter Gustin is forced to play more and plays great the rest of the night aside from a face mask penalty. While Joe Burrow put up big stats it was not the fault of the defensive line as they pressured the number one overall pick all night long.
Player of the Game
Baker? OBJ? Chubb? Garrett? Nope for all of them. It is a players of the game award as the offensive and defensive lines just dominated the Bengals all night.
The Bad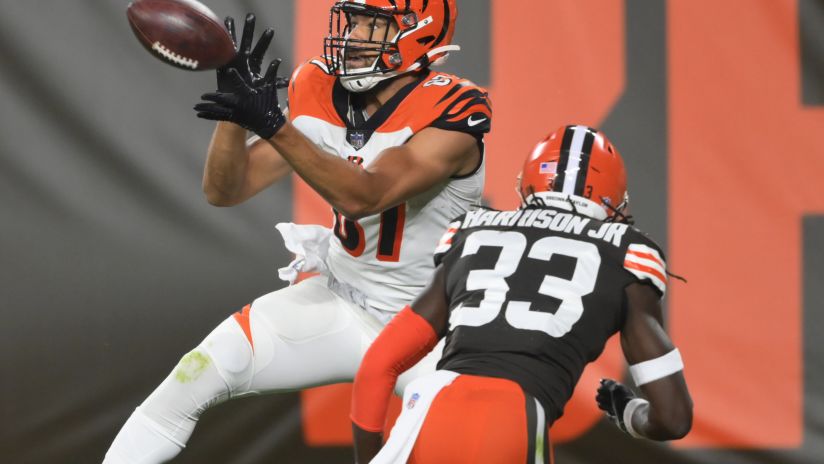 The secondary needs some work. Now don't get me wrong they had their moments, most of them from Denzel Ward, and the Bengals threw A LOT in this game(61 times). They also only gave up 5.18 yards per pass attempt. In the end, there were still too many breakdowns on the back end.
Andrew Sendejo had an up and down game but was not good overall for the second straight game. Does he fit? Terrence Mitchell made a few plays but also got lucky at times with bad throws in his direction. Tavierre Thomas is a special teams ace and fourth or fifth corner. Nobody is covering tight ends at all. Maybe Ronnie Harrison will get out there a bit more after ten more days of practice with his new team and cover a tight end.
The Browns need to get better on the back end of the defense if they want to be even average.
The Ugly
Special teams
At least the kicking game went well. Cody Parkey was perfect on all his extra points. The ugly part here was the 87 yards given up on two kick off returns.
Mike Priefer has had a rough two games to start this year. The Seibert fiasco and bad fake punt against the Ravens then Brandon Wilson tears apart the kickoff coverage for 43.5 yards a return to help keep the Bengals in this game. The special teams need to get better in a hurry.
Now to get healthy
The Cleveland Browns now get to take the next ten days to enjoy this win and get ready to face Washington. They also get to try and get some players healthy. The secondary could use Greedy Williams and Kevin Johnson back, but that may be dreaming. Could Mack Wilson make his 2020 debut? The rest is needed, and even better, without all the questions, another loss would have entailed. The Browns, and Baker Mayfield, needed this.
---
Follow me on Twitter for more great content @WeirdJBronavich.
Discuss this and everything to do with sports at the Overtime Heroics forums!