On September 26th the UFC will return to Fight Island for a showcase fight between Middleweight Champion Israel Adesanya and #1 Contender Paulo Costa.
Dubbed by many as a Brawler vs Precision Striker matchup, the reality of this fight is more complex than a single sentence can summarise. Let's take a look at Saturday's main event and breakdown the keys to victory for both men.
Tale Of The Tape
Israel Adesanya
Paulo Costa
Country
New Zealand
Lagos, Nigeria

Belo Horizonte, Minas Gerais, Brazil
Age
31 age
29 age
Height
6′ 4″ (193 cm)
6′ 0″ (183 cm)
Reach
80″ (203 cm)
72″ (183 cm)
Division
Middleweight
(185 lbs / 83,9 kg)
Middleweight
(185 lbs / 83,9 kg)
Stance
Orthodox
Orthodox
Titles

UFC (middleweight)
–
Record
19 – 0 – 0
(14 KOs)
13 – 0 – 0
(11 KOs)
KO%
73%
84%
The standout statistic from our tale of the tape is clearly the 8-inch reach advantage for the Champion. One would imagine that this will play a key factor in Adesanya's long-range striking heavy gameplan. Costa however is no slouch when it comes to closing the distance on longer fighters, his fight with Uriah Hall being a prime example.
Who has the Edge?
Power: Though at first glance most fans would assume Paulo Costa has far and away more power than the much slimmer Adesanya, it is actually Israel who has more one shot KO's on his record. However given Adesanya's superior ability to place his shots, I am going to assume this is the reason for a majority of his KO's. I give the slight edge to Costa here.
Advantage: Costa
Speed: This one isn't close. Though borrachinha is by no means slow, Israel is likely the fastest man in the division when it comes to the striking department.
Advantage: Adesanya
Cardio: Though Costa seems to have a solid gas tank, we have simply not seen him go 5 rounds the way we have the Champion. One can only assume Israel has the stamina advantage in this one.
Advantage: Adesanya
Striking Technique: Israel Adesanya…that is all.
Advantage: Adesanya
Grappling: Though we haven't seen much of either man's grappling prowess as of late, we can assume that if the fight were to hit the ground the BJJ black belt Paulo Costa would hold the advantage.
Advantage: Costa
Durability: This is a tough one. We have seen both men in absolute wars; Adesanya in his FOTY with Kelvin Gasetlum and Costa in his Marvel'esque battle with Yoel Romero. Both men have proven their ability to take a shot and come back to clench victory.
Advantage: Draw.
Keys To Victory
Israel Adesanya
Defensive Awareness
Beautiful.
Given Adesanya's deep kickboxing background, his defensive awareness inside the Octagon is almost always cranked up to 10. When he steps into the Octagon with Costa however, he may need to take it up to 11. Borrachinha presents a threat to Adesanya that we are yet to see in the UFC. With a relentless pace and big power, The Last Stylebender will need every tool in his arsenal to avoid the challengers big shots. Keeping his back off the fence and circling the Octagon will also serve Adesanya well against Costa, who often moves forward in a straight line.
Keep it Long
By keeping the fight at long range, Adesanya can take full advantage of his massive reach advantage. By fighting at long range Israel also opens up opportunities to land kicks to the shorter fighter and cause damage from a safe distance. Though easier said than done, by keeping Costa on the outside of his long range strikes, Adesanya will benefit in almost every way. I don't think there is an analyst on the planet who believes Paulo Costa can hang with Izzy in a long range kickboxing bout, if you are Israel, you want to make it just that.
Calculated Aggression
Though many fans believe Adesanya's gameplan should consist of moving backwards and countering, the contrary may prove to be effective. By using controlled aggression Israel will not only have more opportunity to land more dynamic shots on Costa but also will earn his respect early on and decrease the likelihood of Costa diving head first into range as he usually would. Make no mistake, I am in no way suggesting the world champion kickboxer should brawl with Borrachinha, but by using educated pressure and pushing Costa back, we may see a very different fight to what many fans are expecting.
Take Him Into Deep Waters
With Championship experience under his belt, Adesanya may find that taking the muscle bound Paulo Costa into the 4th and 5th round will serve heavily in his favour. As seen in Izzy's FOTY with Kelvin Gastelum, he can fight hard for 5 rounds and maintain the ability to KO a durable opponent. This may be key in his fight with Costa who has proven to be extremely dangerous for the opening 15 minutes.
Summary:
Keep the fight at long range
Use educated aggression when necessary
Weather the first two rounds
Stay defensively aware
Paulo Costa
Go To The Body
Costa has absolutely brutal body shots. In almost every one of the Brazlian's UFC performances, he has displayed the ability to destroy the opponents midsection. This may prove very effective against Adesanya due to his much smaller frame. This also lessens the likelihood of a big counter as just like any good boxing trainer will tell you, the body never moves.
Educated Pressure
Though Costa is seen by many as a Bezerker (and for good reason), in his fight with Adesanya he may fare better by using more educated pressure. In other words, don't chase. By cutting off the Octagon and staying patient, Costa will provide many more opportunities for himself to land bigger shots against the cage. It is very unlikely we will see Costa land damaging combinations in the centre of the Octagon with such a savvy kickboxer.
Don't Forget You Are a Black Belt
I actually cannot find a single GIF of Paulo wrestling in a UFC fight. Ironically that is almost my point. Costa is a BJJ black belt and almost definitely holds the grappling advantage of Adesanya. By taking advantage of this and taking the fight to the ground, we really could see pure domination from the Brazilian challenger.
Summary:
Keep the pressure sensible
Don't hesitate to take the fight to the ground
Attack the body
Prediction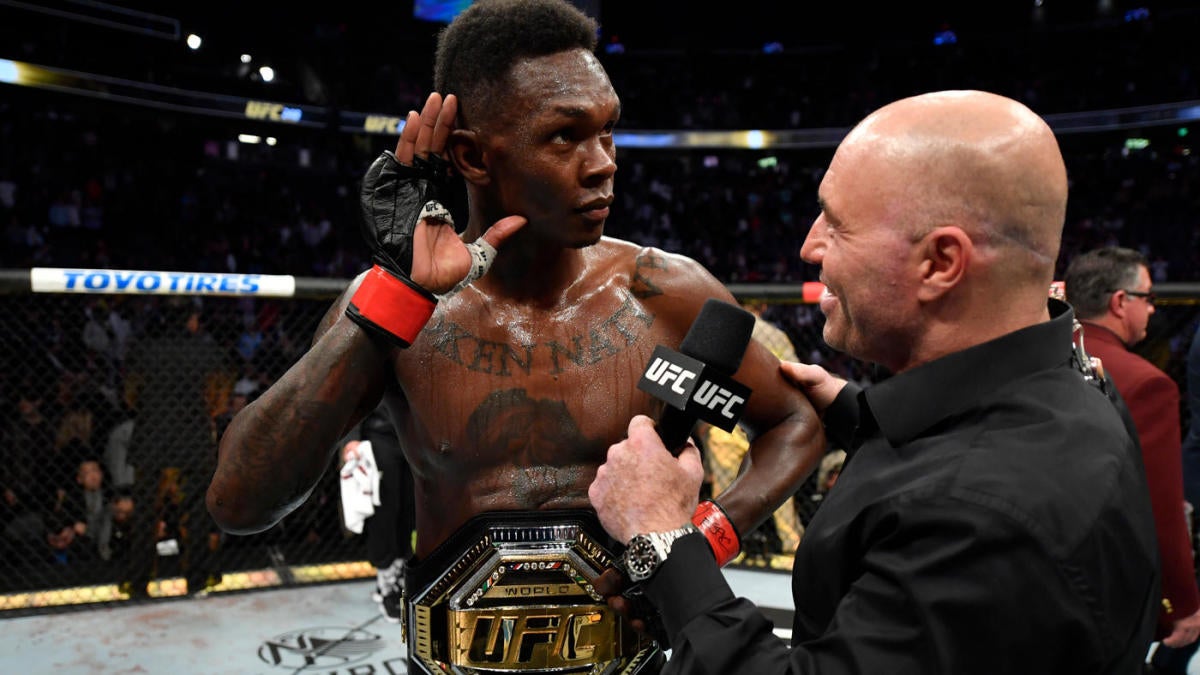 As much as I love me some Borrachinha, all signs point towards an Izzy win. Assuming this is going to be a striking affair, I am going to have to go with the best Striker the UFC has arguably ever seen. I expect some shaky moments and some big shots to land from Costa, but I see a fairly comfortable decision win for The Last Stylebender.
Israel Adesanya via Unanimous Decision (49-46, 49-46, 49-46).
---
Follow me on Twitter at @JFeen_MMA and follow us @OT_Heroics for more great content!
Also, be sure to check out the Overtime Heroics Forums page to join in on the discussion!