The opening week of the NFL season saw the Cleveland Browns looking inept against one of the best teams in the NFL. Since then, the Browns have improved in nearly every facet of the game and beat the teams they are supposed to beat.
With the victory over the Dallas Cowboys, the Browns sit at 3-1, tied with the Ravens behind the 3-0 Pittsburgh Steelers. The Browns still have a long way to go, but for now, we focus on the first four games.
Kevin Stefanski Offense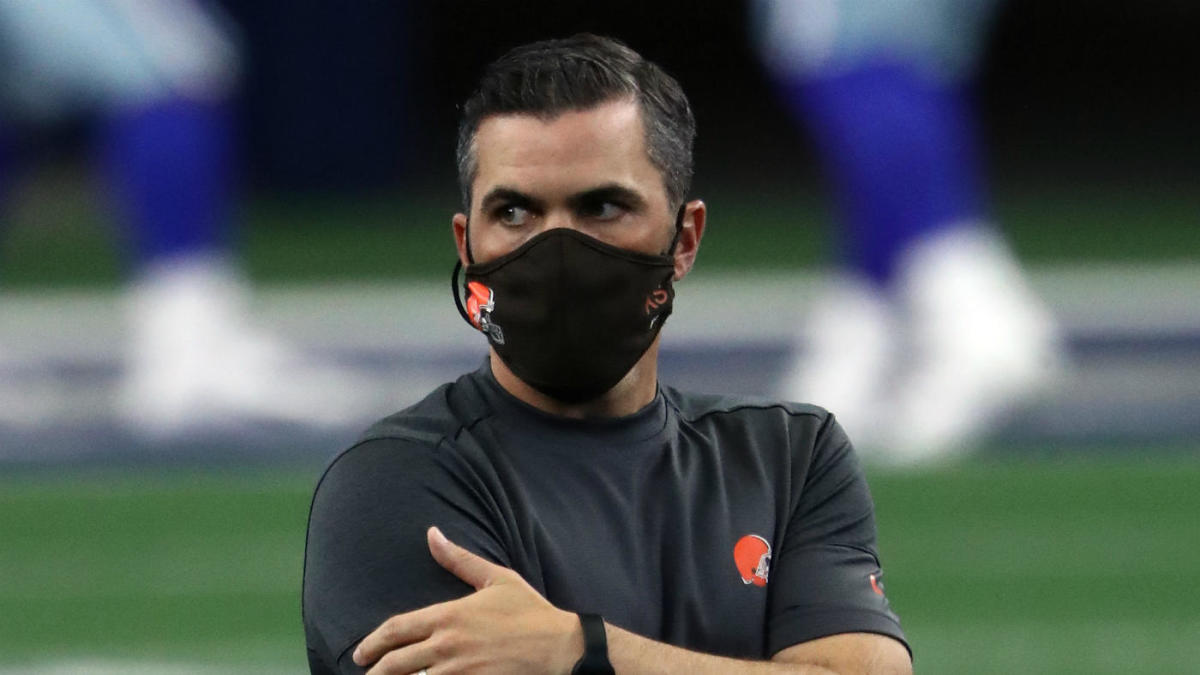 Coach Stefanski took a beating after the week 1 loss to the Ravens. His team looked unprepared and overwhelmed by an excellent football team. His quarterback looked lost, and he bailed on the run game a bit early. Every Browns fan you could find felt like it was 2019 all over again. The feeling didn't last very long because of a short week and Thursday night football against the Bengals.
The Browns would show up in a big way to Thursday night as the offense seemed to ooze confidence and played like it. Stefanski may have called the best of his four games in this one, as everything seemed to work against the Bengals defense. Stefanski was able to lift this team and get a bounce-back performance.
The next two games would be defined by the defense creating turnovers and the offense capitalizing and the run game. Stefanski has his team playing the right kind of football, win or lose, and these players know and are buying in.
Where the Cleveland Browns sit statistically on offense (Pro Football Reference):
Points scored: 3rd (124)
Yards: 1548 8th (1548)
Yards per play: 11th (5.9)
Turnovers: 10th (4)
Penalties: 25th (27)
First downs: 8th (95)
Passing Yards: 28th (730)
Passing touchdowns: 12th (8)
Net yards per attempt: 24th (6.0)
Rushing yards: 1st (818)
Rushing touchdowns: 1st (8)
Yards per attempt: 1st (5.9)
Redzone TD conversion: 80% (3rd)
Stefanski has been far from perfect, but he has his players buying into playing his brand of football and winning. What more could a Browns fan want?
After week 1, most Cleveland Browns fans were ready to move on from Mayfield and give Case Keenum the job. New coach, new system elite football team combined with essentially no offseason. Obviously, fans wanted more from their quarterback.
Well, since that game, Mayfield has completed 67 percent of his passes, throwing six touchdowns and only one interception. His QBR is higher than at any point in his career at 73.3. He is currently Pro Football Focus's 24th ranked quarterback with 68.2 grade, but he is climbing. The Browns will need more from Mayfield as the season moves along but the progress made in a short time under Stefanski provides hope he will be ready.
Cleveland Browns Defense
Myles Garrett has been out of this world, helping the defensive line to a solid status through four games. The Browns line interior has been up and down, but Larry Ogunjobi has graded out as the eighth-best interior lineman against the rush. Rookie Jordan Elliot has been a solid addition as the 61st ranked tackle out of 119 graded. Not bad for a rookie third-round pick. Sheldon Richardson has been solid, flashing a few times but might have age catching up to him.
Vernon has been no help on the field as he is ranked at 100 out of 110 edge defenders. He also missed two games due to his ongoing injury problems. At this point, Porter Gustin ranked 81st would be better. Then we get to the star of the defense in Myles Garrett.
Add in five sacks, three of them strip-sacks, and he has easily been the best defensive player in football four games in.
The linebackers for the Browns have been exactly what was expected. Bad. The best linebacker on the team per PFF has been veteran Malcolm Smith, ranked 13th (67.9 grade) out of 79 but has played only 139 snaps through four games. The next best linebacker for the Browns is free agent B.J. Goodson at 35th (55.6 grade). Between the safeties and the linebackers, the Browns have been unable to shut down the opponent's passing game.
The Browns safeties have been so bad that even having a solid season from Terrence "Money" Mitchell (61.5) and Denzel Ward as the sixth-best (76.9) corner has not been enough. Even with free agent pick-up Kevin Johnson back and playing well (72.2) in 37 snaps the defense can't seem to stop any passing game.
Andre Sendejo looks lost on the field, and when he is found, it is usually about two steps behind the guy catching the touchdown. Sendejo falls at 69th (46.9 ) out of 80 graded by PFF, while Karl Joseph comes in at 64th (49.4). Yet, Stefanski and defensive coordinator Joe Woods are unable to find snaps for Ronnie Harrison (25 snaps) and Sheldrick Redwine (0 snaps). How much worse could it be?
Where the Cleveland Browns sit statistically on defense (Pro Football Reference):
Points against: 27th (126)
Yards against: 26th (1609)
Yards per play: 19th (5.6)
Turnovers: 1st (10)
Passing yards against: 30th (1242)
Passing yards per attempt: 12th (6.4)
Passing TDs against: 30th (12)
Rushing yards against: 5th (367)
Rush yards per attempt: 8th (3.9)
Rushing TDs against: 14th (4)
Sacks: 9th (11)
Pressures: 4th (45)
Missed tackles: 17th (28)
Work still to be done
Stefanski also has them winning in the turnover battle and converting those into touchdowns. When the Browns get in the red zone, they score touchdowns, not field goals. The defense flies to the ball and causes turnovers. His players talk like their coach acts like their coach and are beginning to believe in their coach. The fact Stefanski has this Browns' team at 3-1 is a testament to his leadership and the luck of facing some bad football teams.
The Bengals are still working on a rebuild, as is Washington. The signature win so far comes against what might be the worst…checks stats…third-worst defense in the NFL. The competition will get a bit tougher over the next couple of games as they will face the NFL's top two defenses in the Colts and Steelers. If this team can show they can compete and beat the best, that is when the world will stand up and take notice. The Cleveland Browns at 3-1 is amazing, but with 12 more games to go, there is a lot more for this team and coach to prove.
---
Follow me on Twitter for more great content @WeirdJBronavich.
Discuss this and everything to do with sports at the Overtime Heroics forums!