On the 17th of October 2020, the UFC have lined up a featherweight bout to headline the Fight Night of their second stint on Fight Island. #2 ranked Brian Ortega will look to take on the #4 ranked Chan Sung Jung alias The Korean Zombie. The co-main event features a women's flyweight bout between Katlyn Chookagian and Jéssica Andrade.
Former featherweight title challengers Brian Ortega (14-1-1) and Korean Zombie (16-5) are set to fight it out for 25 minutes in one of the most anticipated fights of the year. Let's look at how they match up.
Ortega, 4 years the younger has a slight height advantage but it's the zombie who has a 3-inch reach advantage. Ortega has a half inch leg reach advantage.
HOW THE DIVISION STANDS
The featherweight division is as stacked as it could possibly get in the past few years. The champ Volkanovski recently won a controversial rematch against former champ Max Holloway leaving him as the #1 contender. #3 ranked Zabit Magomedsharipov was scheduled to fight the #5 ranked Yair Rodriguez before the latter had to pull out due to an ankle sprain. The #6 ranked Calvin Kattar is breathing down the neck of the top 5 after an impressive win over Dan Ige. This weekend's winner will look to stake a claim for the title shot against Alex Volkanovski.
T-CITY (14-1-1)
T-city as he's popularly known all over the world for his insane ability to catch people in the triangle and choke them out. He was last seen in action against Max Holloway where he lost a very one-sided fight. He's since gone back to the drawing board to sharpen and hone his striking. Ortega is as talented as they come when the fight goes to the ground as he's a first-degree black belt under Rener Gracie. He's had notable wins over Thiago Tavares, Diego Brandao, Clay Guida, Renato Moicano, Cub Swanson, and most recently against the former lightweight king, Frankie Edgar. He has a 100% finish rate since signing with the UFC and will be looking to make another dash at the highly coveted 145lb title.
Korean Zombie (16-5)
Chan Sung Jung made his professional MMA debut in 2007. He has a background in Hapkido, Taekwondo, Judo, and a brown belt in Brazilian Ju-Jitsu. He scored the UFC's first twister submission against Leonard Garcia which won him the Submission of the Year by the World MMA Awards. He made a run for the belt back in 2013 after finishing Mark Hominick and Dustin Poirier but ultimately came short to the then P4P great Jose Aldo as he suffered from a dislocated shoulder when he went to throw an overhand right. Subsequently, he returned to South Korea for his mandatory Military training. He made his return in early 2017 as he finished Dennis Bermudez via TKO. He lost the fight against Yair Rodriguez in the final seconds of the fifth round which later went on to receive the FOTN bonus. Since then, he's finished Renato Moicano and Frankie Edgar inside one round. He has 9 post-fight bonuses in his last 10 fights.
T-CITY BREAKDOWN
Ortega has a 100% finish rate in the UFC and most of them have come in the 3rd rounds which is when he comes on strong. Ortega switches his stances constantly and moves in and out looking to close distance. He will look to attack the neck as he has a wide range of neck attacks to choose from. This discourages more people to grapple with him because of his superior ground game.
The Zombie can't make the mistake of level changing into one of Ortega's primary weapons- Guillotines. Ortega will look to break TKZ's posture and try to catch hold of his neck like he did against Moicano and many others.
Also, it's not just the chokes that he can wrap around when one is slipping too deep to avoid the strikes. He can throw a knee as he did in the later moments of the Guida's fight or land an uppercut like in the Edgar fight. He will feint enough times to see how TKZ reacts. Expect him to unload on TKZ's front leg as he stands heavy on it.
KOREAN ZOMBIE BREAKDOWN
Like Ortega, TKZ has a 88% finish rate in the UFC after finishing 14 of his 16 wins. The early Zombie was introduced to the American public as an absolute brawler as he'd been in several wars, notably against Leonard Garcia in the WEC and Dustin Poirier. TKZ has a good striking background and can counter strike effectively by moving his head off the centre line and cracking the opponent with a well-placed punch. He will look to slip and counter against Ortega's attacks as he packs good power.
After the Aldo defeat, the Zombie took leave for his mandatory military service and returned after 4 years, fresh and motivated. He came back a calmer and more calculated striker. He is a more precise and sharper striker now, looking to land clean strikes and slipping away to absorb minimum damage.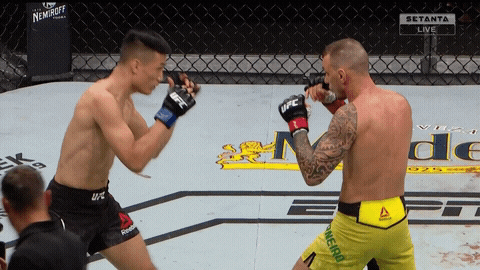 In his fight against Moicano, he masterfully sees the punch coming, slips his head off the center line, and cracks him with a 2- piece hook and finishes him off. TKZ will look to slip and counter Ortega with precise strikes and should he catch him in one of the exchanges, it's best to not follow him to the ground. He should ensure not to slip too deep while level changing into one of Ortega's nasty neck attacks.
This is going to be one cracker of a fight as they have contrasting styles. Ortega will look to close distance and use his grappling to find the zombie's neck while the zombie will look to keep the fight standing, force Ortega to strike, and expertly slip and counter. With both men having an eye for finishes, do not take your eyes off this one. Considering the fact that this fight had already booked once back in December 2019 before Ortega pulled out with a knee injury, this time around it's a big deal. The winner will look to make a claim for a title shot next.
---
Follow me on Twitter at @thegoolisridhar and follow us @OT_Heroics for more great content!
Also, be sure to check out the Overtime Heroics Forums page to join in on the discussion!