Giannis Antetokounmpo is on the last year of his four-year deal with the Milwaukee Bucks which makes this offseason interesting for their front office. Rumors have been circulating about many stars and the Milwaukee Bucks, with good reason too. The Bucks want to keep the back-to-back MVP in house, so they are willing to do anything and everything to retain him.
At the beginning of the offseason, the Bucks stated everyone not named Giannis will be on the table for trade talks, which proves Milwaukee's willingness to keep Antetokounmpo. With everyone on the table, the Bucks front office can go many different ways this offseason.
Trades
With the free agency market as weak as it is, making trades will be how the Bucks turn from good to great. As mentioned, a lot of star players have seen their names floated in trade rumors. If the Bucks can make one of these trades, the offseason would be a success, and would better their chances at resigning the 'Greek Freak'.
The Milwaukee Bucks get a Big Three
Victor Oladipo is another star in the last year of their deal out in Indiana. Granted Oladipo has shown cracks in his game after his injury, the Bucks are still showing interest.
"I'll give you a team I'm keeping an eye on with Victor Oladipo…Milwaukee. Just keeping my eye on them…that's all I'm saying, that's all I'm going to say."

via Zach Lowe
Now the fit may be questionable, as Oladipo is not the best three-point shooter over his career, just shooting 35% from downtown. But adding a former steals champion and a former all-NBA defensive first teamer improves the already elite defense.
A trade for Oladipo may be difficult for Milwaukee. The Bucks have made it no secret that Eric Bledsoe is on the trading block, so he will have to be in the deal for the money to work. After that, it will have to be what Indiana wants from the Bucks.
The trade sends Bledsoe, a future first and former first round picks in Dragan Bender and D.J. Wilson to Indiana. Dealing your star is never ideal, but Indiana salvages some value for Oladipo with Bledsoe. Plus Bledsoe has shown he can play alongside budding star Malcolm Brogdon. This deal may be the rare win-win for both sides.
Star for Star
Bradley Beal has seen his name in trade rumors over the past few years. Beal is an attainable star, but it will not come without a heavy cost. Beal's name has been floated in trade rumors around the Nuggets, Bucks, and Warriors, but the Bucks may have the best offer out of the three.
The Middleton for Beal deal is a trade that shows Milwaukee's willingness to move anyone to better their chances for a championship. Beal would also add a go-to scorer at the end of games. Fans saw glaring weaknesses in the Bucks against Miami, and one of which was the inability to create their own shots against solid defensive teams. Middleton showcased his ability to create his own offense against the Heat after Giannis went down with injury. But adding Beal creates more of a commitment to isolation scoring from the wing then there was with Middleton.
This trade is unrealistic as both teams would move on from their stars. However the principles remain true for the Bucks. Giannis cannot be the primary creator of offense against playoff teams. Whether it is a trade for Beal or more of a commitment to Middleton's ability to create offense, Milwaukee needs to change.
Bucks Acquire Veteran Leadership
Chris Paul has been one of the Milwaukee Bucks targets since the start of the offseason. His contract is not one Milwaukee should be trading for, but his addition changes their status of Championship pretenders to Championship contenders. Not only is he a go-to option down the stretch, but he will help develop Giannis' basketball IQ. It will be a hefty deal and one that I am personally not high on, but do recognize the value of acquiring a player of CP3's caliber.
The Thunder receive another Kentucky guard in Bledsoe and regain some power forward depth after Gallinari's departure. On top of that the Thunder add two more future firsts to their stockpile of picks.
The Bucks keep their depth around Giannis and replace Bledsoe with a future hall of famer. Their cap hit jumps, but it is now or never for Milwaukee to keep their star and compete for the championship.
Free Agent Targets
The free agent market is not the stacked class it will be next offseason, but there are a few diamonds in the rough. The Bucks do not have much cap space, so those diamonds in the rough will have to be their targets.
The restricted free agent will step into a Bucks team that needs a more consistent third scorer than Eric Bledsoe. A career 37.4% shooter from three, he will be able to play off the ball and space the floor around Giannis and Middleton. His contract demands may be tough to fit into Milwaukee, but he should be a target nonetheless.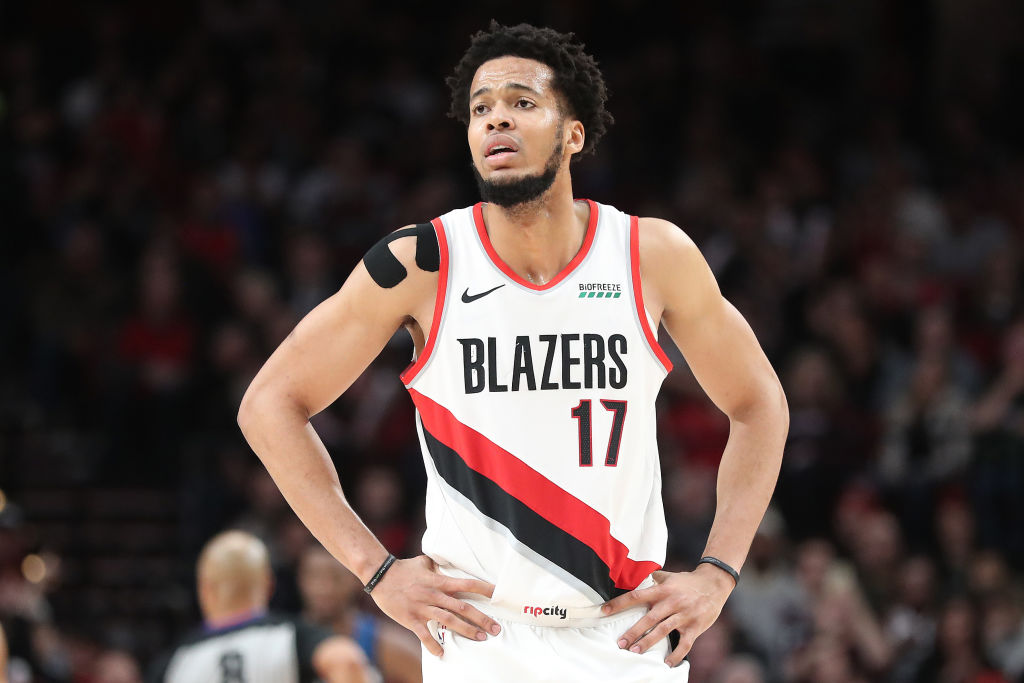 Now you may be asking why a backup big man should be targeted by the Bucks. Well Labissiere is a career 35.3% shooter from downtown and averages just about a block a game over his career. I am not expecting Labissiere to take over Brook Lopez's job at center, but rather be a rotational big man that can space the floor. Skal can be a integral piece in limiting Lopez's minutes during the season, plus his contract demand will be low. Signing Labissiere would be a low-risk high-reward for the Bucks.
Wing depth was something the Bucks did not lack this year, but wing defense and defending the pick and roll proved to be weaknesses in the series against the Miami Heat. Bring in D.J.J., standing at 6'6″ with a 7′ wingspan, Jones is a versatile defender off the bench. Jones only improves the Bucks defense, and adds in a switch-ability factor that Milwaukee lacks at times.
In an Eastern Conference with stars such as Kevin Durant, Jimmy Butler, Jayson Tatum, and Ben Simmons, adding a versatile defender in Jones takes a load off of Giannis and Middleton.
The Milwaukee Bucks are Close to Championship Contention
Seven years into Giannis's career and finals appearances yet for the Bucks. But with some moves this offseason, the Bucks will be playing championship basketball next summer.
STAY SAFE FOLKS
---
Overtime Heroics – Made By The Fans, For The Fans
Follow us on Twitter @OT_Heroics for more great content!
Come discuss this and everything to do with sports at the Overtime Heroics forums!
Follow me on Twitter @craines38
Be sure to check out our merch store powered by http://teespring.com and pick up something!
Check out Takes from the Nosebleeds for more sports talk!