Angel Hernandez is a bad umpire. Period. That is one of the few statements that nearly every MLB fan can agree on. In the words of C.C. Sabathia, "He is absolutely terrible." There have been multiple videos made critiquing Hernandez in recent years, and a new one is released following just about every game he calls. However, Angel Hernandez has been gracing MLB with his horrendous calls for longer than people might know; Hernandez began his "umpiring" career way back in 1991.
Blown Call
In August of 2001, the Colorado Rockies were facing the Chicago Cubs with Angel Hernandez as the home plate umpire. When a ball went by catcher Adam Melhuse in the sixth inning, the Cubs' Ron Coomer attempted to score from third base. Angel Hernandez called him out at the plate despite replays showing Coomer ahead of the tag.
Steve "Mongo" McMichael
Steve McMichael (aka Mongo) is a Chicago legend. Playing 13 years for the Bears at defensive tackle, Mongo helped to bring a Super Bowl Championship to his city. Following his career, McMichael took up wrestling and was known for his crazy personality.
How does Steve McMichael relate to an August game at Wrigley? Well, McMichael was in attendance to perform Take Me Out to the Ball Game during the seventh-inning stretch. He, like all other Cubs fans, was furious about Angel Hernandez's blown call. So, when given the mic to lead the crowd, McMichael first had a message for Hernandez shouting, "I'm going to have to have some speaks with that umpire down there." Then he blew a kiss to Angel Hernandez and booed loudly.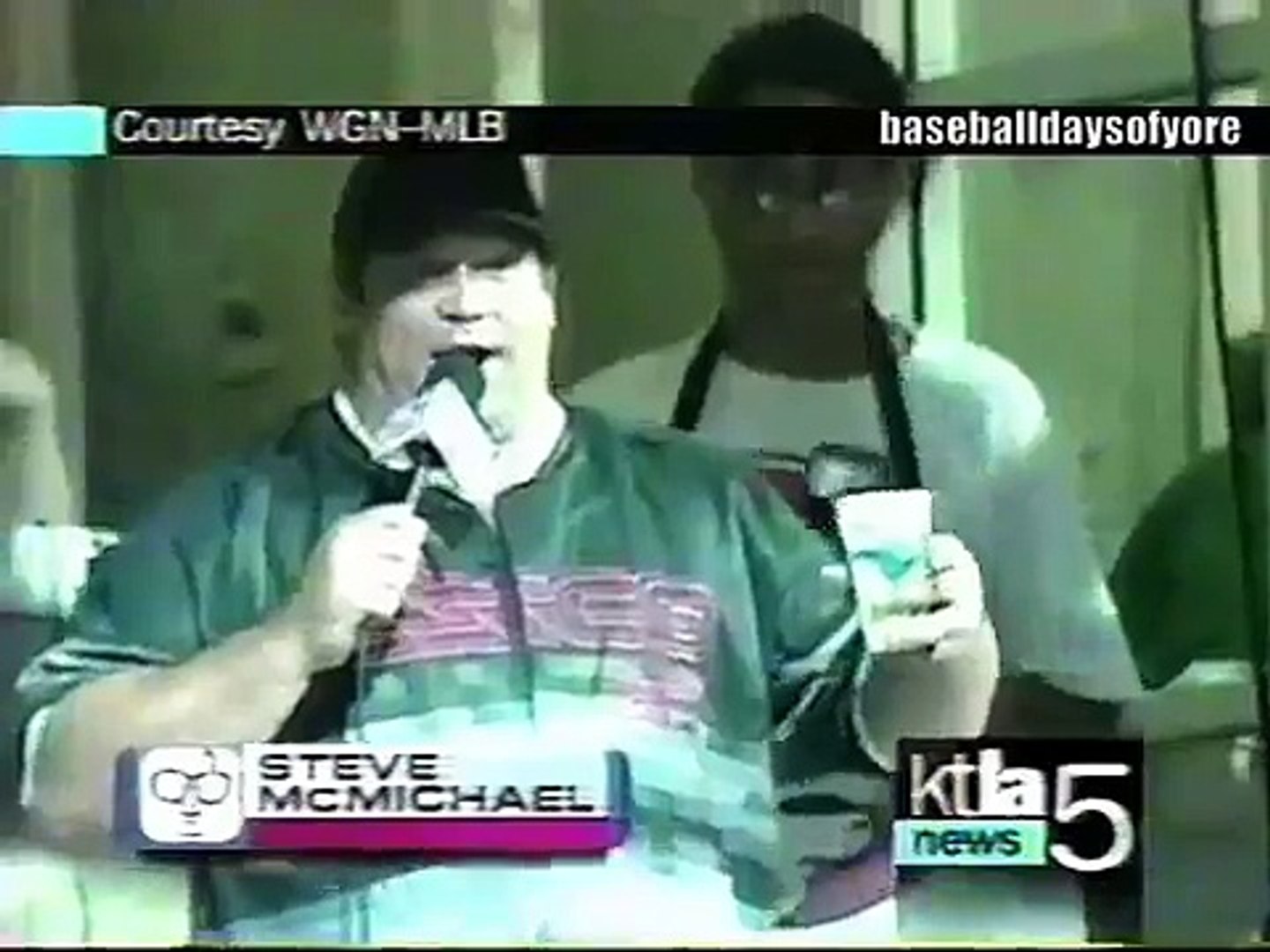 Angel's Reaction
Angel Hernandez was not happy. This can't be surprising, as Hernandez is known to have a fragile ego and a short temper. Angel looked up at McMichael with a classic Angel Hernandez face, and after McMichael finished singing, he was informed that he had been ejected from the game.
Just to prove how fragile his ego is, 16 years later Hernandez spoke about the incident to try and clear his name, throwing crew chief Randy Marsh under the bus for the ejection. Whether or not Hernandez was the one who ultimately ordered the ejection, it is more than likely that he had some say in the matter and requested Marsh to act as he did. It is absurd that a grown man feels the need to eject a football legend in the stands for criticizing him before singing Take Me Out to the Ball Game, but that is what you can expect from Angel Hernandez.
The End of the Game
This story gets even wilder when you see how the game ultimately ended and what McMichael ended up missing. Think of the last play of the Rays vs. Dodgers World Series game four but with even more chaos. I can't even accurately describe the final play, so you can just watch it for yourself.
Read More Wild Baseball
Wild Baseball 2: When the Red Sox Let Their Best Players Walk
Wild Baseball 3: Albert Belle's Corked Bat
Have a baseball lover that you need to get a gift for? Check out our partner at Dugout Mugs! Create a personalized mug made out of the barrel of a bat. Great for any baseball fan, or, let's be honest, yourself!
Follow me on Twitter at @JoshCohen34 for more of my content! Don't forget to join our OT Heroics MLB Facebook group, and feel free to join our new Instagram – @overtimeheroics_MLB. We'll see ya there!
Come join the discussion made by the fans at the Overtime Heroics forums! A place for all sports!