In what could possibly be the fastest card that ONE Championship has ever put on, we have fighters put their stamp on their place in the roster.
Nothing but big step-ups happened in what can be considered a notable sequel to the biggest card of the year. These are the ONE: Inside the Matrix 2 results.
Meng Bo Punches Her Way to a Second Win
Atomweight #2 Meng Bo set the trend for the rest of the night as she aimed and launched a one-hitter-quitter to the jaw of Indonesian near-contender Priscilla Hertati Lumabn Gaol. She ended the fight via KO in the first round.
Saputra Continues His Blazing Run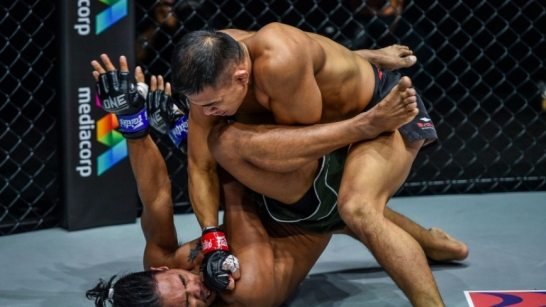 The Indonesian warrior now has back-to-back first round submission finishes as he forces Ramon Gonzales to tap via Rear Naked Choke in the first round.
The Little Piranha Bites Again
Yuya Wakamatsu continues his quest back to the top of the division by adding another first round KO to his highlight reel.
The Japanese fighter stops Kim Kyu Sung with a right straight in the first round.
Nastyukhin Pressures Buist Into Submission
ironically, the one fight that everyone thought would end in a knockout is the only ONE: Inside the Matrix 2 results that went the distance.
Number 4 Timofey kept up the pressure on a much too composed Number 3 Buist for all five rounds. Archangel waited too long to pull the trigger as the Russian cruised to an easy Unanimous Decision victory.
Abbasov Stops Nakashima With Comeback Kick
Things did not look good for Abbasov when Nakashima broke the Champion's nose early in the first round.
Though the fight was tight all the way through, the undefeated American had seemed to have an edge by causing more damage.
That is until the Champion pulled-off a Hail Mary kick that substantially rocked Nakashima. Abbasov moved in with ground and pound until the referee jumped in.
Kiamrian Abbasov defends his title via TKO in the fourth round.
What could be known as the most knockout-friendly night in ONE's history, the ONE: Inside the Matrix 2 results are special in how strongly each of the winners put their respective flags in the ground.
The next step for each of the winners is clear, and they're all due for big step-ups in competition.
---
Follow me on Twitter at @BjornPossel and follow us @OT_Heroics for more great content!
Also, be sure to check out the Overtime Heroics Forums page to join in on the discussion!