The MMA leader having finished their final stint on Fight Island has returned to APEX in Vegas and is looking to host their 2nd consecutive Fight Night. It will be headlined by former LHW title challengers Thiago Santos and Glover Teixeira. The co-main event is set to feature a Heavyweight bout between Andrei Arlovski and Tanner Boser.
#1 ranked Thiago Santos(21-7) and #3 ranked Glover Teixeira(31-7) are set to fight it out for 25 minutes. This is a fight the fans have been waiting for some time as it was canceled two times after both the opponents tested positive for COVID-19 on separate occasions. Third times the charm they say. Let's look at how they match up.
Santos, 5 years younger than his Brazilian Counterpart matches up very evenly in all the departments. They even have a similar leg reach of 42.5″
HOW THE DIVISION STANDS
Jan Blachowicz is the first man in over a decade to hold the 205 lb belt not named Jon Jones or Daniel Cormier after he won it in dominating fashion against Dominick Reyes. It was understood that the winner of this fight would get the next title shot against Jan but a couple of days ago, UFC president Dana White announced that Middleweight king Israel Adesanya would be moving up to 205 to give Jan his first title defense. Depending on how the Adesanya situation will turn out, the winner of Santos vs. Teixeira will be given a title shot next or made to face Reyes for the number one contender spot in the division.
MARRETA SANTOS (21-7)
He is Nicknamed Marreta because his punches feel like blows from a sledgehammer. Thiago Santos was out of action for over a year after his split decision loss to Jon Jones. Midway during the fight, he suffered a torn left LCL, PCL, MCL, meniscus, and a cracked tibia along with a partially torn right ACL but still won on one of the judge's scorecards showing the heart of this man. A former paratrooper, Santos is as tough as they come. He originally started out as a middleweight in the UFC amassing wins over notable opponents like Nate Marquardt, Gerald Meerschaert, Jack Hermansson, Anthony Smith, Kevin Holland. The move to 205 came in September 2018 and was a very good one. The weight-cut isn't as draining and he carries his KO power well as he finished Eryk Anders, Jimi Manuwa, and the current 205 lb champ, Jan Blachowicz. He will look to get the win over Teixeira and plan to set up a date with the man he already has a win over.
TEIXEIRA (31-7)
One of the veterans in Brazilian MMA history, Glover Teixeira signed with the UFC in summer 2012. With a rich background in grappling and Ju-Jitsu he immediately racked up a 5-fight win streak over Kyle Kingsbury, Fabio Maldonado, Rampage Jackson, James Te-Huna, and Ryan Bader. He earned a title shot against the then champ Jon Jones and ultimately came up short. The resilient Teixeira has since won nine times most notably over Rashad Evans, Jared Cannonier, OSP, Misha Cirkunov, Patrick Cummins, Ion Cutelaba, Nikita Krylov. His most recent victory was against Anthony Smith where he came back from a bad round one and went on to dominate Smith inflicting significant damage. The 41-year-old Teixeira is making what seems to be his final run at the title.
SANTOS BREAKDOWN
Santos is a fierce striker with incredible KO power (The sledgehammer on his torso doesn't lie). He likes to get into scrambles and wild exchanges as he comes to put on top most of the time. He has an incredible 71% KO/TKO finish rate. He will look to keep his distance from Glover and try to finish the fight early by dropping bombs. He will look to land heavy shots in the clinch like he did against Eryk Anders. The elbows and punches inside the pocket are things Glover should watch out for as he can't eat too many of them.
Glover fights in his orthodox stance and likes to rest heavily on his lead left leg. Look for Santos to land heavy leg kicks as he did against Jon and Jan. Glover can only take so many of them before they start to affect his movement.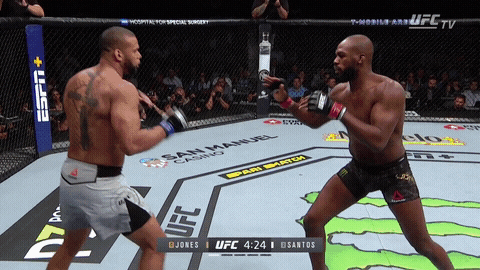 TEIXEIRA BREAKDOWN
Teixeira's path to victory would be by grappling with Santos, tiring him out, and taking the fight to the ground where he has a significant advantage. If he can get Santos to empty his gas tank early, he will have an advantage in the later rounds. Another key to victory is utilizing the under hooks Santos gives up in the clinch. This way he can negate his Santos's punches and take the fight to the ground. Teixeira should look to check the leg kicks coming his way. While clinching and going for the takedown with Santos, he should ensure not to take too much damage in the pocket with elbows or punches.
This is an exciting Striker vs Grappler match up as two tough Brazilians go head to head after a long overdue. Santos will look to get the victory and set up a fight with the winner of Jan vs Adesanya. Glover meanwhile is making what would be his final run at the belt at 41 years old. The fans have been in anticipation of this fight since the first time it was booked. The winner of this fight is possibly a maximum of two fights away from fighting for the belt considering Reyes will be back into contention soon.
---
Follow me on Twitter at @thegoolisridhar and follow us @OT_Heroics for more great content!
Also, be sure to check out the Overtime Heroics Forums page to join in on the discussion!Shortcode