The Charlotte Hornets were far from exciting this past year. A 23-42 record and a 29th ranked offense, and a 24th ranked defense caused nothing but eye rolls when the Hornets were brought up. However, the future is brighter than you think when it comes to Charlotte.
The Hornets Roster
NBA fans questioned the three-year 57 million dollar signing of Terry Rozier, and with good reason. Rozier's first four years in Boston were inconsistent. But a new role in a new city allowed Rozier to shine. 'Scary Terry' still showed flaws in his first year in Charlotte, but he also displayed growth. Rozier ended the season averaging 18.0 points per game, 4.4 rebounds, and 4.1 assists per game.
The key to this massive improvement, efficiency. Rozier saw his free throw percentage increase by 9%, his 3-point percentage was up to 40%, and his field goal percentage was 42.3%, cracking 40% from the field for the first time in his career.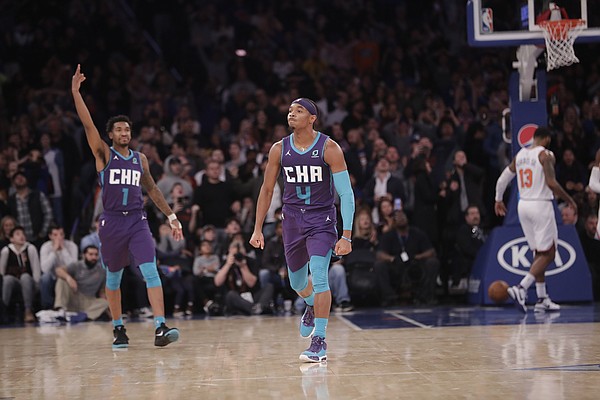 Graham was a deserving candidate to take home the NBA Most Improved Player award. From his rookie year to this past year, Graham saw sizeable jumps in almost every statistic.
Even with the impressive improvements, there is still a noticeable knock on the former Jayhawk. Graham shot 38.2% from the field on 15 attempts a game. The so-so shooting from the field stems from that more than 60% of his shots were from behind the arc, proving to make them more valuable. However, sub-40% shooting raises some eyebrows.
The pairing of Graham and Rozier is certainly interesting as both have experience running the offense. As mentioned previously, Rozier averaged just about four assists a game, while Graham averaged 7.5 a game. A combined 11.5 assists a game from a backcourt pairing that also averaged a combined 36.2 points a game. That is a guard duo of Charlotte's future, and something Hornets fans should be excited about.
The second-year-man out of Michigan State will be an important piece of the future for the young Hornets team. Bridges saw an increase in minutes this past season and showcased his versatility, along with his quickness and raw athleticism. Bridges' unique 6'6 frame makes him a high ceiling as a defender in today's NBA.
The rookie out of Kentucky saw an impressive debut against the Chicago Bulls, scoring 27 and hitting seven downtown shots. Matching his stunning debut proved to be tough, but the former Kentucky Wildcat did prove to be a reliable forward. The 21-year-old rook shot 37.4% from downtown and 66% from shots within three feet.
His raw statistics did not stand out in his rookie season. Only averaging 12.2 points and 5.4 rebounds a game, Washington has room to improve and the rest of the names mentioned. But combining his improvements with the rest of this young Hornets team raises the ceiling of this team.
The Coach
When James Borrego stepped into the Hornets, the roster and financial situations were far from perfect. His first year proved to be competitive. But losing Kemba Walker to the Celtics made the 2019-2020 season more difficult for the former Spurs assistant.
Borrego weathered the storm this past season, giving the young guys more playing time. It is clear the Hornets are in rebuild mode, and Borrego is executing the rebuild flawlessly. Allowing the young guys to play more minutes is one thing, but staying competitive in each game is another. 17 of their games were decided by three points or less, proving that Borrego's young core can be competitive.
Now Borrego is coming into the 2020-2021 season with the third pick in the draft, allowing another young piece to be added to an already stacked core.
The Draft
For a rebuilding team, retaining your first-round picks is a necessity to continue to improve, and the Hornets have done just that. Charlotte does have a few undesirable contracts with Nicolas Batum, Bismack Biyombo, and Cody Zeller. But they have made a commitment to not package their contract with picks to get off their deals.
Now the Hornets have a chance to continue their rebuild, drafting third in the upcoming 2020 draft. Charlotte has expressed their interest in the Memphis big man, James Wiseman. Wiseman would round out the Hornets starting five for this upcoming season. But Wiseman landing in Charlotte all hinges on the Warriors and Timberwolves interest in him. Nevertheless, the Hornets will be attaining another young piece to add to their core.