The Toronto Maple Leafs have announced that they've cut 14 players from their training camp roster ahead of the 2020-21 season.
The Cuts
Ahead of the Blue vs White scrimmage on Saturday, it appears as if Sheldon Keefe had already made the bulk of his camp decisions.
The Expected
Justin Brazeau, Tyler Gaudet, Scott Sabourin, and Rourke Chartier were all on AHL deals and will be sent down without waivers.
Chartier made a huge push that will force the Leafs to look at giving him an NHL deal, and he'll continue to do so with the Marlies.
Justin Brazeau looked good in the Blue vs White scrimmage, but he wasn't going to make the team this year. He will begin his first full AHL season in February.
Gaudet and Sabourin are solid AHL players with NHL experience. They'll be a nice option if worst comes to worst, but they'll likely spend the season in a bottom-six role with the Marlies.
Prospects on NHL deals such as Mac Hollowell and Teemu Kivihalme have been sent down. The Leafs love Mac Hollowell, he'll play his first full AHL season after impressing in a part-time gig. Teemu Kivihalme bulked up big time, he's already a solid defenseman, he'll try to push the Leafs for a depth role this season. The team also likely cut prospect Joseph Duszak, who was slotted in after an injury to Alexander Kerfoot, but didn't take part in any scrimmages.
Michael Hutchinson wasn't going to beat out the likes of Aaron Dell and Jack Campbell. He'll be a huge help for the Marlies and, more specifically, Joseph Woll, who now has a solid presence beside him in net.
Calle Rosen is a decent depth defenseman, he won't be claimed on waivers, but he's an elite AHLer. This is a guy who wanted to be back in Toronto, specifically asking to be traded back from Colorado. He gives the already deep Leafs a good option, just in case.
The Tough Decisions
Three guys in particular who were projected to be AHLers really tried forcing Sheldon Keefe's hand throughout training camp. Nic Petan, Kenny Agostino, and Joey Anderson.
Nic Petan looked great out there on Saturday. He, along with Rourke Chartier and Travis Boyd, formed a line that deserved praise for their performance in the Blue vs White scrimmage. He'll, once again, begin the season in the AHL. He's already cleared waivers, so he can be called up and down for the next little while until he hits 30 cumulative days on an NHL active roster or 10 NHL games.
Kenny Agostino looked like an NHLer out there, and he probably should be. The former AHL MVP is just a force down in the AHL. In the NHL, he's proven to be very useful as a part-time player, and he could make some appearances on the Leafs' taxi squad.
Joey Anderson wasn't acquired to be an AHLer. Anderson is only 22, he's exempt from waivers, and as a result, he could see some time bouncing in and out of the AHL. He's very close to becoming an NHL player and was one of the Leafs competing for a taxi squad gig.
Martin Marincin has been waived, but he's probably here to stay. For the millionth year in a row, do not be surprised if we see Martin Marincin play with the Toronto Maple Leafs. He is pretty much the next Leaf in line in case of injury, he'll see time on the taxi squad.
Timothy Liljegren was also a tough decision for Sheldon Keefe. The 2017 first-rounder is so close to becoming an NHLer, I think he'll see a lot of NHL time, but the Leafs could give preference to a guy like Martin Marincin in case of an emergency (only due to the limited role he would receive). No, Timothy Liljegren is not a disappointment or a bust. His development is going great, and I can almost guarantee that he'll be a Toronto Maple Leaf in 2021-22.
The most shocking decision? The Maple Leafs cut Pierre Engvall, but I'll get to that later.
Who Made the Cut?
The Leafs had very few spots available. With only six or seven spots available (including taxi squad) and so many promising players looking for a spot, it was difficult.
Star prospect Nick Robertson secured what looks like will be a taxi squad role with the Toronto Maple Leafs. He's not eligible for waivers, and with a new CHL exemption, he will be able to play in the AHL this season. However, after staying in Toronto the entire offseason and working on his game, he's not looking for an AHL role. My guess? I think he gets time in the AHL, but with the likes of Joe Thornton, Wayne Simmonds, and Jason Spezza expected to play fewer games this season, he could see time on the third line.
Travis Boyd is an NHLer, and he came to Toronto to be an NHLer. He is on waivers right now, but his inclusion on the roster after these cuts signal that they want him to be on the taxi squad. He's a very good AHL player, but he proved to the Leafs that he will be an excellent depth add when needed.
Adam Brooks is a bit of a surprising inclusion, but Sheldon Keefe has worked with him for years. He knows what Brooks has to offer, and he'll slot in nicely on the fourth line. The Leafs expect him to be their 4C in 2021, he could see AHL time, but the Leafs would rather see him in the big league.
Alexander Barabanov looks to be holding on to his NHL spot on the fourth line. I wrote more about Barabanov when the Leafs were rumoured to be interested in him, but he didn't come to the NHL to be scratched. Numerous Leafs have sung praises for him, he's stayed in Toronto for maybe the last six months, and he'll look to be a spectacular add for the Leafs.
The defense spots are a bit more confusing. Travis Dermott was projected outside of the top-six, but it appears that he'll slot in for Mikko Lehtonen. Lehtonen also made the cut, but he isn't waiver-eligible. Dermott is.
Also on the roster are Rasmus Sandin and Zach Bogosian. Bogosian, a Stanley Cup champion, will look to lock in a role with the Leafs and is currently projected to play beside Dermott. Sandin is NHL-ready. The only question is if the Leafs are ready for Rasmus Sandin. He's worked hard all season, but he'll really have to battle to beat out the aforementioned three defensemen (Side note: Sandin is the only player of those four that does not have experience on the right side).
Don't Panic
Pierre Engvall, who doesn't need waivers, has been sent down to the Marlies. Not the taxi squad, but the AHL's Marlies. If what Sheldon Keefe has been sending to him are messages, then this is a whole phone call. Engvall has worked his way up from being an overlooked prospect from Sweden, made the Leafs and earned an extension, played on the third line in Alexander Kerfoot's absence, but now he's not even on the NHL roster.
I do not think that Sheldon Keefe hates Pierre Engvall. In fact, I don't think it's unreasonable to assume that Sheldon Keefe is one of the biggest Pierre Engvall fans out there. Keefe likely sees a much higher potential for Engvall than most other Leafs observers do. Engvall blossomed under Keefe with the Marlies. The winger picked in the 7th round was playing on both sides of the wing AND centre. He played on the PP and the PK. Keefe wants more from Pierre Engvall.
While it could be a cap move, Engvall will also have to beat fellow Marlies graduate Adam Brooks if he wants a shot at making it again. This isn't a Pierre Engvall hate move. I'm not sure what Sheldon Keefe was disappointed in after what I thought was a stellar performance in the Leafs' televised scrimmage, but he sees something I don't. He'll be back.
Not Taking Chances With Aaron Dell
While most of the Leafs' waiver eligible cuts/projected taxi squad players have been waived (taxi squad requires waivers), the Leafs aren't taking their chances with Aaron Dell. Dell was absolutely an amazing signing, but with teams such as the New Jersey Devils in need of a goalie, he's too enticing of an option to waive. Instead, they'll keep him and his $800,000 cap hit on the roster.
The move will impact the Leafs' flexibility, but it's a calculated move. The Leafs now have just over $500,000 in cap space with this projected roster. Expect to see waiver-ineligible players such as Alexander Barabanov to be papered down to the AHL or taxi squad to free up cap space on off-days (which the Leafs can do now, as they aren't utilizing LTIR).
What's Next?
The Leafs will play the Montreal Canadiens on Wednesday, January 13th at 7pm EST. The team will look for their players to pass through waivers and will set their taxi squad and roster ahead of opening night.
Current Maple Leafs Roster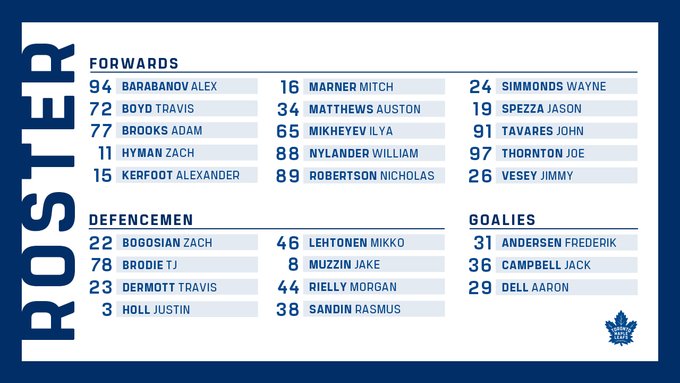 ---
Follow me on Twitter at @MagicianMarner and follow us @OT_Heroics for more great content!
Featured Image Credit:
Embed from Getty Images
Toronto Maple Leafs cut