Two years ago, ONE came out with a video that featured the fastest knockouts in the promotion's history. It was great. All the information up to that point was complete and gave the fighters the spotlight they deserved. Top 10 Fastest Knockouts in ONE
Sometime last year, the promotion released another fastest knockout video and it was disappointing. So many of the top spots went unmentioned and being the latest video, new fans will think all of it was correct. This list is meant to bring the spotlight back to the fighters whose achievements might be forgotten.
These are the top 10 fastest knockouts in ONE Championship history.
#10 Shannon Wiratchai vs. Rahul Raju/Edward Kelly vs. Meas Meu/Jimmy Yabo vs. Bashir Ahmad- 0:21
The number ten spot is a three-way tie between three spectacular upsets from exciting fighters that once commanded the attention of the entire promotion.
For four years (2013-2017) Shannon Wiratchai was an unstoppable force in the Lightweight division. He was on a seven-fight winning streak, only one of which went to the judge's cards. A surprising upset loss to Rasul Yakhyaev derailed his path towards a title shot and the fight with Rahul Raju was an important bout for redemption. Top 10 Fastest Knockouts in ONE
Meanwhile, the Kerala Krusher is entering his debut in the promotion on the strength of a three-fight winning streak outside ONE. Hopes for Raju were high to become India's next MMA star and open the promotion to a new audience in the subcontinent.
Unfortunately, Raju's excitement got the better of him. Wiratchai took a step back making the Indian miss and walk right into a hook that sent him crashing to the canvas.
As part of Team Lakay, Edward Kelly will always be a dangerous opponent. This fight serves as a quick return after losing his only fight the year prior. This bout serves to reignite his momentum towards being a contender again. Top 10 Fastest Knockouts in ONE
Meas Meu looked like he might be the man to meet such a big challenge. He had a six fight winning streak coming into the fight. Two of them over Cambodian compatriots Rin Saroth and Chan Samart, neither of them going the distance.
After a quick flurry, Kelly throws up a wild kick that connects with Meu's face, stopping him stiff. Very few people saw this finish coming and it's become one of the most repeated highlights in the promotion's sizzle reel. Top 10 Fastest Knockouts in ONE
Jimmy Yabo is a Philippine MMA veteran that began his career in 2009 with the promotion URCC. He came into the fight with a two fight losing streak against Edward Kelly and Amir Khan. Not many were looking positively at his odds in this fight.
Bashir Ahmad is a Pakistani MMA pioneer and is the promotion's hope of entering the country's market. Until this fight he's had an up and down trip, trading wins and losses with some of the promotion's big names. He has a victory over Shannon Wiratchai but bowed to Bruno Pucci and Amir Khan. He was fully expected by everyone, including the commentators box, to come out on top.
Amhad rushed Yabo at the start of the round looking to end things early. Yabo threw a right hand while in full retreat and that was enough to put the Pakistani's lights out. This was the only victory Yabo's earned in his tenure with ONE so far and Ahmad has since traded his gloves for a suit, working for ONE as an executive. Top 10 Fastest Knockouts in ONE
#9 Gianni Subba vs. Thanh Vu – 0:20
Gianni Subba is still one of Malaysia's most promising fighters. Before his injury, he was racking up wins and finishes at an impressive rate and is quickly looking to be the future face of MMA.
Thanh Vu at this point was trying to get into the same position as his opponent. MMA at this point was still illegal in Vietnam. Vu is one of the athletes trying to change that. His success would undoubtedly have an effect on the chances of that happening.
The two men met at ONE: Age of Champions. This event was so early in the timeline that the promotion was still known as ONE FC. Nothing much happened in the fight, Thanh dropped with the first left that landed and Subba followed with a soccer kick for good measure. Thanh Vu is yet to fight again. Top 10 Fastest Knockouts in ONE
#8 Kwon Won Il vs. Eric Kelly – 0:19
Kwon Won Il is one of the best South Korean fighters in ONE, but at this point in time, he was still beginning his up and down journey through the promotion. Before this fight, he dropped a match against Masakazu Imanari and needed to bounce back quickly.
Eric Kelly was currently on the tail end of his downward spiral in the promotion. He was on a five-fight losing streak, all of which were finishes. Kelly desperately needed a win or even just a positive performance to provide a glimpse of the old Natural that was still there.
Kwon dropped Kelly and finished him with ground and pound in less than twenty seconds. Giving the Filipino his third first-round loss and the second finish in less than a minute.
#7 Igor Svirid vs. Leandro Ataides – 0:17
We already covered this fight in our debut champions article. Leandro Ataides was being groomed to be the first Middleweight Champion. He was on a two-fight win streak, both of which were first-round finishes, which must have looked exciting to the ONE management.
There's nothing much known about Igor Svirid at the time except for the nine-fight win streak that he amassed in just two years. Putting aside the level of competition he faced during that run, it's still a notable achievement. Top 10 Fastest Knockouts in ONE
Whoever scouted Svirid to face Ataides for the title did his job too well. The Brazilian didn't even get a chance to warm up before losing his first and so far only shot at gold.
#6 Tha Pyay Nyo vs. Htet Aung Oo- 0:16
Ironically the only Myanmar fighter with an undefeated record in MMA. We ranked Tha Pyay Nyo as of the best fighters from the country. Coming into the fight Nyo was on a three-fight win streak and was the ONE Myanmar Featherweight Tournament Champion.
Htet Aung Oo was greener than grass when he stepped into the fight with Tha. His only other fight was a loss in World Lethwei Championship (WLC). No one saw a positive result for Htet but not many saw how quickly it would end. Top 10 Fastest Knockouts in ONE
Tha herded Htet to the Circle wall and dropped his opponent with the first right that landed. Tha has since moved on to the WLC and Htet hasn't fought for a major promotion again.
#5 Bernard Soriano vs. Mario Satya Wirawan – 0:15
Bernard Soriano was another Filipino MMA fighter who came from the URCC with dreams of making it on the international stage but couldn't keep up. He was an average fighter with a 2-2 record coming into this fight, with the latest being a loss to Sunoto.
Mario Satya Wirawan was a fighter with a bit more experience having competed in Malaysia and his native Indonesia before coming to ONE. He lost to compatriots Sunoto and Yohann Mulia Legowo coming into this fight needing to gather momentum.
Unfortunately, Mario fell for what was becoming an increasingly common trick for Filipino fighters – the spinning back fist. Soriano flipped around and his glove landed perfectly on Mario's nose. Similar to his countryman Jimmy Yabo, this was the only win Soriano earned with his stint in ONE.
#4 Alain Ngalani vs. Hideki Sekine – 0:11
There was a time when Alain Ngalani captured the imagination of the Asian MMA world. A bodybuilder's physique with the flexibility of a gymnast is something that defies physics. Though not having the best record coming into the fight, many fancied his chances against Shrek.
Prior to coming to ONE Hideki Sekine was one of the most successful Heavyweights from Japan. His loss to Brandon Vera was his first and he was looking to bounce back against The Panther to make a better international impression. Top 10 Fastest Knockouts in ONE
The story of this fight was a game plan gone wrong. Sekine was so focused on clinching Ngalani that he left his chin completely defenseless. It's a wonder it actually took so long for Ngalani to punch him.
#3 Li Kai Wen vs. Rodian Menchavez – 0:10
When Li Kai Wen became the Beijing Featherweight Tournament Champion, everyone knew he was a fighter to watch. His aggression and power is legitimately scary and his exclusion from the Top 5 of the rankings is still mind-boggling.
Rodian Menchavez is a Filipino fighter with an attractive record coming into ONE for his international debut. None of his last four fights went the distance and there was hope that he could make a stand against the Chinese fighter. Top 10 Fastest Knockouts in ONE
The Underdog smelt blood from the first bell and didn't even let Menchavez realize where he was. The Filipino was on the floor before the commentators could even warm up their one-liners.
#2 Bahetihan Nuerdiebieke vs. Bruno Pucci – 0:08
There's nothing much to say about Bahetihan Nuerdebieke before coming to ONE. He was an interesting Chinese fighter but did most of his damage in the regional circuit. His last fight was a loss and no one knew what he would bring to the table.
As part of Evolve, Bruno Pucci was one of the fighters ONE hoped would blossom if given a chance. He posted wins over Bashir Ahmad and Anthony Engelen and was looking at this fight to gain momentum in the division. Top 10 Fastest Knockouts in ONE
Pucci initiated the action and engaged as fast as he could. Unfortunately for him, he got caught by a counter right and he went to sleep. This was Bahetihan's only fight in ONE as he chose to continue competing in the Chinese regional circuits.
#1 Mario Satya Wirawan vs. Chan Heng/Timofey Nastyukhin vs. Rob Lisita – 0:06
We finish the list the same way we started it – with a tie.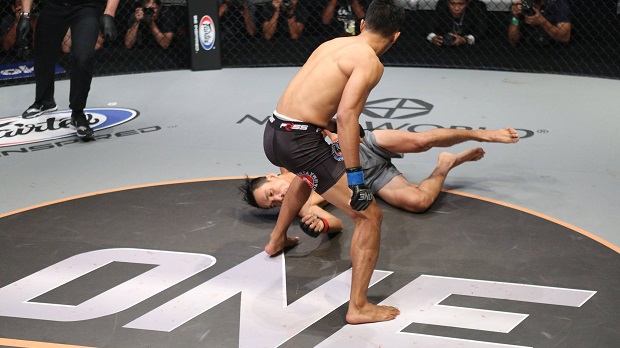 Mario Satya Wirawan seems determined to always finish things quickly. He had just lost to Sunoto in his debut and was chomping at the bit to get back. This fight was a quick turnaround just three months after that disappointing loss. Top 10 Fastest Knockouts in ONE
Chan Heng is a Cambodian fighter that had a few good showings in the Cambodian regional circuit. He first took a stab at the international stage in Cambodian Featherweight Grand Prix Tournament but fell to Meas Meu. This fight served as his second chance.
The end was shocking to both fighters as Mario seemed to be genuinely surprised that Chan stayed down. Chan only fought once more in a losing bid against Sunoto. Meanwhile this was Mario's only win in ONE and he moved on to fight for One Pride MMA in his native Indonesia.
Timofey Nastyukhin is legitimately the scariest man in the Lightweight division. His debut was a win over Eduard Folayang, but dropped to the rear naked choke of Herbert Burns. He needed to regain momentum.
Even back in 2016, Rob Lisita was long in the tooth by MMA standards. He'd been in the game since 2008 and was at the time on a two-fight losing streak. Questions of age were creeping in and he needed a win to evaluate his career.
Timofey helped Rob answer those questions quite quickly and sped up the Australian veteran's retirement. Rob would lose once more to Ev Ting and never fought again. Nastyukhin on the other hand is slowly making his way towards gold.
There you have it, the top 10 fastest knockouts in ONE. It will take a superhuman effort to dethrone any of these spots. But there's always a chance, especially with a growing talent pool in the promotion.
---
All Featured Images Credits to ONE Championship
Follow me on Twitter at @BjornPossel and follow us @OT_Heroics for more great content!
Also, be sure to check out the Overtime Heroics Forums page to join in on the discussion!