The Toronto Marlies have signed five OHL prospects to amateur tryouts (ATOs).
The team has added LW James Hardie and G Kai Edmonds of the Mississauga Steelheads, RW Cole MacKay and LW Zack Trott of the Soo Greyhounds, and C Keegan Stevenson of the Guelph Storm.
These are some interesting signings, let's get into it!
Related: Marlies Make Splash, Sign Four
James Hardie
James Hardie should have been picked in the 2020 NHL Entry Draft. He wasn't, and instead, the Toronto Marlies have an absolute gem in their hands to start the 2021 AHL season.
Unless the Toronto Maple Leafs pick James Hardie in the 2021 NHL Entry Draft, he likely won't see a lot of time with the Marlies.
Hardie is a fantastic player offensively. He has an absolutely nasty release. His shot alone makes him a threat in the opponent's zone, but he's also a solid playmaker. He can recognize when to use his release and when to set it aside for a teammate.
The issue with James Hardie is his play defensively. With the Mississauga Steelheads, he's shown difficulty when it comes to his play in his own end. He has trouble reading plays coming towards his zone and can struggle to cover his man when needed.
A wildcard for Hardie is his skating. He has great acceleration, it's helped him a lot in the OHL. However, Hardie has some clear weaknesses in his skating, something that may be exploited at the professional level. He lacks mobility and strength in his skating.
He's a very interesting pickup for the Toronto Marlies, one that could result in Hardie putting on a hat with the Maple Leaf on it at this year's draft.
Recruit Scouting's Connor Williams pins Hardie's NHL comparable to Kyle Palmieri and considering the success Palmieri's had at the NHL level, I certainly wouldn't mind if Hardie got near that.
Kai Edmonds
One look at Kai Edmonds' HockeyDB (or whatever stat site you use) may alarm you. The Steelhead hasn't seen a .900 season in the OHL yet. However, Edmonds' .895 last season put him at 12th league-wide.
Edmonds is actually a very solid goalie. However, like all young goalies, he's very raw. He has great reflexes and great rebound control. His positioning does kind of worry me, though, It's something that has been a strength for him in years prior but I do think it needs some polishing before he takes the next step.
Kai Edmonds could honestly be a nice pickup for the Toronto Marlies in the future. He's expected to return to the Mississauga Steelheads as an overager once the OHL opens up, but if the Marlies do see potential in him during this tryout, don't be shocked if he returns to the Toronto Marlies next year.
I've only heard good things about Edmonds. I had the pleasure of watching him play in Mississauga, and I hope he does well on this ATO.
Edmonds will be in a very weird spot. The Toronto Marlies' goaltending right now… leaves much to be desired. While I'm by no means saying that Edmonds will secure a full-time spot (because he'll be returning to Mississauga), he has the opportunity to fight for some more minutes with Ian Scott (who is returning after a year off due to a hip injury) and Andrew D'Agostini (who would be making his AHL debut after years in the ECHL).
Fun tidbit: The last time Kai Edmonds played in the OHL, Nick Robertson scored four points on him. Now, with Robertson sent to the AHL, Edmonds will begin his season on the other side of the Nick Robertson Show.
Cole MacKay
Name a better duo than the Leafs organization and the Soo Greyhounds.
Cole MacKay is another in a long line of solid Greyhounds pickups for the Leafs.
To be honest, it's pretty shocking that MacKay is even available for the Toronto Marlies. The 19-year-old was projected to go around the 4th-6th rounds in 2019. He scored 61 points in 64 games in the OHL, putting him at 8th among all U18 OHLers. In fact, everyone in the top 15 of U18 OHL scoring that year was picked in 2019 or 2020… with the exception of Mackay.
When describing MacKay, he sounds like a mix of what the Leafs generally try to look for.
His biggest strength, in my opinion, is his hockey IQ and awareness. MacKay knows exactly where to be and when to be there. He's so good in front of the net, tipping shots from the point or finding the puck and putting it in the net. This also aids him all over the ice. He knows where to be for the puck, he knows how to get the puck, and he knows how to play without the puck. While I know that all sounds like a jumble of intangibles, I think it makes his game likely to translate to the professional level.
He has a solid shot and is a solid playmaker. His skating is nice, but I think it could use some work when it comes to strength and his first step.
MacKay has the potential to impress enough this year to earn an NHL deal, but that journey likely starts back in Sault Ste. Marie, where he'll likely return to for at least one more year.
Zack Trott
Zack Trott is an underrated pickup for the Marlies. Trott can be described as a late-bloomer. He spent his first season of junior hockey playing Junior C before making the OHL. While he made some waves in his third junior season, it wasn't until his fourth season when he started to make some big buzz. With 66 points in 62 games, Trott led the Soo Greyhounds in points and assists. While that isn't necessarily an eye-popping total, it's still a good sign.
Trott's biggest strength, in my opinion, might be his work ethic. His biggest strength in the OHL was his motor and his smarts. His high hockey IQ and his work ethic help him create plays seemingly out of nothing.
I would like to see him get stronger, something that could help him at the professional level, not only with his shot but his style of play in general. There's also always that desire for a player of his size (5'10) to be a better skater, but I don't think it's necessary (although, it probably couldn't hurt).
Trott is a question mark to me. There's always this concern about players that only produce in their later Junior seasons. However, I think that Trott's hockey mind and overall solid toolbox will make him a sneaky grab if he chooses to sign next season.
This season, though, the man Greyhounds coach John Dean described as the "pulse of our team" will return to the Soo, as they look to contend for the OHL championship.
Keegan Stevenson
Keegan Stevenson is an interesting signing, but I can't help but start this by saying that he's from Sault Ste. Marie. He was born in Milwaukee when his father, former NHLer Jeremy Stevenson played with the AHL's Admirals, but his family moved to the Soo after the elder Stevenson's retirement.
However, Keegan doesn't really play like his father, a man that accumulated 915 penalty minutes in just 232 AHL games.
Stevenson plays a smart but aggressive game. This past season, he saw a lot more time in tougher situations than he had before, and he performed pretty well.
Offensively, Stevenson isn't exactly a highlight-reel guy. Instead, he finds his success fighting for the puck in front of the net, something he's actually really good at. In fact, almost all of his goals came right in front of the net last season.
Being a net-front guy is his thing. He scored eleven goals on the powerplay, almost exclusively by being a lethal presence in front of the goalie. He's just so good at tracking and fighting for the puck.
When it comes to playmaking, he doesn't dazzle, but he makes smart plays by fighting for the puck and passing to a teammate when needed.
His smart play also helps him defensively, as he's often pressuring and battling with the puck carrier.
I do have a couple of concerns though. I think his shot and potentially his strength could use some work, especially as he graduates to the professional level. I also think his skating will be a problem at the professional level. Although I'm not as concerned about it as some, it's going to be a hindrance, even at the AHL.
The 20-year-old plays a game that's pretty much made for the pros, though, and if his skating is improved, I think he'll be a very solid NHL bottom-six forward.
He's expected to return to the Guelph Storm as an overager for one more OHL season before turning pro.
What's Next for the Toronto Marlies?
Overall, these are some fantastic signings for the Marlies. All of these guys show NHL potential. However, we might not see them for long. With the Ontario government approving the Toronto Marlies and Belleville Senators for AHL play, the OHL is making a big push revolving around a potential "bubble".
The Marlies start play on February 15th against the Manitoba Moose, opening a four-game series against them in Winnipeg.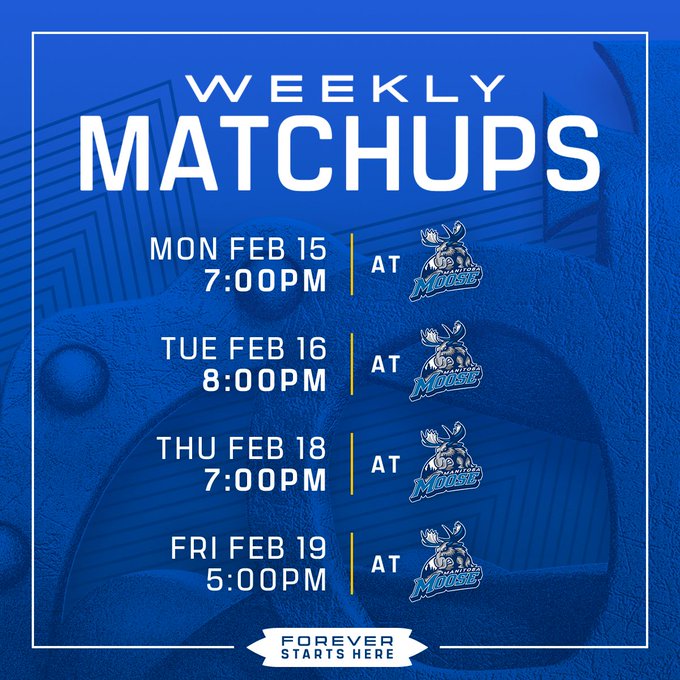 I'm very excited to see these players in Toronto, and if all goes well, I hope we see them back in the blue and white next season.
---
Follow me on Twitter at @MagicianMarner and follow us @OT_Heroics for more great content!
Featured Image Credit:
Embed from Getty Images