In this Gambling Guide, I'm going to go through each main card fight for UFC 259. I'll give my thoughts and opinions on how I think each fight plays out. I will also give my best bets for each fight and a value pick that I think has the potential to hit.
Thiago Santos (+130) vs Aleksandar Rakic (-155)
Opening the main card we have Thiago Santos vs Aleksandar Rakic. I like Rakic a lot in this fight. This fight should be pretty even on the feet considering both of these fighters are great strikers.

One of Rakic's best strikes is his low kick. He has used it very effectively in almost all of his fights, and I think they will be very important in this fight. Thiago has had trouble in the past dealing with low kicks, Jon Jones was able to have a lot of success with them in their fight.

Although I think that Rakic can have success on the feet, I expect Rakic to look to get this fight to the ground. Rakic will have the advantage in the wrestling aspect of this fight. Thiago has shown in past fights that he can be taken down and controlled. In the Teixeira fight, Thiago was controlled on the ground for nine minutes before getting finished in the 3rd round. In Rakic's most recent fight, he was able to control Anthony Smith on the ground for twelve minutes. Rakic will also be the bigger fighter, I believe he will be able to overpower Santos on the ground.

Santos' power is always a concern for opposing fighters, but I believe that Rakic can be the more technical striker and mix in the takedowns to get the decision win over Santos.
Best Bet: Aleksandar Rakic -155
Value Pick: Aleksandar Rakic by decision +225
Islam Makhachev (-350) vs Drew Dober (+270)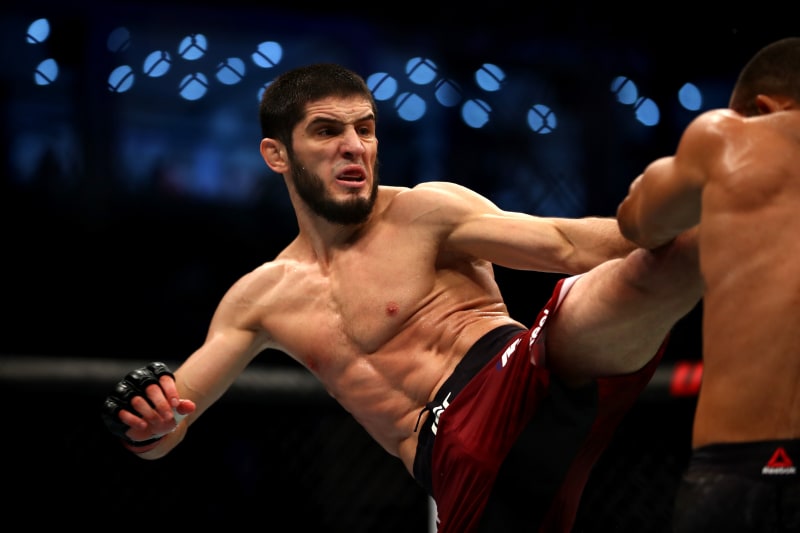 I like this matchup a lot, and I think that it's going to be a lot better of a fight then the odds portray. Drew Dober is arguably the best striker that Makhachev has faced so far in the UFC. Dober puts a lot of pressure on his opponents on the feet, throwing hard combinations when he has his opponent backed up against the cage.

It's obvious that Makhachev's game plan is going to be to take this fight to the ground and maul Dober. Dober's takedown defense is going to be a major factor in this fight. If Dober can defend takedowns and keep the fight standing, he has a good chance at winning the fight. But, when you're dealing with a wrestler as good as Makhachev that is a big if.

If I had to make a pick, it would be Makhachev by decision. I say this because Dober has been taken down by worse wrestlers and I think that Islam is the more well-rounded fighter of the two. The odds on this fight make it hard to bet, so I'll probably stay away from it and just watch it play out.
Best Bet: Fight goes the decision -150
Value Pick: Makhachev wins by submission +380
Petr Yan (-110) vs Aljamain Sterling (-110)
Petr Yan looks to defend his title for the first time against Aljamain Sterling. Yan opened at around a -150 favorite but money has since come in on Sterling to set this fight at pick'em odds.

Many believe that Sterling has all the tools to dethrone Yan because of his grappling pedigree and unorthodox striking. The overall consensus is that Aljamain will have the advantage in the grappling if he can get the fight to the ground. But I think that many are heavily sleeping on Yan's defensive wrestling. Yan has only been taken down 3 times in his UFC career. Yan also has a 88% takedown defense rate. Aljamain only has a 29% takedown accuracy rate, so I don't think Aljamain will have an easy time trying to take Yan down.

I've heard a lot about the 25ft cage helping Aljamain because it will be easier to engage in grappling. But I think the smaller cage also gives some advantages to Yan because it will be easier to close distance and Sterling will have less space to circle off the cage and less space to throw kicks. I also think that the longer the fight goes, the more success Yan will have. Considering Aljamain has never been past the third round in his UFC career, it is unknown how he will perform if and when the championship rounds come.

I see Yan winning this fight, maybe by TKO in one of the later rounds. I see Yan out striking Sterling and defending his takedown attempts, then eventually finishing him on the feet.

Best Bet: Petr Yan -110
Value Pick: Yan wins inside the distance +250
Amanda Nunes (-1250) vs Megan Anderson (+700)
Amanda Nunes comes into this fight as the biggest favorite on the card. Although, I do see some value on Anderson at +700 here.

Megan has a big size advantage over Nunes. I think that Megan can have some success on the feet and obviously has a puncher's chance. But I expect Nunes to try and close the distance and eventually take the fight to the ground. Megan has shown that she can be controlled on the ground and I think that Nunes can have a lot of success if she can get Megan down.

This fight could be a lot more competitive than people think, but I do see Nunes getting a finish on the ground in the 3rd or 2nd round. Megan does have the power to finish Nunes, but she will need to keep the fight standing to have a chance to land big shots. Because I expect Nunes to try and grapple, my best bet for this fight is the over 1 ½ rounds.

Megan definitely has a path to victory in this fight, and because anything can happen in MMA. I might put some money on Megan just because of how good the odds are. I would view this fight more as a dog or pass kind of fight.
Best Bet: Over 1½ rounds -125
Value Pick: Megan Anderson +700
Israel Adesanya (-235) vs Jan Blachowicz (+180)
Now, the super fight between the Light Heavyweight and Middleweight champions. Both of these fighters have clear paths to victory. Although, I do think that Jan does have more ways to win this fight.

It is clear that Jan has the power to knock Izzy out if he can land a clean shot. But I also think that Jan can win by getting this fight to the ground and using his weight and strength advantage to overwhelm Izzy. Izzy will need to maintain his distance against Jan and hit him with strikes from the outside.

It will be interesting to see how Izzy does this in the 25ft octagon because I do think that the smaller octagon significantly helps Jan. Izzy will need to be patient in this fight and try to pull Jan into his strikes. If Jan gets impatient and blitzes Izzy, we could see a finish much like the Thiago Santos fight where Jan gets caught with a check hook.

It is also interesting to me that Izzy has said he will come into this around 198 pounds because that will give Jan a nearly 20-pound weight advantage come fight night. For Jan to win he will need to crowd Izzy and clinch or try to land power shots. If Jan can land a couple of takedowns in this fight, I think the odds will be in his favor.

Even if Jan can't find the takedowns, I still like that he has the power to knock Izzy out on the feet. I think that Jan can finish Izzy in the 4th round, but I expect this fight to be an all-out war between two great champions.
Best Bet: Jan Blachowicz +180
Value Pick: Blachowicz by submission +800
Let me know what you think about my gambling guide for the UFC 259 main card fights and if you agree or disagree with my picks. This card has the potential to be one of the greatest of all time. I cannot wait for Saturday, hope everyone enjoys the fights!
Below are links to more in-depth breakdowns of these fights written by other great writers at Overtime Heroics.
Aleksandar Rakic vs Thiago Santos
Islam Makhachev vs Drew Dober
Amanda Nunes vs Megan Anderson
Israel Adesanya vs Jan Blachowicz
---
Follow me on Twitter @carterbergezMMA for updates on my work and live reactions to every UFC event. Also, follow the Overtime Heroics team on social media @OTHeoicsMMA to stay up to date with the latest news in MMA.
Featured Image Credits to Embed from Getty Images
UFC 259 Main Card Gambling Guid UFC 259 Main Card Gambling Guid UFC 259 Main Card Gambling Guid UFC 259 Main Card Gambling Guid UFC 259 Main Card Gambling Guid UFC 259 Main Card Gambling Guid UFC 259 Main Card Gambling Guid UFC 259 Main Card Gambling Guid
UFC 259 Main Card Gambling Guid