After a week off, the UFC is back in action with UFC Vegas 23. A clash between top 10 middleweights Kevin Holland and Marvin Vettori headlines the fifteen-fight card. In this article, I'm going to lay down my five best bets for the card. I'm going to break down each pick and explain why these are the UFC Vegas 23 best bets.
UFC Vegas 23 Best Bets
Holland vs Vettori Over 2 ½ rounds (-140)
Opening my UFC Vegas 23 best bets, I have Over 2 ½ rounds at -140 in the main event between Kevin Holland and Marvin Vettori. Kevin Holland is taking this fight on ten days' notice just three weeks after his unanimous decision loss to Derek Brunson. In that fight, Brunson took Holland down six times and had control for over sixteen minutes on the ground.

Brunson showed the blueprint on how to beat Kevin Holland, and I expect Vettori to attempt the same wrestle-heavy game plan that Brunson utilized to beat Holland. I do however expect this fight to be more competitive than Holland's last fight. Holland has said that he will look to be more active because he now knows that he can go the full twenty-five minutes. With that being said it would be foolish to think that Holland has somehow learned how to defend takedowns within the last three weeks.

With Vettori being one of the better grapplers in the middleweight division, I don't see how this fight can go much differently than the last one did for Holland. If Holland does have success maintaining his distance and keeping Vettori on the outside I could see Holland winning this fight, but I don't think he can finish Vettori in the early stages of the fight.

If Holland were to finish Vettori I would expect him to get the finish in the later rounds when Vettori is tried and more vulnerable to strikes. Both fighters are extremely tough and as I don't see either of them getting finished in the first two rounds, the over 2 ½ rounds at -140 is the first play in my UFC Vegas 23 best bets.
Jack Shore Wins (-155)
The pick that I am the most confident in out of my UFC Vegas 23 best bets is Jack Shore at -155 against Hunter Azure. Jack Shore is a prospect that I am very excited for, coming into this fight with a 13-0 record. Jack Shore is a phenomenal grappler, with eight of his wins coming by way of submission. This will be a big part of Shore's game plan going into this fight. Azure does have a good wrestling background, but I believe that Shore will be able to dictate where this fight takes place.

Azure has had problems with his cardio in past fights. I see his cardio being an issue once again in this fight. The pace that Shore will push, will wear on Azure and tire him out quickly. I expect Shore to shoot for many takedowns and attempt to grapple early with Azure. This pace will wear Azure down and eventually lead to a submission in the later rounds for Shore.

The only way I see Azure taking this fight is if he can catch Shore with a heavy shot on the feet. Shore knows this is Azure's only path to victory, so I expect Shore to be cautious on the feet and stray away from wild exchanges. If Shore can get this fight to the ground in the earlier stages, I think that he will win rather easily.
William Knight Wins (+115)
The first of three underdog picks in my UFC Vegas 23 best bets is William Knight at +110 against Da Un Jung. I was surprised to see that Knight was the underdog in this fight, considering that he was at pick 'em odds in a fight that never came to fruition against Alonzo Menifield.

Knight was very impressive in his debut win over Aleska Camur. What impressed me the most was his ability to control Camur in the clinch and the wrestling. Along with the fact that he was able to maintain a high pace through all 15 minutes, even with taking the fight on short notice. I expect Knight to come into this fight with a very similar game plan to his last fight. With Da Un Jung being a primary striker, I see Knight's wrestling being his clearest path to victory.

Knight will need to get through Jung's 5 ½ reach advantage, but because Jung does not throw many kicks and is mainly a boxer I do not see this being an issue. Da Un Jung did get rocked in his last fight against Sam Alvey, so I could see Knight landing a heavy shot and hurting Jung. If Knight can mix in his wrestling with his striking and clinch game, I would expect him to walk away with a decision victory.
Mackenzie Dern Wins (+110)
I like the value on Mackenzie Dern at +110 against Nina Ansaroff. Dern as an underdog against Ansaroff who hasn't fought in over a year and a half, is the main reason as to why Dern is one of my UFC Vegas 23 best bets. Since Ansaroff's last fight in June of 2019, Dern has fought four times going 3-1 in those fights. Dern's last loss was against Amanda Ribas back in October 2019.

That is important to note because going into that fight, Dern was only four months removed from pregnancy. Ansaroff is almost in the same position as Dern was, as Ansaroff will be six and a half months removed from pregnancy heading into this fight. Add that along with Ansaroff's twenty-two-month layoff and all arrows point to a Dern victory in this fight.

It is obvious that Dern will have the advantage in the grappling, as she does in almost all of her fights. Although I think it will be the advances Dern has made in her striking that will be the key factor in her getting the win. Ansaroff will look to circle around the outside and strike with Dern at distance. Ansaroff throws a very good front kick to the body that she uses to maintain her distance. Dern being more dangerous on the feet is important because now her opponent's only focus cannot just be on defending the takedown.

Dern's ability to mix in her grappling with her striking will lead her to a massive win over Ansaroff that will put her in a great spot in this division. I expect Dern to win by decision but I would not be surprised if Dern ends up submitting Ansaroff.
Mike Perry Wins (+140)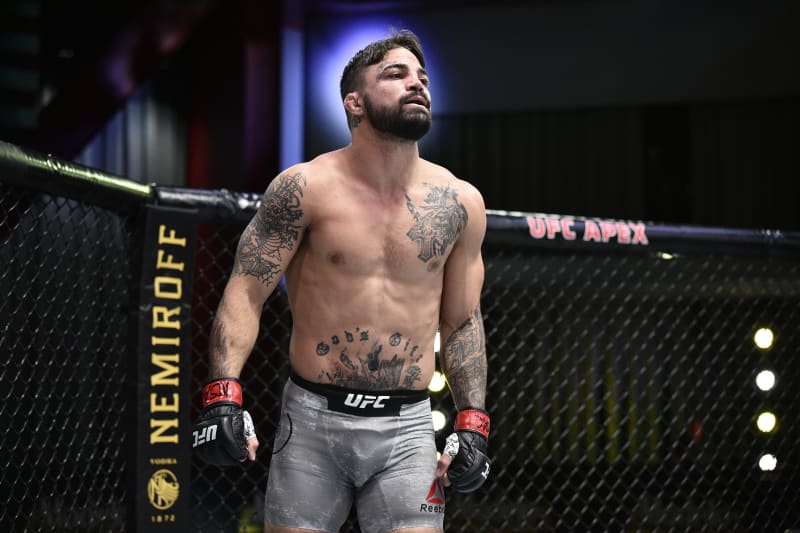 The last pick on my UFC Vegas 23 best bets is Mike Perry as a +140 underdog against Daniel Rodriguez, opening the main card in what should be a fun fight. Mike Perry seems to have everything under control now after a hectic 2020. Perry is now training at MMA Masters in Florida and has said that becoming a father has changed his mindset for the better.

These improvements outside the cage make breaking down Perry's fights a lot simpler because there are no concerns other than the actual fight. Both these fighters are similar in that they both do not shy away from reckless exchanges, this is good from a viewing perspective but not when trying to bet them. Perry has shown in his last two fights a more wrestle-heavy gameplan, which I think will be useful against Rodriguez. Perry has struggled against high-level strikers such as Vicente Luque and Geoff Neal, but I don't think Rodriguez is on the same level as those fighters.

Rodriguez tends to leave his chin exposed when exchanging punches, if Perry can land I think that he could hurt Rodriguez as we've seen him get hurt recently in his fight against Dwight Grant. I can see experience playing a large factor as well, Perry having thirteen UFC fights compared to Rodriguez's four. If Perry can mix in his wrestling and try to avoid brawling with Rodriguez, I see him taking this fight by decision
Let me know what you think about my UFC Vegas 23 best bets and if you agree or disagree with my picks. This card is full of great fights and exciting prospects, it should be a very entertaining card. Hope everyone enjoys the fights!
---
Follow me on Twitter @carterbergezMMA for updates on my work and live reactions to every UFC event. Also, follow the Overtime Heroics team on social media @OTHeoicsMMA to stay up to date with the latest news in MMA.
Featured Image Credits to Embed from Getty Images
UFC Vegas 23 Best Bets UFC Vegas 23 Best Bets UFC Vegas 23 Best Bets