In this article, I'm going to give my five UFC 261 best bets. UFC 261 is making up to be a great card, with three title fights headlining the card. Including the rematch between Kamaru Usman and Jorge Masvidal. I'm going to break down each pick and explain why these are my UFC 261 best bets.
Jeff Molina Wins -110
Opening my UFC 261 best bets, I have Jeff Molina at -110 against Qileng Aori. This will be both fighters' UFC debuts, but we did see Jeff Molina fight on DWCS last summer against Jacob Silva. This flyweight matchup makes for an insane fight that should be fast-paced and exciting especially with having fans back in the arena.

Aori is fighting out of the UFC PI in China, he is a lengthy striker who has heavy hands and does not shy away from a brawl. Aori is not afraid to take a couple of punches to land one, and he tends to leave his chin up when throwing. This could get him in trouble with "El Jefe" because Molina could counter him and land a big shot. Molina is the more well-rounded fighter of the two. "El Jefe" also has a good overall game, mixing in his wrestling and submissions along with his striking. While Aori has shown some holes in his takedown defense in previous fights.

I think that Molina can take this fight to the ground which is where I believe he will have his biggest advantage. I also love that Molina is fighting out of Glory MMA with head coach James Krause in his corner, and having a good group of training partners. Molina will need to avoid Aori's power shots and look to mix in his grappling to win this fight. If "El Jefe" can counterstrike Aori and take him down when needed, I see Molina winning this fight by decision or even submission in the later rounds.
Randy Brown Wins -145
The next pick on my UFC 261 best bets is Randy Brown at -145 against Alex Oliveira. The featured prelim bout is a very good stylistic matchup as both fighters are fairly similar. This should make for a good fight heading into the main card. Both fighters are looking to rebound off of recent losses, but they are in very different parts are their respective careers.

Oliveira has double the number of fights as "Rude Boy", which is usually good because there is value with experience. Although in this case, it feels like we have seen the ceiling from Oliveira, whereas I think that Randy Brown is still getting better and is yet to show his full potential. Looking to the future, I think that Randy has a better chance of cracking the top 15 and making a run in this division. While I see Oliveira on the downside of his career.

I said that both fighters have similar skillsets, but I think that Randy is just better in every aspect whether it's in the striking or the grappling. I think that Randy will be able to out-strike Oliveira and mix in the grappling to win this fight by decision. I could see Randy submitting Oliveira if he were to attempt a lazy takedown and leave his neck open.
Kamaru Usman Wins by Decision -125
In the main event of my UFC 261 best bets, I have Kamaru Usman to win by decision at -125 against Jorge Masvidal. A little over nine months since their last fight against one another, Usman and Masvidal are set to rematch in the main event at UFC 261. Usman left little doubt after winning a unanimous decision with two of the judges scoring the fight 50-45 in the first fight. The only difference this time around is that Masvidal will have a little over a month and a half of training instead of six days' notice.

There's no doubt that Masvidal will be in better shape this time around, but I don't know what changes he could have made that will change the outcome of the fight. In their last fight, Usman was able to control Masvidal in the clinch and take him down five times while accumulating over sixteen minutes of control time. There was and still is a clear advantage for Usman in the grappling, and I expect him to go there again this time around.
Usman has said that he will finish Masvidal this time and that he didn't show his full arsenal in their previous fight.

I'm sure that Usman will have more success in the striking because he has definitely made improvements while working with Trevor Wittman. I just don't see him finishing Masvidal, as Masvidal has not been finished in the UFC and Usman did not seem to hurt Masvidal at all in the last fight. Masvidal having a full camp this time might make this fight more competitive than the last, but I still think that Usman will use his wrestling and improved striking to win a unanimous decision over Masvidal.
Shevchenko vs Andrade Under 4 ½ rounds -125
For my UFC 261 best bets, I have the first title fight of the night between Valentina Shevchenko and Jéssica Andrade going the Under 4 ½ rounds at -125. Andrade has earned her title shot after finishing Katelyn Chookagian in the first round of her first fight after moving up to flyweight. Valentina is coming off a dominant decision win over Jennifer Maia, in a fight where she was a -1600 favorite. Valentina did lose the second round in the fight with Maia but went on to win the last three handily.

Many see this fight as the biggest challenge Valentina has faced in a while. The odds also back that up as this is the first time Valentina has been under a -1000 favorite since her fight with Joanna in which she was a -320 favorite. Although the odds are a lot closer than Valentina's previous fights, I don't see a clear path to victory for Andrade. I don't see Andrade being able to outwrestle Valentina, because the majority of Andrade's takedowns come from pure strength and I don't think she can take Valentina down like that.

The only chance I see Andrade having is if she can land a big shot that hurts Valentina, but Valentina is yet to be finished in the UFC with both of her losses coming by way of decision to Amanda Nunes. I think that Valentina has the ability to stop Andrade by TKO or even by submission. I fully expect Valentina to win this fight inside the distance but as there is a chance Andrade could land a flush shot, I think the Under 4 ½ at -125 is the best bet for this fight. I might look to play Valentina inside the distance at +130, but I will definitely be playing the under as one of my UFC 261 best bets.
Brendan Allen Wins -155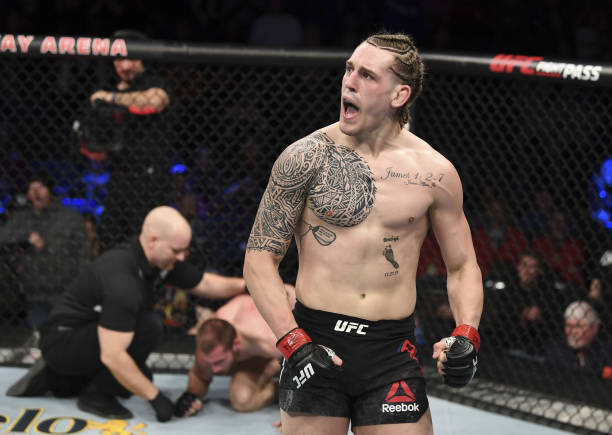 The last pick on my UFC 261 best bets is Brendan Allen at -155 against Karl Roberson. This clash of styles should make for an exciting fight. Both fighters tend to make quick work of their opponents, having finished nineteen of their twenty-four combined wins. Although they tend to finish their opponents, they have different methods to victory. Allen is a very strong grappler, who looks to either submit his opponent or land heavy ground and pound when on top. Whereas Karl Roberson is much more of a kickboxer who looks to keep the fight standing and land strikes from distance.

Roberson has had many problems in past fights when matched up against a strong grappler, and I see this being an issue for him in this fight. In Allen's last fight he lost to Sean Strickland, in a fight where Allen could not seem to take Strickland down. Strickland exposed Allen's poor striking defense by throwing high volume on the feet and landing straight shots up the middle to get through Allen's guard.

I think that this fight goes differently for Allen because Roberson will not be able to defend his takedowns. Roberson, only defending takedowns at a 50% rate in the UFC. Once Allen is able to take Roberson down, I expect him to have success in either submitting Roberson or finishing him with ground and pound. Roberson has been submitted in all three of his losses, and I see this fight ending in a similar fashion with Allen winning by submission.
Let me know what you think about my UFC 261 Best Bets and if you agree or disagree with my picks. This card should be an exciting, and thrilling one with fans back in the arena. The rematch between Usman and Masvidal should be an intense main event. Hope everyone enjoys the fights!
---
Follow me on Twitter @carterbergezMMA for updates on my work and live reactions to every UFC event. Also, follow the Overtime Heroics team on social media @OTHeoicsMMA to stay up to date with the latest news in MMA.
Featured Image Credits to Embed from Getty Images