A so-so start to the 2021 Miami Marlins season; waking up today in the cellar. A rash of injuries and a tough road schedule has Miami playing .407 ball. The turn of the calendar and some fresh legs will help breathe some life into Miami's offense. One bright spot has been Trevor Rodgers. Jose Devers' lack of hitting experience may be his only roadblock to sticking with the Major League team.
Middle infielder José Devers, cousin of Red Sox third baseman Rafael Devers, made his Major League debut against the Giants on Saturday and went 0-for-3 with three strikeouts in the Marlins' 5-2 win. He may have gone hitless, but showed a strong glove.
2021 Miami Marlins: April Call Up
Devers gets the bump up from the taxi squad. His manager is "Excited to see his career start,". A string of injuries has left the Marlins with holes just one month into the season. Miami's third Baseman Brian Anderson was recently placed on the injured list. Infielder Miguel Rojas was given a maintenance day in the midst of the Marlins' grueling road trip and José Devers made his major league debut Saturday night at second base. At the age of 21 years and 138 days, he became the youngest Marlins player to appear in a regular-season game since José Fernández in 2013.
"All I know is I'm going to do my best and go out there and compete, and do everything I can do to keep improving and get better," Devers said on Friday.
2021 Miami Marlins: Deter Jeter's Secret Gem
Devers came over in the Stanton deal a few years ago. He now ranks as the Marlins' No. 8 prospects per MLB Pipeline. The standout note about him is that he hasn't played higher than Class A Advanced. In 2019, Devers slashed .322/.391/.390 in 47 games across three levels of the Minors. Not many players make the jump from Class A to the bigs; this kid is special.
His baseball IQ gives him an edge. "He knows how to play," manager Don Mattingly said on Thursday. "I know he's a young kid, but young kids that have played winter ball and things like that for the Dominican, they're not afraid of anything over here, and they don't seem to be too nervous. So José's a baseball player, he's going to be fine. He's going to be a good player."
Scouting notes laud him for his bat-to-ball skills, which are the best among Marlins prospects per MLB Pipeline's scouting report. Devers has also flashed speed at the lower levels, stealing 37 bases on 47 attempts.
Dever's has already shown his sweet glove and baseball IQ. Jordan McPherson described it best, "The first play is understandable. He was in the shift, essentially in shallow right field as one of three infielders on the right side of second base, when he fielded Matt Carpenter's hard-hit ground ball and flipped the ball to Garrett Cooper for the first out of the game.
The second play truly showed his understanding for the position as he charged down the third-base line to make a play on a slow-rolling ground ball from Matt Szczur and fired a quick and accurate throw to first base to end the second inning."
November 20, 2020 Jose Devers
Devers was added to the 2021 Miami Marlins 40-man roster Friday.
Devers was part of the Marlins' 60-man player pool in 2020, and he'll now be protected from the Rule 5 draft. The 20-year-old is one of the best defensive shortstops in the organization, but he'll need to demonstrate more production at the plate in 2021. Per RotoWire Staff:
Jose signed with the Yankees for $250,000 out of the Dominican Republic in 2016. He was playing in high Class A and the Arizona Fall League as a 19-year-old in 2019. He showed improved exit velocities and arm strength at Miami's alternate site last summer. The 2020 alternative sites ended up being training grounds for a lot of prospects across baseball; the list is chock full of talent.
According to MLB Scouts, Devers has the best bat-to-ball skills among Marlins prospects. This includes the Mesa brothers and other talented players. Devers needs to show more patience at the plate. A more patient approach will allow better pitch selection resulting in an increased barrel rate. It is noted that Jose Devers makes contact so easily that it cuts into his walk totals, reducing his ability to get on base and utilize his plus speed. Power is not his game. As mentioned above, he's slender (175lbs) and has a relatively flat left-handed stroke. Launch angels can be improved and his continued growth into his body is leading club officials to believe he might produce 12-15 homers per season.
Scouts Notes: Devers has a quick first step and good internal clock at shortstop. These qualities are represented in his knack for making a play. His arm has improved from average to solid. He maintained more consistent arm strength last summer after dealing with shoulder fatigue in 2018 and a forearm strain in 2019. We must remember, this kid is 19. His arm muscles are still developing. He's a versatile defender who could serve in a utility role if he doesn't provide enough impact at the plate to win a regular job.
Devers hit .325 and scored 13 runs in 33 games with then-Class A Advanced Jupiter Hammerheads in 2019 when he was 19 years old — one of the youngest players in the Florida State League. He's a career .278 hitter in the minor leagues.
His raw talent is visible. Devers will fill out as he gets older. He may have to change positions. By far his biggest improvement: Filling out his frame. Currently, around 180. Mattingly said Devers, standing at 6 feet, was "maybe 150 pounds soaking wet" when he joined the Marlins organization as part of the Giancarlo Stanton trade in December 2017. Just for reference, my little brother (18 years old) is 5'11 foot 145 pounds. Devers reported to spring training weighing 174 pounds. He is still slight of frame, but that added muscle will help"
The following graphic is from Marlins' writer Christina De Nicola's tweet.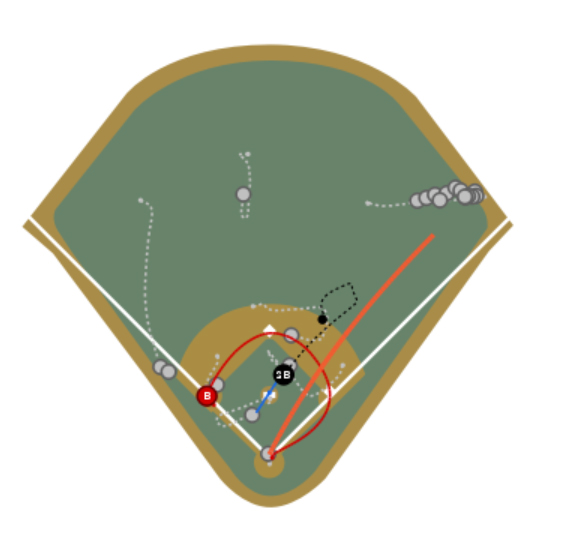 Follow me on Twitter at @allstarcollect5 for more 2021 Miami Marlins content! Don't forget to join our OT Heroics MLB Facebook group, and feel free to join our new Instagram – @overtimeheroics_MLB, and listen to our baseball podcast Cheap Seat Chatter! We'll see ya there!
Come join the discussion made by the fans at the Overtime Heroics forums! A place for all sports!
main image credit