Post-pandemic reorganization has sent ripples through minor league baseball. Major League Baseball has reorganized its minor leagues in a 120-team regional alignment. MLB released a plan for two Triple-A divisions, and three divisions each for Double-A, High-A, and Low-A.
The Miami Marlins Minor League structure is as follows; Jacksonville Jumbo Shrimp (Triple-A), Pensacola Blue Wahoos (Double-A), Beloit Snappers (High-A), and Jupiter Hammerheads (Low-A) to be their full-season affiliates for the 2021 Minor League Baseball season. Pensacola and Beloit are new locations for the Marlins. And Beloit is the only affiliate not based in Florida. The realignment is not Opening day is a warm welcome to the prospects and all involved with MILB.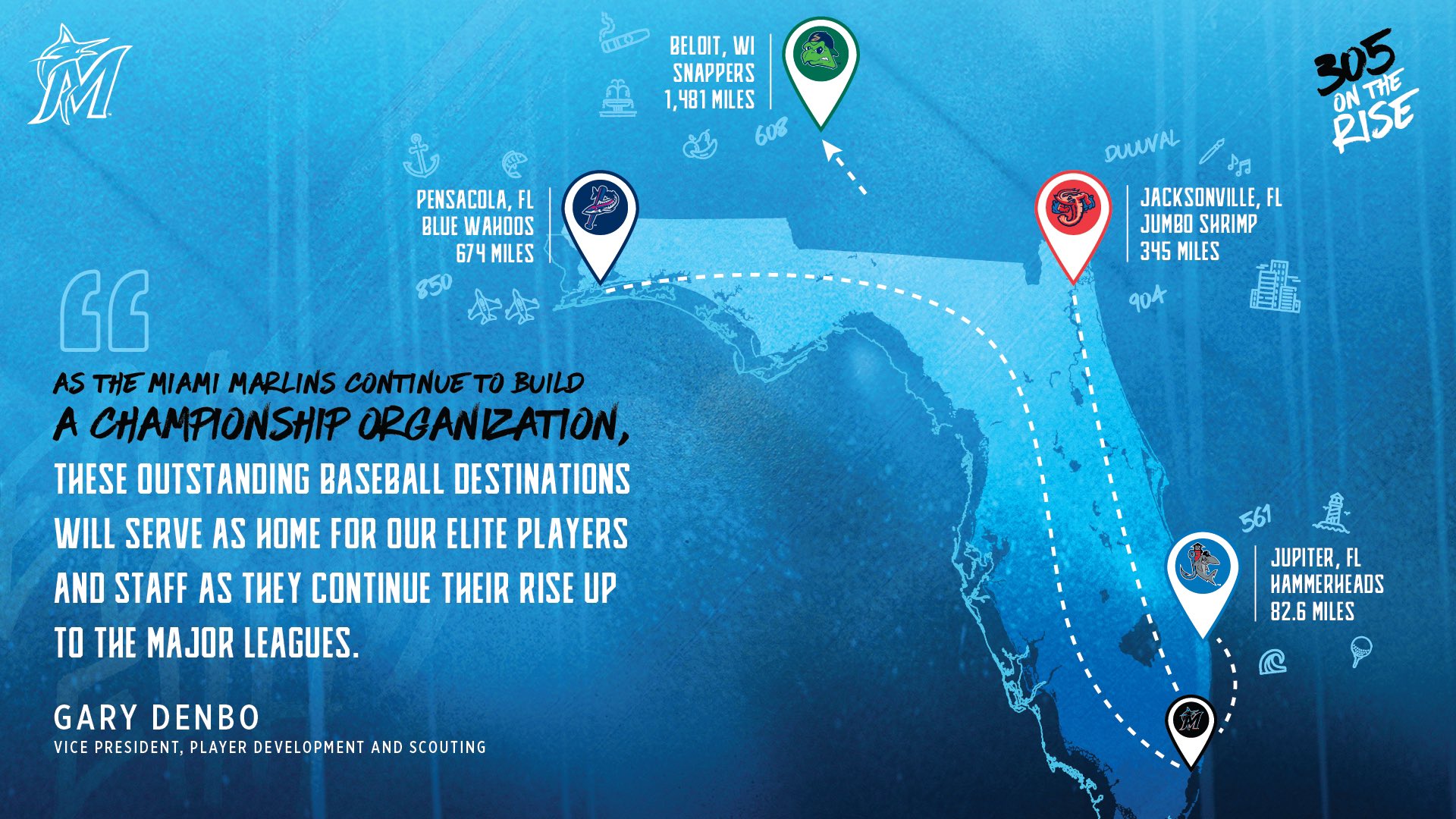 Miami Marlins Minor League; 2021 Reorganization
Under the new Miami Marlins Minor League structure, players who are designated for assignment won't have to leave the state. The Jacksonville Jumbo Shrimp has become Jacksonville's first Triple-A affiliate since 1968. Three of the Marlins' four minor league teams are in Florida. The Pensacola Blue Wahoos take over as the Double-A affiliate, while the Jupiter Hammerheads retain their Low-A affiliation.
Broadly speaking, Triple-A East is the International League and Triple-A West is the old PCL. The Iowa Cubs, Memphis Redbirds, Nashville Sounds, and Omaha Storm Chasers have all been moved from the PCL to the "East", the Jacksonville Jumbo Shrimp got a nice promotion from the Double-A Southern League to the Triple-A East. There are also two former independent clubs here, the St. Paul Saints of the American Association joins Triple A East, and the Sugar Land Skeeters of the Atlantic League now in Triple-A West.
The Fresno Grizzlies got the boot all the way down to Low-A, the San Antonio Missions will be sent to Double-A, and the New Orleans Baby Cakes, who relocated to Wichita for the 2020 season that never happened, will now play in Double-A as the Wichita Wind Surge. One other Triple-A relocation for 2021 is the former Pawtucket Red Sox who will remain at the Triple-A level as the Worcester Red Sox.
Miami Marlins Minor League; Triple-A Jacksonville Jumbo Shrimp
Jacksonville Jumbo Shrimp 11, Norfolk Tides 5
Jacksonville Jumbo Shrimp replace Wichita as Miami's top farm team. They are located in Jacksonville, Florida, and are named for shrimp caught in the area. The team plays their home games at 121 Financial Ballpark, which opened in 2003. They previously played at Sam W. Wolfson Baseball Park from 1962 until the end of the 2002 season.
With 3,469 in attendance, the Jumbo Shrimp jumped out to a seven-run second inning lead and never led by less than four for the rest of the game. Starter Braxton Garrett struck out four and surrendered two runs in a 3 2⁄3 inning start, while Brett Eibner got the victory with 2 1⁄3 perfect innings of work.
Miami Marlins Minor League; Double-A Pensacola Blue Wahoos
The Pensacola Blue Wahoos have become the Double-A affiliate of the Miami Marlins. The Blue Wahoos rank 4th and will begin the season tonight after yesterday's rainout. The Blue Wahoos had previously been an affiliate of the Twins (2019-20). Prior to that, they were part of the Reds' system ('12-18).
Blue Wahoos owner Quint Studer said. "The Marlins franchise, fresh off a trip to the playoffs in 2020, boasts one of the top five Minor League farm systems in baseball… to put an extremely talented, winning team in front of our fans at Blue Wahoos Stadium, Following up with," we look forward to being great partners to them both at the ballpark and away from it." It is important to follow through on these commitments to our society.
Christina De Nicola spoke with Meyer about getting the nod for Opening Day 2021. On Zoom, he says, " I was pretty pumped about it and they told me I was going to get the opening day start, too. So I'm fired up for it. My family is. My friends are. And I can't wait to get out there." Having seen Max pitch, I might be as excited as him for the start.
Max Meyer, 22, a 6-foot, righthander and third-overall pick in the 2020 Major League draft, was named Sunday as the Blue Wahoos opening day starter, set for his professional debut at the Double-A level as Pensacola begins its new era Tuesday night as Miami Marlins affiliate in a season-opening, road series against the Mississippi Braves in Pearl, Miss.
With the third pick in the 2020 draft, the Marlins hooked Max Meyer out of Minnesota for $6.7 million. Miami broke with recent tradition by selecting a pitcher in the first round. Miami viewed Meyer as "the most athletic college pitcher in this draft with the most electric stuff". In a pitch-heavy draft, Meyer projects as major league-ready. At Minnesota as a Freshman, Meyer produced a school-record 16 saves, continuing his dominance on the U.S. collegiate national team with seven saves. Meyer joined the rotation a month into his sophomore year. He ended up striking out 46 in 27 2/3 innings. Max shares a connection with Hall of Famer Paul Molitor (1977) as the highest pick in Golden Gophers history.
This 2021 Blue Wahoos Roster is loaded with talent; reminiscent of the Blue Wahoos' 2019 Minnesota Twins affiliate; consisting of infielder Royce Lewis(wish him a healthy recovery) and outfielders Trevor Larnach and Alex Kirilloff. The first match-up comes against the M-Braves, another highly talented farm team. M-Braves lineup features seven of the Atlanta Braves' top 30 prospects; including both 1st round picks catcher Shea Langeliers and shortstop Braden Shewmake. This is a battle of pipelines.
Blue Wahoos pitching coach Tim Norton says "He's a pretty special one,". Max is a gamer. Norton also joked "I might need to settle him down, but I think he's in a pretty good spot and he's ready to compete." "This guy's pretty good. Big arm, excellent slider, control the game really well. It's going to be fun to watch him pitch his first professional outing."
The number of injuries on the major league roster may be felt down stream much earlier than planned.
For more coverage of the Wahoos; Bill Vilona is a retired Pensacola News Journal sports columnist and current senior writer for Pensacola Blue Wahoos/Studer55. He can be reached at bvilona@bluewahoos.com
Miami Marlins Minor League; Low-A Hammerheads
Sean Reynolds made his debut on the mound for the Hammerheads after starting at first base in last night's season opener.
Jupiter Hammerheads 3, St. Lucie Mets 13
Miami Marlins Minor League; High-A Beloit Snappers

Beloit Snappers 1, Wisconsin Timber Rattlers 2
The Beloit Snappers dropped the opener on the road Tuesday, 2-1, against the Wisconsin Timber Rattlers in the first Snappers' game since September 2nd, 2019. Beloit struck first in the top of the first. Thomas Jones ripped the first pitch he saw for a home run over. The Beloit Snappers will open the 2021 season, their first as an affiliate of the Miami Marlins, with a roster loaded with top prospects. Every night will feature high-quality matchups on the mound, playmakers in the outfield, and players who can swing for the fences. Miami's farm system is ranked fourth in the MLB. The roster consists of 16 pitches, three catchers, five infielders, and five outfielders.
If you are planning to attend any games, please be advised of updated protocols.
Follow me on Twitter at @AllstarCollect5 for more of my content! Don't forget to join our OT Heroics MLB Facebook group, and feel free to join our new Instagram –  @overtimeheroics_MLB, and listen to our baseball podcast, Cheap Seats Chatter! We'll see ya there!
Come join the discussion made by the fans at the Overtime Heroics forums! A place for all sports!
Main image credit: Embed from Getty Images