"To be the best, you gotta beat the best, and the best is Blessed, baby!"
And boy did Alex Volkanovski do just that. Twice, even if the second was close. And he beat one of the greatest fighters of all time in Jose Aldo, and he survived Brian Ortega's absolute deepest guillotine. He escaped T-City's signature move, going on to beat the breaks clean off Brian Ortega in the ESPN Fight of the Year and retired Chad Mendez, finishing him faster than Conor McGregor. Put some respect on the champ.
But let us not forget the man who will stand opposite him in the cage on Saturday night. "The Korean Zombie", Chan Sung Jung. Upon entering the promotion, Zombie found himself on a three fight win streak and unbeaten in the UFC, including choking Dustin Poirier unconscious via Brabo Choke, and scoring the first ever Twister submission in the UFC. Korean Zombie looked unbeatable until he would go on to face prime Jose Aldo. Following his first UFC loss to Aldo, Zombie would go on a near-four-year hiatus to fulfill his nationally required military service.
He would return to face a rising Renato Moicano, who he would defeat via TKO inside the first minute, before going a full 25 minutes with Yair Rodriguez, beating Yair on almost every single scorecard, only to be knocked out cold by a freak upward spinning elbow in the last second.
Chan Sung Jung "The Korean Zombie" (MMA: 17-6. UFC: 9-3 )
Originally trained in Hapkido as a result of being bullied, sporting a 3rd dan black belt in the discipline, as well as a 2nd dan black belt in Taekwondo and black belts in Judo and BJJ. Zombie earned the nickname based on his ability to keep coming forward. With one of the greatest walkouts of all time, TKZ will walk to the Octagon as a +325 underdog, which feels absolutely insane. The newest member of Henry Cejudo's Arizona fight crew of former Champs, TKZ believes that his Judo and BJJ will serve as good counters for Alex Volkanovski's Greco-Roman wrestling.
Alexander "The Great" Volkanovski (MMA: 24-1. UFC: 10-0)
To paraphrase Max Holloway, "Everything he can do, I can do better. He's beat one former champ, Volk's beaten two, and he's beaten one twice". A former national wrestling champion in his native Australia, a black-belt in BJJ under Joe Lopez and current #3 P4P fighter in the world, what can't this man do? He just seems to get better with every fight. His durability and heart are absolutely second to none.
As Izzy says, there's levels to this game, and Volk is on another one. It would be difficult to think of a closer comparison to Usman and Covington than Volk and "Blessed". Simply levels above the competition. The common rhetoric among MMA fans online is that if Max can't put Volk away on the feet and T-City can't choke him out, then TKZ won't be able to either.
Fight Breakdown
Standing at 5'6 and with a wingspan of 71″, Volkanovski will be the smaller man in both measurements by an inch. However, it wouldn't be unfair to say that the missing inch from Alex's neck simply makes him harder to choke out.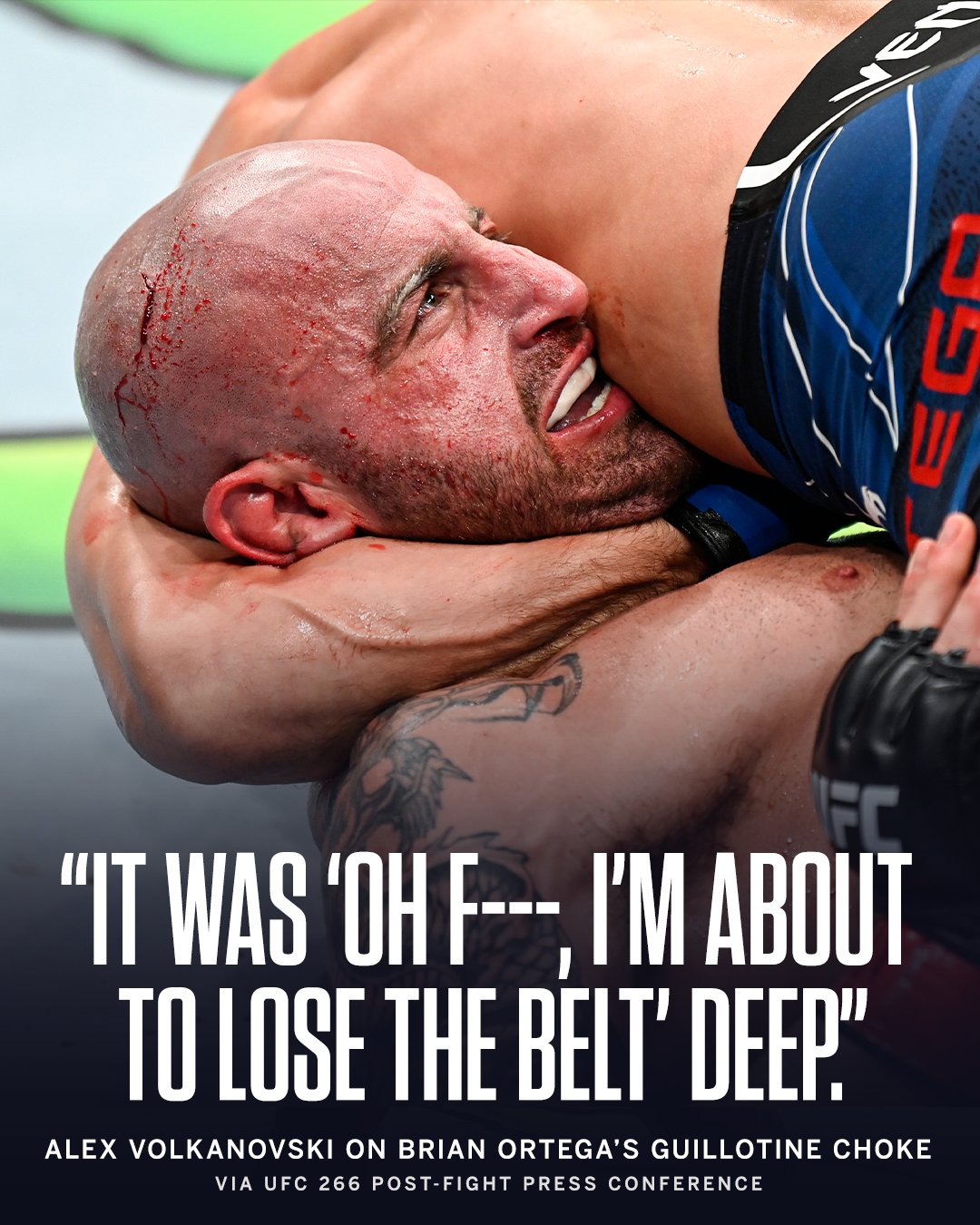 You can't choke what doesn't exist. But of TKZ's two submission victories, one was by way of choke. The other, his legendary Twister which shows that TKZ has variety as well as the experience from his four black belts, even if he prefers to stand and bang.
Expect Volk to start slow as he tries to find Zombie's rhythm, chopping the leg and threatening takedowns. Volk's distance management is second to none, so expect him to shoot takedowns to interrupt Zombie teeing off.
However, TKZ's FOUR (4) BLACK BELTS might dissuade Alex from staying on the ground with him. For any of you parlay princesses out there, Volk winning to cap off the night should be an easy way to add a little extra value if you have any strong feelings about specific undercard fights, but the real value is going to be in predicting whether the fight goes the distance or not. If you have strong feelings, they may be worth a schmekel, as Jon Anik would say.
Official Prediction
A Zombie versus a Superhuman. It is hard to imagine either one being finished after watching Volk survive (and win the majority of) 10 Rounds with Max Holloway and 5 Rounds with Jose Aldo and Brian Ortega while Zombie has only been finished by Jose and Yair under the UFC banner. However, Volk has been vocal about his desire to leave a legacy and make a statement with this fight. A Volk finish might not be out of the realm of possibility, especially considering that Volk vs. Ortega probably should have been stopped after round three (shout out Dan Hardy, we miss you).
Volk via TKO in Round 4.
Featured image credit to UFC