The NFC West has some very interesting position battles going into training camp this season. Here are the battles you will want to keep an eye on as you prepare for your fantasy football drafts.
Arizona Cardinals
The Arizona Cardinals have a new coaching staff this season and they are planning on having a wide-open offense under new coach Kliff Kingsbury. The team went offensive heavy in the draft bringing in multiple wide receivers along with first-overall pick, Kyler Murray.
Battle 1: Wide Receiver
Veteran wide receiver, Larry Fitzgerald, returns for his 16th season and is a lock for the starting lineup. Christian Kirk is also a safe-bet for snaps as he enters his second year, but who will join them in an offense that will surely include a third receiver on most downs?
The team drafted a trio of players to add to this unit, including second-round pick Andy Isabella. The speedster from the University of Massachusetts looks tailor-made for a Kliff Kingsbury offense. His potential as a slot receiver who can rack up yards after the catch will be worth following as camp develops. If it seems he will be on the field he is a great sleeper in points-per-reception fantasy football leagues.
The other rookie receiver to keep an eye on is Hakeem Butler, from Iowa State University. Measuring at six-foot, five inches tall and 227 pounds, he has a tantalizing combination of size and strength. Butler was considered raw coming out of college so keep an eye out for his progress acclimating to the NFL. If he picks up the playbook quickly he could become an interesting red-zone target for Murray.
Battle 2: Tight End
The tight-end position is very much up in the air right now for the Cardinals. Ricky-Seals Jones saw the most targets last season but you can't count on that again with a new offense and quarterback in place. The team brought in veterans Charles Clay and Maxx Williams to compete with Jones this year. Clay has had a solid career but has only had one season where he was truly relevant in fantasy football. Williams was an intriguing talent when the Baltimore Ravens drafted him in the second round in 2015 but injuries have derailed his career thus far.
Clay would be the favorite to win the job going into camp but any of the three could land the trust of their new coach. Kingsbury's offense has historically been wide-receiver centric so unless signs point to more tight-end usage it is probably best to avoid these three for fantasy purposes.
Los Angeles Rams
The Los Angeles Rams are coming off a Super Bowl run and had one of the most explosive offenses in the league. There is no question who will be their quarterback and there are proven weapons all around him. The positions to keep an eye on in camp will be the running back and tight end positions.
Battle 1: Back-up Running Back
There is no question about Todd Gurley's ability as a runner, but his health is very much in question as we approach training camp. Keep an eye out for who will be the beneficiary if Gurley misses some time this season or is forced to share the load.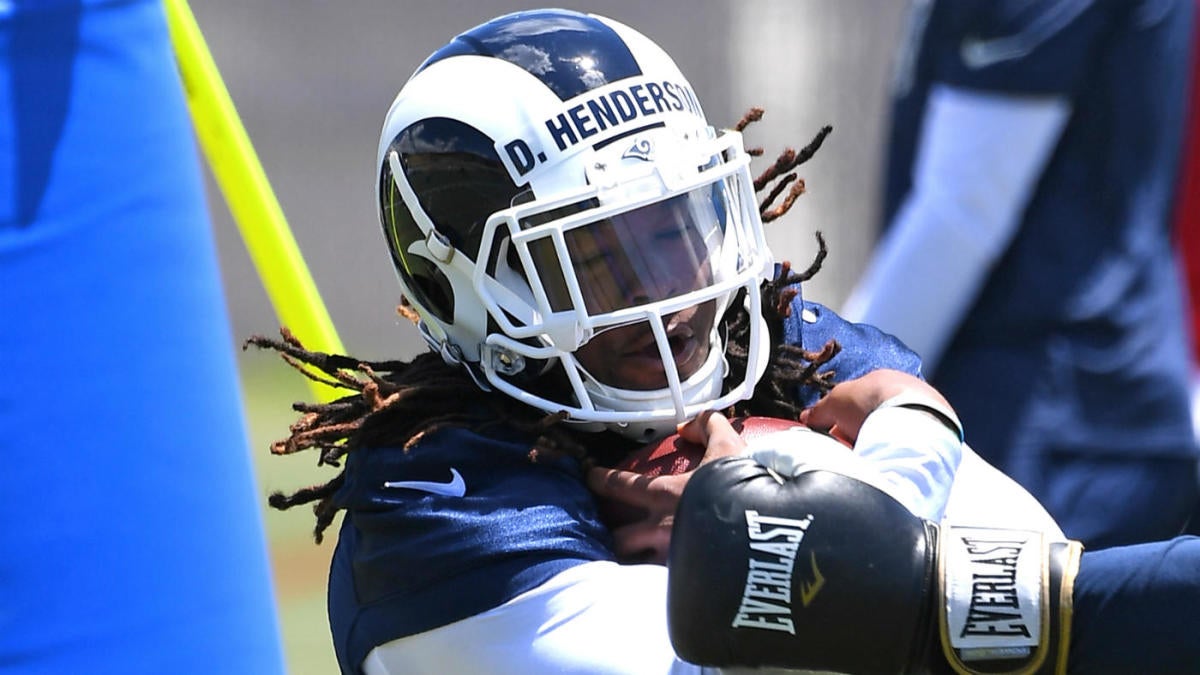 Malcolm Brown is looking to bounce back after finishing last season on injured reserve. He has never carried the ball more than 63 times in his four-year career and will need to hold off promising rookie Darrell Henderson for snaps. Henderson is currently being drafted in fantasy football leagues as if he is going to be the primary backup. Keep a close eye on reports from camp for some form of confirmation before reaching too far for Gurley's handcuff.
Battle 2: Tight End
The tight-end position was a bit of an afterthought last season in the Rams offense. Gerald Everett and Tyler Higbee played all 16 games but only had 50 and 34 targets, respectively. The main thing to look for is any report of the position being utilized more this upcoming season. If that is the case, Everett could be worth a look in deep leagues with the possible increase in targets.
San Francisco 49ers
The San Francisco 49ers are the most intriguing team in this division when it comes to potential battles. Jimmy Garoppolo is trying to put together his first full season under center and will look to develop chemistry with team. Tight End is the only position that seems a lock as George Kittle exploded into fantasy football relevance last season.
Battle 1: Running Back
Tevin Coleman was signed this off-season and is a lock to carry part of the load. This will be the first time Coleman gets a chance to be the featured back, so keep an eye out for any news on how much of the load the 49ers plan to give him. There should be plenty of touches available for whoever steps up between Jerick McKinnon and Matt Breida.
McKinnon missed all of last season with a knee injury and will need to prove he is back to one-hundred percent in camp. If he can return to form he is both a solid runner and receiver out of the backfield. Breida stepped in and had an impressive showing last season in McKinnon's absence, averaging 5.3 yards per rush while totaling 1075 yards rushing and receiving. If both players prove healthy, it is possible that one them gets traded before the season. That could positively effect both of their value in fantasy football leagues.
Battle 2: Wide Receiver
The most exciting battle in the NFC West going into training camp is right here. If you like to gamble, I have some players for you! Dante Pettis flashed some potential late in the season with 21 targets and 4 touchdowns over a three-game stretch. Marquise Goodwin was lost in the shuffle a bit last season, but had 105 targets the year before and is an absolute burner on the outside. The team also just drafted Deebo Samuel, who packs an exciting combination of strength and speed.
Any of these three could become a favorite target for Garoppolo and all of them are being drafted late. Any nuggets from training camp about one of these receivers gaining favor would make them worth taking at their current ADP.
Seattle Seahawks
The Seattle Seahawks are another team to keep an eye on as there are currently questions at both running back and wide receiver. We know Russell Wilson will be leading the team, but who will step up around him?
Battle 1: Running Back
Chris Carson received the lion's share of carries last season and proved quite capable with 1151 yards and 9 touchdowns. Don't be too quick to assume that will continue as Rashaad Penny will be looking to make his mark in his second year. This is certainly worth keeping an eye on because any hint of how the carries will be split could drastically change where the two are currently being drafted.
Battle 2: Wide Receiver
Doug Baldwin is gone and that leaves an opening opposite Tyler Lockett. Set to battle it out for the role are David Moore, Jaron Brown and rookie D.K. Metcalf. Brown is the most experienced of the trio but Metcalf is currently receiving the most love in fantasy drafts because rookies tend to get the most attention. If one of the three can separate himself before the season they will have great value as a late-round pick.
Make sure to check out more like this at: https://www.overtimeheroics.net