The Warriors still managed to piece together a decent looking roster after their Finals loss to the Toronto Raptors in June. Bench depth may very well be an issue once again, meaning Golden State's success starts and ends with star power. With that in mind, let's look at who will open up the new Chase Center for Steve Kerr's ballclub.
The 2019 Golden State Warriors will look much different than the super team of years prior. Two time Finals MVP Kevin Durant is now a Brooklyn Net. Another Finals MVP, Andre Iguodala, who has had countless clutch playoff performances for the Dubs, was traded to the Memphis Grizzlies for salary purposes. Demarcus Cousins, Quinn Cook, Jonas Jerebko, Shaun Livingston, and other members of the bench mob have also departed. 
Chef Curry will need to do a lot of cooking this year if the Warriors hope to make a sixth straight Finals run. Not having KD means Steph will once again have full reign over the offense. He will hope replicate his 2016 season in 2019. The 73-9 season was a historic one statistically for Steph, shattering his own three point record he set one year prior. Curry went off, scoring with immense efficiency. However, a repeat of that kind of season is unlikely, maybe impossible. 
Watching the Warriors the last couple of years means you've noticed the increased off-ball usage of Curry by Kerr. Again, with no Durant, expect a lot of pick and roll with Steph running the show. Game 3 of this past NBA Finals, where Steph took 31 shots and racked up 47 points, could be an example of what the Golden State offense looks like.
Part of the aforementioned struggles with the Warriors offense not only has to do with the departure of KD but the absence of Klay Thompson. The two-way guard has immeasurable value with the GSW, and they will sorely miss him until (or if) he returns from an ACL injury. Fortunately for Golden State, General Manager Joe Lacob did his best to patch this hole in the lineup. The sign-and-trade that sent Durant to Brooklyn also netted the Warriors an All-Star guard in the form of D'Angelo Russell. 
D-Lo had a breakout year last season, setting career high percentages in both three point percentage (36.9%) and overall field goal percentage (43%). His three point efficiency landed him a spot in the top ten in 3P% last season, perhaps qualifying him as the third splash brother in the bay. On top of his scoring, Golden State will appreciate his play-making ability and knack to set up teammates. Russell was 2nd in assist percentage last year, so Curry will have someone to help share ball handling duties with.
The small forward position will be the one that sees the most diversity in terms of personnel this season for the Warriors. Losing an elite superstar wing in the offseason will do that. Steve Kerr will look for team experience at this spot. That means Alfonzo McKinnie will be thrusted into the starting rotation to open the season.
McKinnie took great advantage of an opportunity with the Warriors last year, becoming part of the regular rotation and earning consistent playoff run. McKinnie will need to be more consistent on both ends of the floor to maintain the starting spot all year, but another opportunity has certainly presented itself for the Wisconsin-Green Bay product.
Power Forward: Draymond Green
"The heartbeat of the Warriors", Draymond Green, will anchor the frontcourt once again. Green signed a four-year contract extension earlier this month worth about $100 million that will begin in 2020-2021.
In a recent interview on "The Jump", Draymond talked about the underdog "chip" Golden State possesses once again. Green notes Steph and Klay feel similarly, and that part of signing his extension that will end up costing him some money (he could have made more if he played out his current contract and entered free agency) was due to a bond with both Curry and Thompson.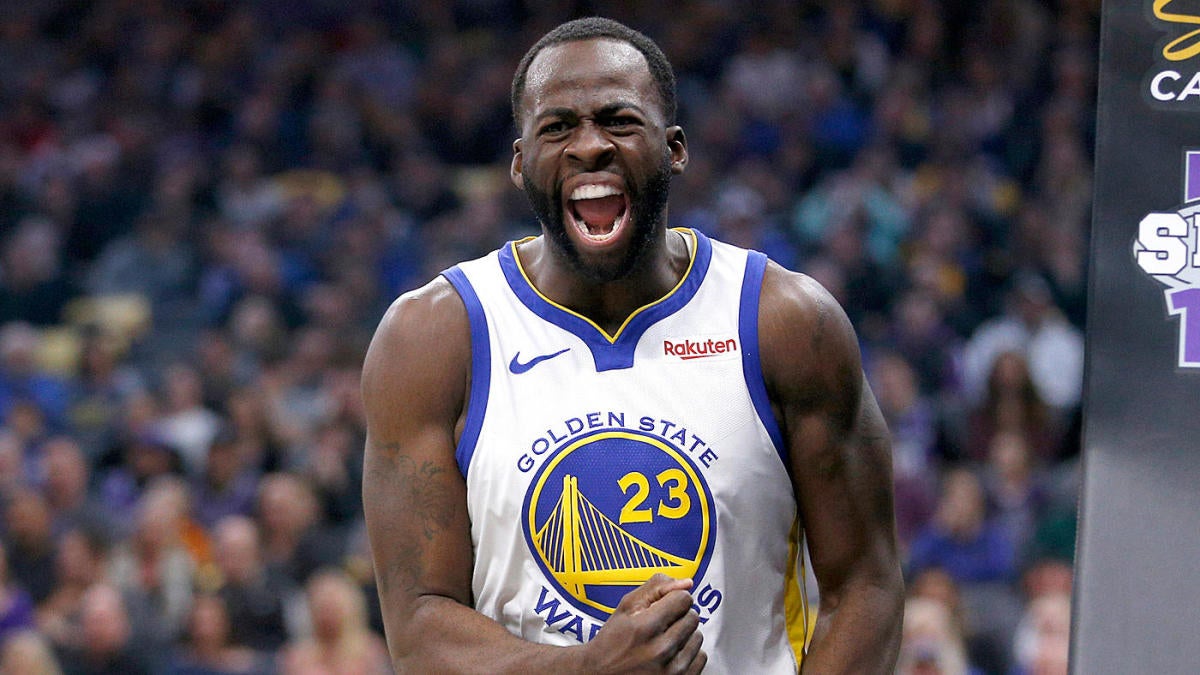 Green shot under 30% from downtown for the first time since his rookie year last season, and his defensive win shares have dropped the past two campaigns. However, he is still one of the best and smartest defenders the league has to offer. He also fully embraces and understands the Warriors philosophy. Green will need to be more impactful on offense this year with no Durant, and no Thompson for the foreseeable future.
Another position that will see different names is the five spot, dependent on the opposing matchup. It's no secret the Warriors love small ball, so expect a lot of Kevon Looney here. While a bit undersized for a traditional center at just 6'9", Looney is as tough as they come. He outplayed Clint Capela in the Western Conference Semifinals, proving he can hang with the seven footers. Even when isolated against James Harden or Chris Paul, Looney performed well.
The matchup flexibility Looney provides while on the floor holds value, more so this year than ever. Looney shot a career high 62% last season and saw his win shares skyrocket from 2.8 to 6.0.
The acquisition of the 7'0" Willie Cauley-Stein gives Golden State some needed front court depth. Looney will need some rest against the bigger matchups, and Cauley-Stein can provide that relief. He was notorious for being "soft" with the Sacramento Kings, so I'm sure Draymond will have a few chats with him about that throughout the season. If he can learn to be more physical, Willie could be a solid option off the bench for coach Kerr.
The backcourt depth, on the other hand, leaves much to be desired. Second year guard Jacob Evans, rookie Jordan Poole, Alec Burks, and Glenn Robinson will all have an opportunity to earn minutes off the bench. Burks would most likely be the frontrunner out of that group to start the season, but Poole impressed in summer league and Evans already has a year of experience in the GSW system under his belt. Whoever proves to be the most consistent will earn the most minutes, plain and simple.
As I said, this year will be much different for Golden State, both personnel and philosophy wise. It will be interesting to see how the Warriors handle this amount of change next season.