We finally head out west for our NBA preview of the Northwest Division. First through fourth was separated by five games last season with the Denver Nuggets taking the division. With a healthy Michael Porter Jr., could they take the next step? The Trailblazers shook things up a bit, but is it enough? The Jazz has the defense. Do they now have the third star they need? The Thunder trade all their firepower and are looking at a rebuild. Will the Timberwolves young insanely gifted core finally take the next step and challenge for the top?
Utah Jazz, 1st Northwest Division
Record: 58-24
Head Coach: Quin Snyder
Key Additions/Re-signings: Mike Conley, Bojan Bogdanovic, Jeff Green, Ed Davis
Key Losses: Derrick Favors, Kyle Korver, Ricky Rubio, Raul Neto
Impact Player: Mike Conley
The Jazz have the defense, they have a young phenom in Donovan Mitchell, and finally, they have Rudy Gobert patrolling the paint. They needed a point guard, and the Grizzlies were happy to oblige. A healthy Mike Conley brings another star into the lineup without sacrificing who they are. He can defend, pass, and shoot. Conley can lead this young group deep into the playoffs. The only question left is, can he stay healthy?
Season Outlook: The Jazz won 50 games with Ricky Rubio as the starting point guard and Joe Ingles on the wing. They have added Conley and Bojan Bogdanovic. Ingles now adds depth to the bench. Add a star, check. Add shooting, check. Don't sacrifice defense, check. They are a championship-caliber team if they stay healthy.
Denver Nuggets, 2nd Northwest Division
Record: 56-24
Head Coach: Mike Malone
Key Additions/Re-signings: Jerami Grant, Bol Bol, Jamal Murray(extension)
Key Losses: None
Impact Player: Michael Porter Jr.
The Nuggets were able to take Porter Jr. at number 14 overall due to back surgery. The Nuggets landed a talent that could have been the first pick in the NBA draft at number 14. If Porter can meet the hype, he takes the Nuggets to a whole new level. He is a gifted shooter and is athletic enough to get buckets in the paint. Porter is healthy and already playing well in the preseason. Watch out NBA if he reaches his full potential.
Season Outlook: The Nuggets have loads of young talent up and down the roster. Their superstar big man Nikola Jokić does things we have never seen before from the pivot. They are a proven playoff contender. So what is it they lack? What keeps them from being mentioned in the elite status? They need one of those other young guys to take the next step. They need that second superstar. If one of those young talents tap into the superstar in them, the Nuggets will catapult to one of the elite teams in the NBA. Will it happen this year?
Portland Trail Blazers, 3rd Northwest Division
Record: 52-30
Head Coach: Terry Stotts
Key Additions/Re-signings: Hassan Whiteside, Kent Bazemore, Mario Hezonja, Pau Gasol, Rodney Hood
Key Losses: Al-Farouq Aminu, Enes Kanter, Meyers Leonard, Maurice Harkless, Seth Curry
Impact Player: Hassan Whiteside
At one point in Miami, Whiteside was considered someone to build the franchise around. Add a couple more stars and boom contender. Three years later, he is an expiring contract sent to Portland. If the incredibly infectious Lilliard and coach Stotts can bring back the 2016-2017 version of Whiteside, the Blazers will make some noise. If Whiteside continues to be the moody up and down player, he was last year. Then all bets are off.
Season Outlook: The Blazers are a star away from being one of the west's best. If they can get vintage, I care about basketball Whiteside again. That would be a great help. Even with Whiteside, Lilliard, and CJ McCollum at their peak, it's hard to see the Blazers winning it all. If the Front office could get Kevin Love or some other star on the block, that would significantly enhance their chances. As of now, they are a great team that will make another playoff run.
Minnesota Timberwolves, 4th Northwest Division
Record: 43-39
Head Coach: Ryan Saunders
Key Additions/Re-signings: Noah Vonleh, Shabazz Napier, Treveon Graham, Jarrett Culver
Key Losses: Taj Gibson, Tyus Jones, Derrick Rose, Dario Saric
Impact Player: Karl-Anthony Towns
Karl Anthony-Towns needs to step up and make this his team. This team is built around him. They chose him in the power struggle with Jimmy Butler. It is time for the talent to translate to wins. Towns are the key to all of it. If he can take his leadership to the level of his skill, this can be a dangerous team.
Season Outlook: This is a make or break season for this still-young team. With all of the talent the Wolves have accumulated over the last four-five years, they should be better. Whether it is coaching or desire to win or whatever they need to breakthrough. If not you have to wonder how much longer the brass will keep
Oklahoma City Thunder, 5th Northwest Division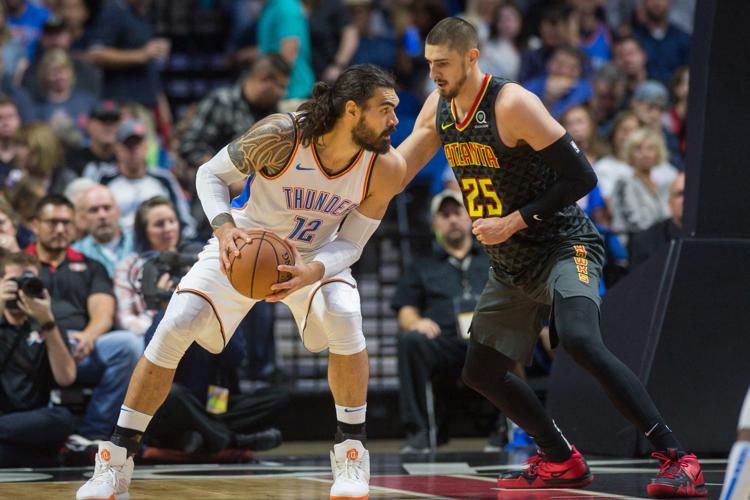 Record: 29-53
Head Coach: Billy Donovan
Key Additions/Re-signings: Chris Paul, Shai Gilgeous-Alexander, Danilo Gallinari, Mike Muscala
Key Losses: Paul George, Russell Westbrook, Jerami Grant, Markieff Morris
Impact Player: Shai Gilgeous-Alexander
With the forced trade of Paul George, the Thunder needed a young talent in return, and Gilgeous-Alexander fit the bill. He can be a building block for the future. He will have every chance to do so once they move on from Chris Paul. The talent is there, but the young man is still learning the game. If he can reach his ceiling, the Thunder will speed this rebuild up a bit.
Season Outlook: Don't be fooled by the names on this roster. Chris Paul is gone once they can get an offer they like. Dano Gallinari is on the market. Same for Steven Adams. By the end of the year, this could be an unrecognizable roster. Sam Presti is in full rebuild mode.
Next up: Pacific Division
Previous: Atlantic Division, Central Division, Southeast Division
Follow @WeirdJBronavich and Overtime Heroics for more great content!