While our first match-up today feature David vs. Goliath our second match-up features two fallen from grace players. Both Derrick Rose and Dwight Howard hit the peak of their career's early in the 2010's. Injuries and off the court issues derailed their rise, but both are still playing and productive. But who had the better decade as a whole? Was it defensive POY and overall stall-worth Dwight Howard? Or was it the fast cutting former MVP Derrick Rose? We are going to take a look at each players pros and cons and give our overall prediction on who should win.
Pros of Dwight Howard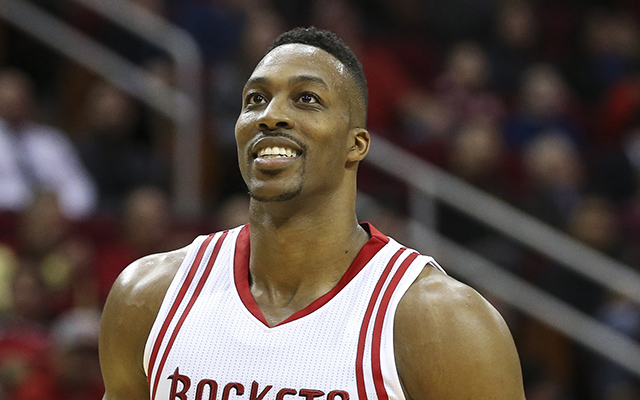 Rebounded & Blocked Consistently Well: Dwight Howard may have have played for many teams, but he consistently rebounded and blocked shots well. Dwight averaged double-digit rebounds for the decade and led the league in rebounding three times. Dwight was also an elite shot blocker, averaging almost two blocks per game in the decade.
Consistently Made Playoffs: In the 2010's Dwight Howard played in 58 playoff games. In that time, Dwight averaged 18 points, 12 rebounds and almost 2 blocks. Dwight never made a finals in the decade, but consistently performing in big games deserves a ton of credit.
Loads of Awards: Dwight filled his trophy case this decade.3 All-NBA First Team selections and 2 Defensive Player of the Year awards led the way. He was an all-star five times and started in quite a few of those games as well. The first half of the decade Dwight was constantly taking home hardware and mad props to him for doing so.
Cons of Dwight Howard
Consistently Got Worse: Nearly every year in the 2010's Dwight saw some statistics drop in one form or another. He may have been an all-star a few times, but he struggled to maintain that form throughout. His stats hit an all-time low this past season when he averaged just 12 points and 9 rebounds.
Poor Free Throw Numbers: For a guy that had such a solid post play, Dwight could not seem to figure out a consistent free throw. Rumors were always out there that he shot well in practice, but it did not translate to his play in games. 56% on his career is weak and we cannot help but feel that he should have improved.
Controversy Machine: Dwight Howard could not seem to find a home for the majority of the decade. After staring in Orlando, he found himself on five teams in eight years. He beefed with Kobe Bryant both during and after his Lakers tenure. Throw in his home life and relationship controversies and Dwight was constantly in the news and not for his play.
Pros of Derrick Rose
League MVP: One of the most impressive season's of the decade was Derrick Rose 2010-2011 season. Derrick Rose averaged 25 points, over 7 assists and 4 rebounds per game. He beat out talented players like Kobe Bryant, Kevin Durant and Lebron James in order to take home the award. Vintage Rose was must watch basketball that is for sure.
Bounced Back From Injuries: Many players could have packed it in after all the surgeries and rehabs Derrick Rose went through. Every time it looked like Derrick was back to normal he would suffer another injury. Rose's resiliency is something to be admired and remaining productive the entire decade was a pleasure to see.
Multiple Time All-Star: Chicago's own brought many smiles and accolades back to the Bulls franchise. 3-time all star, All-NBA First Team in 2011 and his MVP were simply special. Rose had a two year run in this league that is unrivaled by most. One of the biggest what-ifs in the leagues history is what his career could have been if healthy.
Cons of Derrick Rose
Missed Lots of Games: Off the roughly 800 NBA regular season games played in the decade, Derrick Rose missed nearly 300 of them. When you are playing just over half of the games in a decade it is tough to really consider you a decade all-timer. Injuries happen, but injuries year over year is tough to ignore.
Poor Defender: Both pre and post injury Derrick Rose struggled on the defensive end of the floor. Only once in the decade did Rose average one steal per game. It was in 2010-2011 that he averaged 1.0 steals, which is below average for a point guard. To be a decade-best player you better focus on all aspects of the game
Below Average 3 Point Shooter: In a league that has shifted to shooting 3's Derrick has not done so. His best season was his last one, where he shot 37% on the year. For the decade though, Derrick was a 30% three point shooter, which is incredibly low for a point guard.
Prediction
This was one of the tougher match-ups to predict, as a 4 versus 5 seed should be. When it comes to both players peaks, it could be argued that Derrick Rose's was higher. His MVP season was so impressive, but after that Rose's injuries set in. Dwight Howard may have struggled the second half of the decade, but he still played consistently. He also did so at an all-star level for much longer. The slight edge goes to Dwight Howard in this one, but we could see why fans would vote either way.
Have some thoughts on this article? Comment below! To see content like this and much more, check out the rest of Overtime Heroics as well as the Overtime Heroics Forums! Keep an eye out for more polls and discussions around our Player of the Decade to come. Also be sure to follow our Twitter and Instagram accounts @SSBasketballPod and listen to our podcast here.