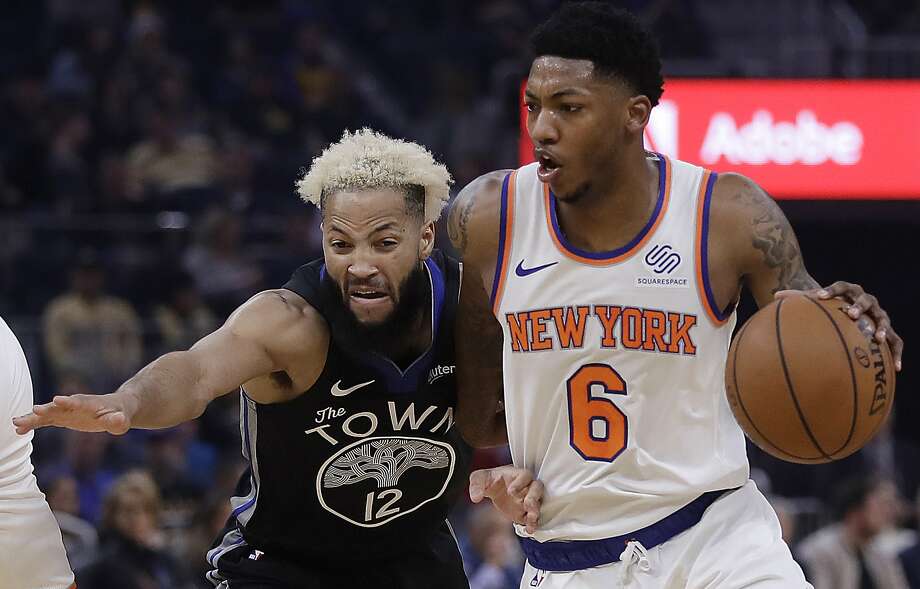 Following a win over the Chicago Bulls, the Golden State Warriors had an opportunity. That opportunity was to secure their first three game win streak of the season. Facing a duo of losing teams at home, the Memphis Grizzlies and New York Knicks, that opportunity seemed very possible.
Instead, the Warriors showed just how young and inexperienced much of their team is. Their inability to consistently close out tight ball games reared its ugly head once again. The Warriors finished the week 0-3 and have dropped to 5-22, the worst record in the Western Conference. The "Golden Tank" rolls along.
12/9 Warriors vs. Grizzlies, L 110-102
Rookie sensation Ja Morant made his first trip to the Chase Center this past week. The Murray State product did not disappoint, scoring 26 points on 8-14 shooting. Second year guard Grayson Allen also poured in 15 points off the bench, a new career high for the former Duke standout. Jonas Valanciunas also logged a double-double on 13 points and 10 rebounds.
Golden State struggled to score efficiently, shooting just 37% from the field. Draymond Green, Eric Paschall, and D'Angelo Russell shot just a combined 14-45. With those three being the main cogs of this lackluster offense, they will need to be more efficient if they hope to win more games. Then again, winning is not exactly the primary focus of the franchise right now. Golden State possesses the fourth worst shooting percentage among NBA teams this season. Willie Cauley-Stein had a surprisingly efficient game, going 6-9 from the floor and pouring in 17 points, a current season high.
Second year guard Jacob Evans also returned this game in his first appearance since late October. He played just 11 minutes and logged two points. Alec Burks continues to be a spark for this Warriors team, scoring 18 points off the bench.
12/11 Warriors vs. Knicks L 124-122
This was the most frustrating game of the week for the Warriors. The game against Memphis was the first home game after a long road trip, so Golden State looked to rekindle some energy against the lowly Knicks. However, putting yourself down 68-50 at the half is a tough hole to climb out of regardless of who you are playing.
The Warriors did bring new life in the third quarter, holding the Knicks to just 19 points. They completed the comeback late in the fourth quarter, as D'Angelo Russell buried a game-tying three with just five seconds remaining. That sent this one to overtime.
New York opened the overtime period on a 11-4 run, and Golden State simply did not have enough in the tank to come back for a second time.
Marcus Morris, who is currently fourth in the league in three-point percentage, showed off his long-range abilities once again. He went 5-9 from deep and 10-18 overall, scoring 36 points and setting a new season high in points. He also snatched 10 rebounds to secure a double-double. Julius Randle and RJ Barrett scored 24 and 22 points respectively. The win also snapped a 10-game losing streak for New York.
Three-point shooting remained an issue for Golden State, as New York outshot them from beyond the arc 41% to 27%. Russell did score 32 for the Dubs along with another 18-point bench performance from Burks, but Golden State simply could not knock down timely threes when they needed. More bad news came for the Warriors when Eric Paschall left the game, as he continues to deal with a hip injury. He was limited to just 17 minutes in this game.
12/13 Warriors @ Jazz, L 114-106
The Warriors concluded this week of play with a Friday night showdown in Utah against the Jazz. The Warriors did put up a good fight in this one, leading by as many as 13. However, Utah outscored the Warriors 65-50 in the second half en route to their second straight win.
Another poor performance from three doomed the Warriors, as they shot just 31% from deep. That's the 15th time this season they have shot under 35% from three-point territory. Of course, that's bound to happen when you're missing Stephen Curry and Klay Thompson. Still, it hinders what this team can do offensively, as teams can collapse the paint and really make things difficult for the Warriors.
Burks was impressive against his former team, scoring 24 points on 10-16 shooting. Russell also scored 18 for Golden State but was just 2-12 from deep. Damion Lee gave Steve Kerr's club a solid effort off the bench, scoring 21 points on 7-11 shooting. Cauley-Stein was brutal this game despite three blocks. He was 0-4 and missed a dunk attempt late in the game that took some life out of the Warriors.
Bojan Bogdanovic led the way for Utah, scoring 32 points and shooting 8-13 from three. Donovan Mitchell poured in 28 points as well. These two hit back-to-back threes with just over a minute remaining to give Utah a 109-104 lead and sealing the win, their third in four games.
Golden State did shoot 12 more shots than Utah and doubled them in offensive rebounds 14 to 7. The effort from this Warriors team remains at a high level, which will serve them well once the duo of Curry and Thompson return later this year or next season.
Looking Ahead
Golden State returns home Sunday to take on the Sacramento Kings and former Warrior Harrison Barnes. The Warriors will also see the Trail Blazers and Pelicans this upcoming week, so a chance for some wins presents itself once again.