Looking at stats and trends from 2019 and beyond, below are three running backs expected to see positive regression in 2020.
Le'Veon is coming off the worst season of his six seasons, statistically. He had an underwhelming 3.2 yards per carry behind a brutal offensive line and stubborn play calling by Adam Gase. He finished with only 789 rushing yards and three touchdowns. In fact, of all running backs that saw 245 carries, Bell finished 563/565 in 2019. Despite this scary statistic, in 2019, Bell still managed:
Twelfth in rushing attempts per game
Eleventh in running back targets per game
Seventh in running back receptions overall on the season
Eighth in running back touches overall on the season
He may never return to his Pittsburgh form, and he sure isn't getting any younger, but the volume is still there for Bell in New York. New general manager Joe Douglas will look to upgrade the offensive line this offseason after a poor output in 2019. This should give Sam Darnold more time in the pocket to stretch the field and create better opportunities for Bell in the run game to see some positive regression.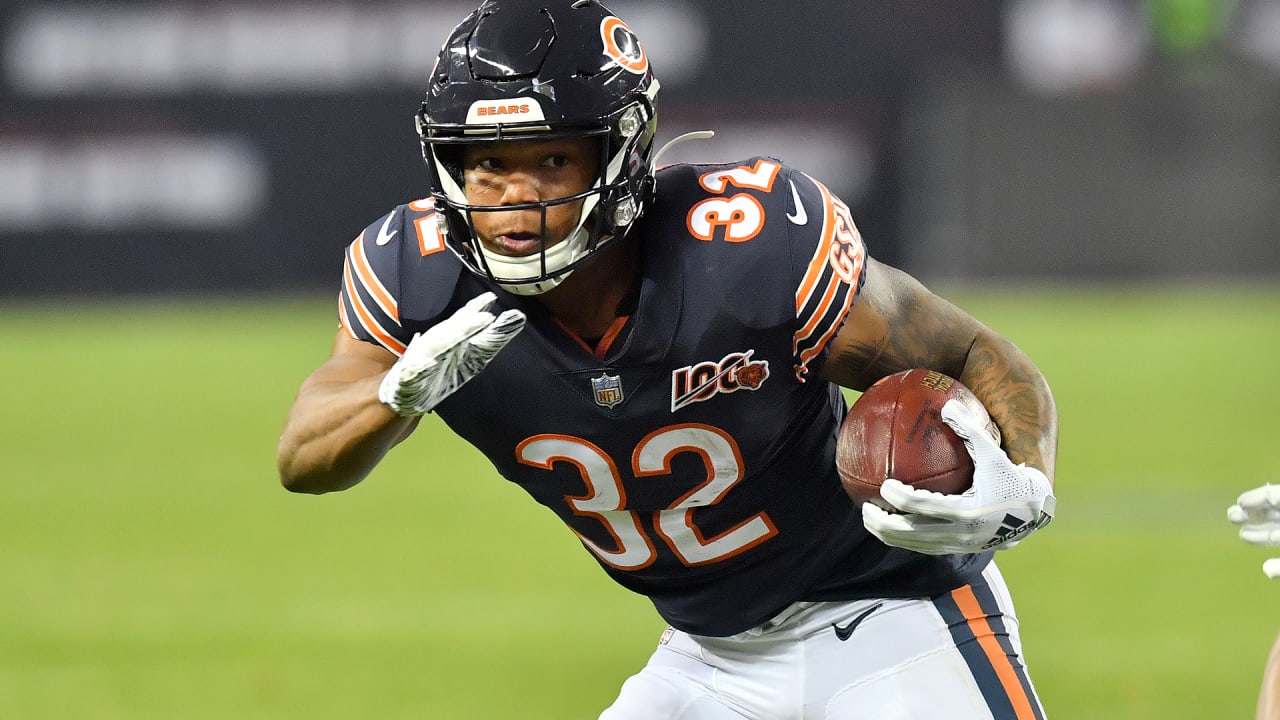 David Montgomery had a disappointing rookie year after his hype train chugged around the fantasy community all last offseason. His average draft position rose above Eagles running back Miles Sanders. In some leagues, he was going ahead of Raiders running back Josh Jacobs in rookie drafts. There wasn't a scarier sight for Montgomery truthers than seeing Mike Davis take the first snap in Week One for the Bears. 
It took nearly half the season for head coach Matt Nagy to realize Montgomery was the most talented player in their backfield. Once Montgomery began starting games, his production was mediocre at best. He finished with 242 carries, 889 yards, six touchdowns, and 3.6 yards per carry. On the bright side, Montgomery had 33 red zone carries which were fourteenth across the league. A lot of the blame can be put on the offensive line that ranked 29th in the league. Chicago was in the top half of the league in seeing stacked boxes. Defenses focused on shutting down the run, forcing Trubisky to throw the ball.
After a disappointing 2019 season from the whole Bears organization following a 12-4 finish in 2018. Matt Nagy will have to get more creative with ways to get the ball downfield and creating opportunities for Montgomery if 2020 is to be better. He is arguably the cheapest of the rookie running backs who had fantasy relevance in 2019. That places him as a great candidate for positive regression going into his second NFL season.
Considering his early first-round average draft position, Alvin Kamara disappointed for fantasy owners in 2019. After tallying up 18 total touchdowns in the 2018 season, Kamara only found the end zone six times in 2019. Some may think Latavius Murray dipped into Kamara's touches, but Murray handled no bigger of a workload than Mark Ingram while in New Orleans. So, where did the negative regression come from, and why should fantasy owners be optimistic for positive regression in 2020?
Being without Drew Brees for a good chunk of the season hurt the offense as a whole. After landing in the top ten in red-zone scoring every season since 2014 and the top five from 2016-2018. They fell to 13th in 2019 with a 59% touchdown rate. The Saints offense made 12 fewer trips to the red zone in 2019 than they did in 2018. Once Drew Brees returned, he threw for at least three touchdowns in every game, except for one game, to finish the season. Many of these games went down to the final minute, the run game was abandoned, and it was up to Brees and the passing attack. 
In a small sample size, what football fans do know about Kamara is that he is a touchdown machine. 2019 was the outlier in his three-year career in terms of touchdown production. He achieved 13 in 2017 and 18 in 2018. In 2018, Kamara was second in the league in red-zone carries with 50. In 2019 he fell to 22nd with only 26 red zone carries. His partner Latavius Murray had 23 himself, but take this with a grain of salt as 13 of Murray's red zone carries came when Kamara was unavailable.
The most inferior part of Kamara's game is his volume. He saw an average of 12 carries and seven targets per game. In PPR, these targets are huge when putting your trust in a running back's production. If we look into touchdown dependency (shoutout to Mike Liu @MiKeMeUpP for the data), Kamara is still a fantasy top-end RB1 on volume alone. If you take away all running back touchdowns for 2019, Kamara finished as the fantasy RB3 on the season. This means Kamara is one of the least touchdown-dependent running backs across the league. This screams in dynasty leagues and should make redraft players excited to draft Kamara for 2020.
Alvin Kamara is not the type of back that needs 80% of snaps to be efficient in fantasy football. Get this man carries in the red zone as he continues to flourish in the passing game and watch him rise to fantasy stardom once again.
---
Be sure to follow me on Twitter for more Fantasy insight.
Also, be sure to check out the Overtime Heroics Forums page to join me and many others in some good discussion.
Be sure to check out our partners at Repp Sports! They offer the first-ever crowd-sourced, no carb, no sugar, energy drink called RAZE and much more! Use the link above or add the promo code OTH1 at checkout to get 30% off your order!