Justin Gaethje
On April 5th, Dana White and the UFC formally announced that Undisputed UFC Lightweight Champion Khabib "The Eagle" Nurmagomedov would not be able to compete as scheduled against Tony Ferguson in the main event for UFC 249. With rumours circulating regarding who, if anyone, would step in, the dust cleared and Justin Gaethje (21-2) is the man set to step in and take on #1 Contender Tony Ferguson (25-3) in the main event. Though the sting of losing Ferguson vs Nurmagomedov for the 5th scheduled time is still fresh, the one fight that can cool that burn is one that is a guaranteed FOTY candidate with violence written all over it.
With all that said, let's take a closer look at the new main event of UFC 249, which will take place on Saturday, May 9th in Jacksonville Florida.
Tale of the Tape
Fighter
Tony Ferguson
Justin Gaethje
Nickname
El Cucuy
The Highlight
Record
25-3 (12 Fight W/streak)
21-2
Titles
Former Interim UFC Lightweight Champion
Former WSOF Lightweight Champion
Age
36
31
Height
5-foot-11
5-foot-11
Reach
76 inches
70 inches
Hometown
California, USA
Arizona, USA
Notable wins
Edson Barboza (SUB), Rafael Dos Anjos (DEC), Kevin Lee (SUB), Anthony Pettis (TKO), Donald Cerrone (TKO), Josh Thomson (DEC)
Edson Barboza (KO), James Vick (KO), Donald Cerrone (KO), Michael Johnson (TKO)
Notable losses
Michael Johnson (DEC)
Dustin Poirer (TKO) (FOTN)
Eddie Alvarez (KO) (FOTN)
Who Has the Edge?
Power: Possibly the most cut and dry answer on this list. Justin Gaethje is known for his relentless pressure, and in many fans' minds (sorry Mr. McGregor), the most powerful hands in the division. Tony is no slouch and has a blisteringly powerful jab and straight right hand, but is not necessarily considered a Ngannou-Esque knockout artist.
Advantage: Gaethje
Speed: A tough one to call. Gaethje has shown in his previous performances against the likes of Edson Barboza and Donald Cerrone, that his hands are as fast as almost any in the division. With his newfound patience, "The Highlight" has appeared to be much more explosive with his shots than in earlier fights in his career, this along with his trademark sledgehammer-like low kicks, it wouldn't be hard to come to the conclusion that Gaethje is the overall faster striker than Ferguson. However, when we take footwork, scrambles and elbows into account, Tony quickly narrows that gap.
Advantage: Draw
Cardio: Remember earlier, when I said power might be the easiest answer on this list? I retract that statement. Tony Ferguson has arguably the best cardio we have ever seen inside the Octagon, with multiple 5-round performances under his belt and not a sign of slowing down in any of them, this round clearly favours El Cucuy.
Advantage: Ferguson
Striking: Though a broad term, if one were to analyse the striking games of both Ferguson and Gaethje, the conclusion would be that both men are of an elite level in different respects. The more traditional/fundamentally sound striker is likely Gaethje. Though sometimes wild, Gaethje has refined his technical ability to a point where his style can be described as Controlled Chaos (More on that later).
As seen above, Gaethje managed to land his own offence whilst still remaining defensively aware of the shots coming back at him, something that Gaethje himself pointed out in his Food Truck Diaries interview with Brendan Schaub; "My ability to see punches is why I'm here". This has been a staple of Gaethje's offence from his early days in WSOF. His ability to throw hard shots whilst keeping his head off of the centre line is key to enabling him to break an opponent down whilst minimizing the damage done to himself in the process.
Tony, on the other hand, though technically sound in his own right, prefers to drag you to hell with him. As Yves Edwards described on The Joe Rogan Experience; "He is legit crazy, I don't know if he feels pain, he will do things in there…like in our fight he threw an inside leg kick, and as I turned my leg to check it… it was never at my knee, he was throwing that at my shin… and I remember thinking to myself, why the **** did you do that? Now we are both hurting."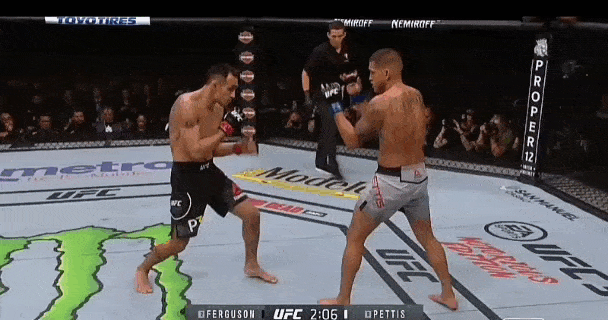 Tony likes to break the rhythm, he wants to disrupt the dance that he and his opponent are engaged in, any camaraderie his opponent felt in there with him, he takes away from them. You can never settle fighting Tony Ferguson. He will keep you tense, on edge and borderline anxious the entire time you are in the Octagon with him. On top of this, Ferguson has a versatility and a smoothness to his striking that is seldom seen. Even at the highest levels of the sport. Renowned for his spinning attacks as well as his razor-sharp elbows, Tony is a Tasmanian devil on the feet, ripping through whatever stands in front of him. As his last 12 opponents have shown, it is almost impossible to get out of that crossfire.
Advantage: Draw
Grappling: This is a tough one. Most fans would default to saying Ferguson takes this by a landslide due to his impressive submission resume and world-class bottom game and scrambling ability. However, Justin Gaethje is an NCAA Division 1 wrestler in his own right. Contrary to what his striking-heavy style may lead you to believe, at the Division 1 level, Gaethje was known for his gritty relentless style of wrestling and his dominant top game, something that can also be said for Ferguson, who won a National Championship in wrestling in 2006.
However, given Tony's willingness to engage in the grappling department and his long… very long list of submission victims, the answer here has to be El Cucuy.
Advantage: Ferguson
Intangibles: Due to there currently being a worldwide pandemic going on, the intangible factors of this fight may mean more than they ever have before. Especially with fighters being unable to carry out their usual training camps. With Justin Gaethje having to fight someone like Tony Ferguson on 2 weeks' notice and Tony Ferguson having to fight someone like Justin Gaethje on two weeks' notice, it is likely that factors outside of these fighters' control will at least somewhat affect the outcome of the fight.
However, with Tony being known for his isolation style of training anyway, in contrast to Gaethje, who is a student of acclaimed coach Trevor Wittman at the well-respected Genesis Training Center, it can be argued that the changes forced onto fighters by the COVID-19 outbreak won't actually affect Ferguson's training regime very much. This, on top of the fact that Gaethje is stepping in on two weeks' notice, points to a clear advantage for Ferguson.
Advantage: Ferguson
The Keys to Victory
Though training camps may have been hindered, and Gaethje is being forced to fight the division's resident "Boogeyman" on short notice, it could be argued that the keys to victory for both men remain the same, global pandemic or not, with clear advantages in both men's favours, what can each do to ensure that they are the man holding the Interim Lightweight Title following May 9th's main event.
Tony Ferguson
Weather the Storm, Then Chase it Down…
Tony Ferguson is not a slow starter. From the opening bell, he will put a pace on you with the intention of breaking your spirit before he ever tries to break your limbs. Though effective against 12 men in a row, Justin Gaethje may just be the man that can meet Tony in the middle of the Octagon and stop him in his tracks. With Gaethje's overwhelming power and boxing ability, this could spell trouble early for El Cucuy.
How can he overcome this?
Float like a butterfly, sting like the Boogeyman. Tony Ferguson needs to keep Gaethje moving in circles, be the matador. Allow Gaethje to walk forward and apply pressure whilst minimizing the time you are in his crossfire. A strong jab and some long-range Teep kicks may effectively keep Justin at bay. Keep him guessing and minimize his chances to clip Tony during a boxing exchange, in which Tony will have a considerable power disadvantage.
And if Gaethje closes the distance?
By wrapping Gaethje up in clinch range, Tony could hinder Justin's ability to land hard hooks and uppercuts in the dirty boxing range. It's something he has effectively done to almost every opponent he has faced in the Octagon to date. Easier said than done, but an effective strategy nonetheless.
By dragging this fight past the first round, Tony will have likely took Gaethje's best round out of him and run down some of his 2-week camp gas tank in the process. This is where El Cucuy can truly come out to play.
Pressure, pressure and more pressure.
Following the first 5/6 minutes, Ferguson can begin to turn up the volume of his strikes, and start meeting Gaethje halfway, keeping a strong jab in his face and disrupting Gaethje's rhythm. This may allow Tony to take advantage of Gaethje's lack of cardiovascular preparation for the contest. Constantly and consistently draining Gaethje's gas tank as the fight wears on. Breaking him down minute after minute until a late TKO or a trademark D'arce is locked in from clinch range
Summary
A strong jab and long-range kicks.
Weather the first round.
Wrap Gaethje up in clinch range
Slowly turn up the volume after 5 minutes.
Keep the foot on the gas and take advantage of Gaethje's lack of camp.
Justin Gaethje
Controlled Chaos… (Remember)
It wouldn't be controversial to say that Justin Gaethje is not coming for a 5-round war with Tony Ferguson. With a previously mentioned lack of training camp and a considerable cardio disadvantage, it would be in Gaethje's favour to focus on the things that he does well. Rather than worry about the cardio discrepancy between himself and Ferguson.
And what Gaethje does well is take chins clean off. Arguably the hardest punching Lightweight on the roster, Justin Gaethje is capable of putting any man on this planet to sleep in that Octagon. Though none may prove difficult to put away than Tony Ferguson, he is not exempt.
So how can Gaethje find Tony's Chin?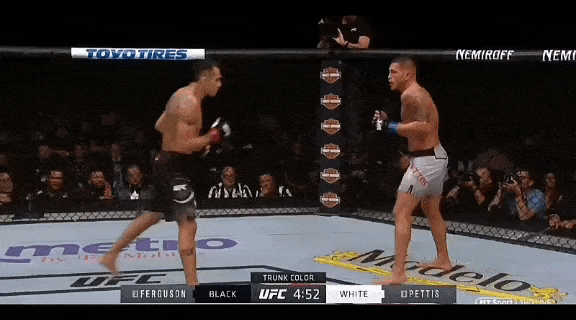 That's how.
Though Tony's striking is absolutely world-class by any standard, (he has outstruck the likes of Anthony Pettis, Donald Cerrone and Edson Barboza) one glaring technical issue that has been bought up by opponents in the past is Tony's habit of leaving his chin up in the air when throwing his shots, particularly his kicks. If anyone can take advantage of an opponent leaving their chin in the air it is, Justin Gaethje, and these openings will arrive for him. Capitalising on them is a task in and of itself, but with the patient style we have seen from The Highlight in his 3 previous outings, it may be a quick route to victory if Tony decides to pressure early on.
Break down the legs. Justin Gaethje kicks hard very hard. His low-kicks have caused nightmares for the likes of Michael Johnson and Dustin Poirer in previous outings and almost always effectively negate the footwork of his opponent, by chopping down the lead leg, Gaethje stops his opponent's lateral movement and keeps them in the crossfire, in which he can land his hooks and uppercuts to a stationary target. Not only do low-kicks hinder an opponent's footwork, but they also dramatically affect the power the opponent can generate when throwing strikes of their own, due to the pain caused when applying weight to the front leg. These two effects in combination could spell trouble for a fighter like Ferguson, who relies heavily on his unorthodox movement to land his strikes.
Picking shots in the scrambles. Tony Ferguson is an elite-level Jiu-Jitsu artist, who uses his flexibility and guile to manoeuvre himself out of dangerous positions when hurt or vulnerable.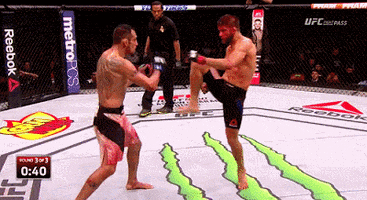 After missing a left hook, many fighters would back up or attempt to step out of harm's way. Tony Ferguson, however, is not most fighters. He instead opts to somersault out of danger whilst recovering with his back momentarily away from the opponent. Moments like this are goldmines for someone of Gaethje's calibre to exploit, particularly if Tony is recovering from being hurt. By picking his shots and maintaining his composure, Gaethje could very well catch Tony during a scramble or a recovery period.
Overall, Gaethje's best bet is to push forward force an opening and find Tony's chin within the first 2 rounds.
Summary
Chop down the lead leg.
Pressure pressure pressure in the first two rounds.
Find openings in the scrambles or when Tony retracts from his kicks.
What Does This Fight Mean for the Lightweight Title Picture?
According to Dana White, the winner of this fight will be next in line to challenge Khabib Nurmagomedov for the UFC Undisputed Lightweight Championship. With Khabib out till at least the end of Ramadan, it is likely that we would be looking at September at the very earliest for the unification bout. With contenders like Dustin Poirer, Dan Hooker, and Conor McGregor waiting in the wings, it will be interesting to see how the UFC handles the coming months. Do we see "The Notorious" challenge the winner of Poirer vs Hooker? Or maybe he fights the loser of May 9th's main event? Or do we see the UFC skip over the interim champion altogether and give us a Khabib vs McGregor rematch? Stranger things have happened and we will have to see how UFC 249 plays out in Jacksonville.
Prediction?
Pain.
Enjoy the card folks.
---
Follow me on Twitter at @JFeen_MMA and follow us @OT_Heroics for more great content!
Also, be sure to check out the Overtime Heroics Forums page to join in on the discussion!