ONE Championship is blessed with an abundance of talent within their roster. The promotion includes names such as Brandon Vera (16-8), Angela Lee (10-2), Demetrious Johnson (30-3-1), and Aung La Sang (26-10).
Although ONE Championship have a lot of recognizable names, they also have an abundance of emerging talent. The athletes in this emerging talent pool are who we will focus on. This time, we're looking at Shinechagtga Zoltsetseg (6-2).
Mongolian Mean Streets
Life didn't give Shine the best of possible starts. Both his parents passed away in a car accident when he was two years old. His mother was pregnant with his younger brother and his dad was driving them to the hospital.
The only person Shine had was his grandmother. This meant that a lot of the laborious chores fell right on top of his young shoulders.
In an interview with ONE, Shine looks back and attributes his frightening power and grip to the way he grew up. Though he doesn't know or remember much about his parents, it seems Shine's father was one of the first taekwondo instructors in their province of Zuunkharaa.
When he grew old enough to travel, he began living with his uncle in the capital Ulaanbaatar. It wasn't long before he got introduced to the rough side of town.
He got into so many fights that he eventually discovered that he was really good at it. Not wanting his nephew growing up to be a thug, his uncle took him to a boxing gym when he was fifteen.
True Warrior Series
Shine caught everyone's attention when he became part of the first batches of ONE Warrior Series (OWS). His debut on OWS 2 was on par with another exciting standout that performed that same night – Stamp Fairtex.
Shine is an aggressive monster on offense and a wizard of defense. The Mongolian was a flashy firebrand that had such a supreme confidence in his head movement that he doesn't have a guard.
His many victims include Akuri Ronda, eventual OWS contract-winner Ali Motamed, Chan Samart, and Hyun Jin Lee.
His attacks always begin with a pin-point bomb from distance, the best example of this being his superman jab. It's that move that dropped Ali Motamed in the third round of their fight en route to a finish.
He then follows them up with hard-hitting flurries, each hit clearly audible from anywhere in the venue. If an opponent manages to catch enough space to counter, they only hit air.
The Mongolian's mastery of distance was on full display in his bout against Chan Samart.
Every time the two began to exchange, the Khun Khmer boxer would often fall short. The only reason that fight went the distance as because of the Cambodian's granite chin.
Unlike many of his contemporaries at ONE, he does showboat, he does taunt his opponents, and more often than not he knocks them out.
The Brightest Star for Mongolia
Shine's first-round knockout of Hyun Jin Lee at OWS 6 convinced Rich Franklin that he was ready for the big stage. This is where he would get a massive step up in competition.
The Mongolian's first assignment was ONE Guangzhou Featherweight Tournament Runner-up Ma Jia Wen.
The Chinese fighter known as Cannon had a 6-2 record going into their bout at ONE: A New Tomorrow. His resume includes victories over Yohann Mulia Legowo, Ahmed Mujtaba, and Sagetdao Petpayathai. He's also responsible for retiring ONE Beijing Featherweight Tournament Runner-up Wang Ya Wei.
This was supposed to be a classic striker versus grappler match-up since Ma is a freestyle wrestler. But that part of Ma's game never showed up, against Shine at least.
After standing and exchanging for the first few seconds, Shine lands an overhand right and drops the Chinese fighter. Referee Olivier Coste quickly jumps in to stop the fight.
Ma is so dazed that he wraps a heel hook around the leg of the referee and had to be restrained by other officials before he let go.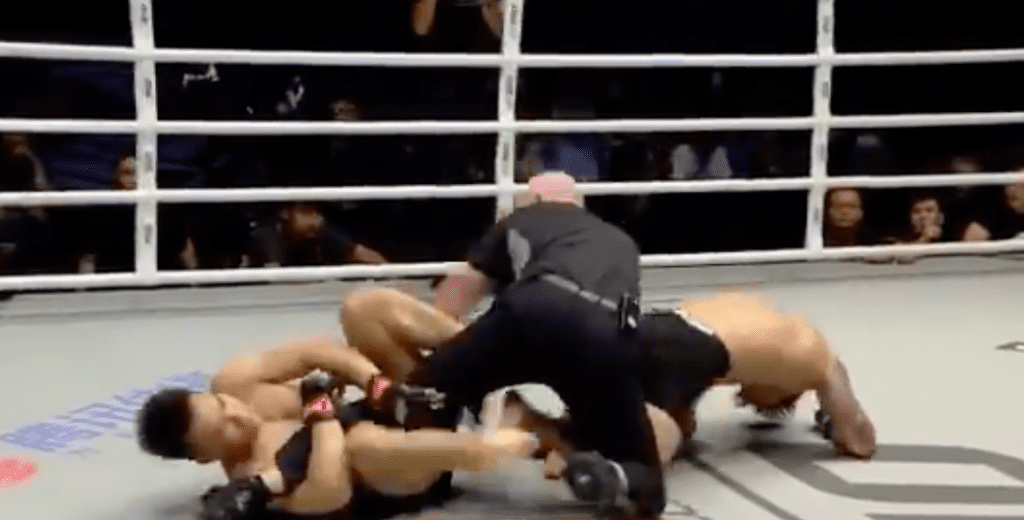 Jadaamba's Heir
Narantungalag Jadambaa became a hero when he defeated Koji Oishi to become the first Mongolian MMA Champion in a major promotion.
His victory at ONE: Reign of Champions inspired many of his countrymen to take up or transition into the sport. One of those inspired by his example is current ONE athlete Amarsanaa Tsogookhuu.
But, looking at the style and aura of the former Champion, it's clear that he has many similarities to Shine. They're both crafty and powerful strikers with an intimidating air. Capable of ending fights in record time and the confidence to do so even to the most decorated of opponents.
Shine stands a good chance of reclaiming his predecessor's lost title and bring the belt back to Mongolia.
Surpassing Tungaa
Before his fight with Ma, Shine was asked what his goals were upon reaching the big stage in ONE. At the time, he simply said that he wanted to reach the highest level and stay there for as long as possible.
It was only after his victory that he elaborated on what he meant by the highest level. In an interview for his "Best of" promo, he states that his goal is to become a two-division champion.
There's no reason to believe he can't do it. It's just that he's competing in the most competitive division in the promotion. It's also a real possibility that he might have to face his predecessor Jadambaa on his road to the belt.
Regardless of what the future holds, the story of Shinechagtga Zoltsetseg promises to be one full of dramatic twists and devastating knockouts. What more can you want?
---
Follow me on Twitter at @BjornPossel and follow us @OT_Heroics for more great content!
Also, be sure to check out the Overtime Heroics Forums page to join in on the discussion!