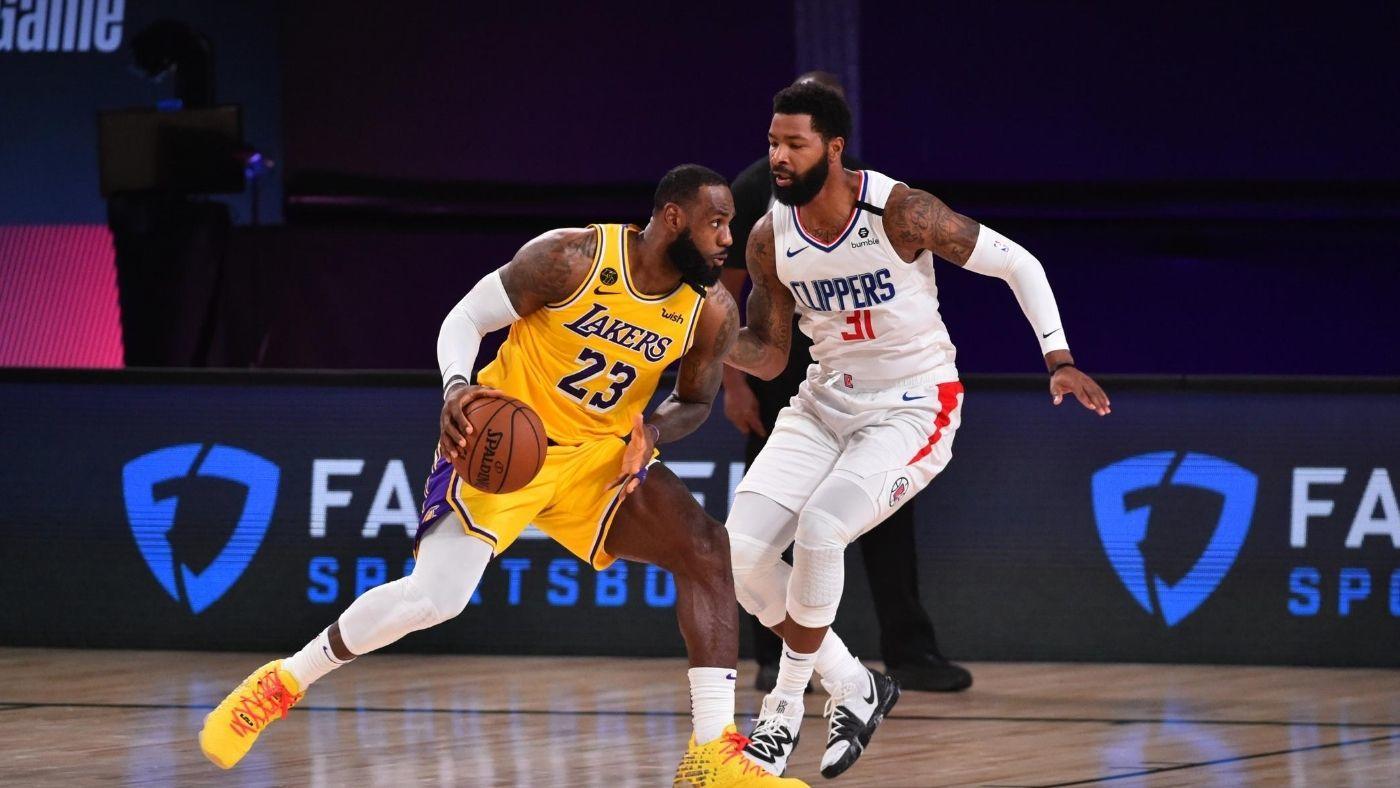 The Los Angeles Lakers claimed a narrow win over cross-city rivals the LA Clippers on the first night the official return of NBA basketball.
It has been over 140 days since the Los Angeles Lakers have played a competitive game of basketball . As we are all aware that the season was shutdown on March 11,amid Coronavirus pandemic. However, the alternative settings and environment did not sway the purple and gold off their goal, as they procured a win over Doc Rivers LA Clippers.
LeBron James and the Los Angeles Lakers showed some rust, but what's most important is that win was picked up and now gives the needed confidence to spur on for the rest of the season.
Anthony Davis was the standout performer for the Lakers as he poured in 34 points, dropping multiple three-pointers in the third and fourth quarter. Looking into the start of the contest. The Los Angeles set the tempo, with early stops and executing off the fast break. Davis got going very early, to mount a eleven point lead for the Lakers at the end of the first quarter.
LeBron James finished with 16 points, 11 rebounds and seven assists. The presence of the four-time league MVP was vital as he aided the Lakers to victory. As of now the Los Angeles Lakers move 6.5 games ahead over second seed the LA Clippers. Both teams have a remainder of seven games left in the regular season. Furthermore, Kyle Kuzma continued his impressive scoring run with 16 points off the bench.
Anthony Davis, spoke about his competitive attitude. " It felt like a real game to me…two teams battling, can't complain.
Los Angeles Clippers
For the Los Angeles Clippers, Paul George was scorching hot behind the ark, as he dropped 30 points. George made six three-pointers in eleven attempts. Kawhi Leonard chipped in 28 points for the Clippers. Kawhi seemed to have tough match-up against LeBron, as the 35-year-old veteran clamped him down on a few occasions most notably in the last remaining seconds of the game.
LeBron James, brilliance on the defensive end really played dividends for the Los Angeles Lakes to get this win. This victory for the purple and gold now equals the regular season series, tied at 2-2 against the LA Clippers.
The Los Angeles Lakes now move to 50 wins for the seasons.
Up next for the Lakers & Clippers
The Los Angeles Lakers will take on the defending Champions, the Toronto Raptors on August 1st.
Clippers square up against Pelicans on Saturday.
Make sure to follow @OTHLAL for all of your Lakers news, and updates!