ONE: Reign of Dynasties is the first ONE Championship event outside of Bangkok since the beginning of the COVID-19 pandemic is done and dusted. Let's see how all of our fighters came out.
This is ONE: Reign of Dynasties results.
Roshan Continues to Fulfill His Promise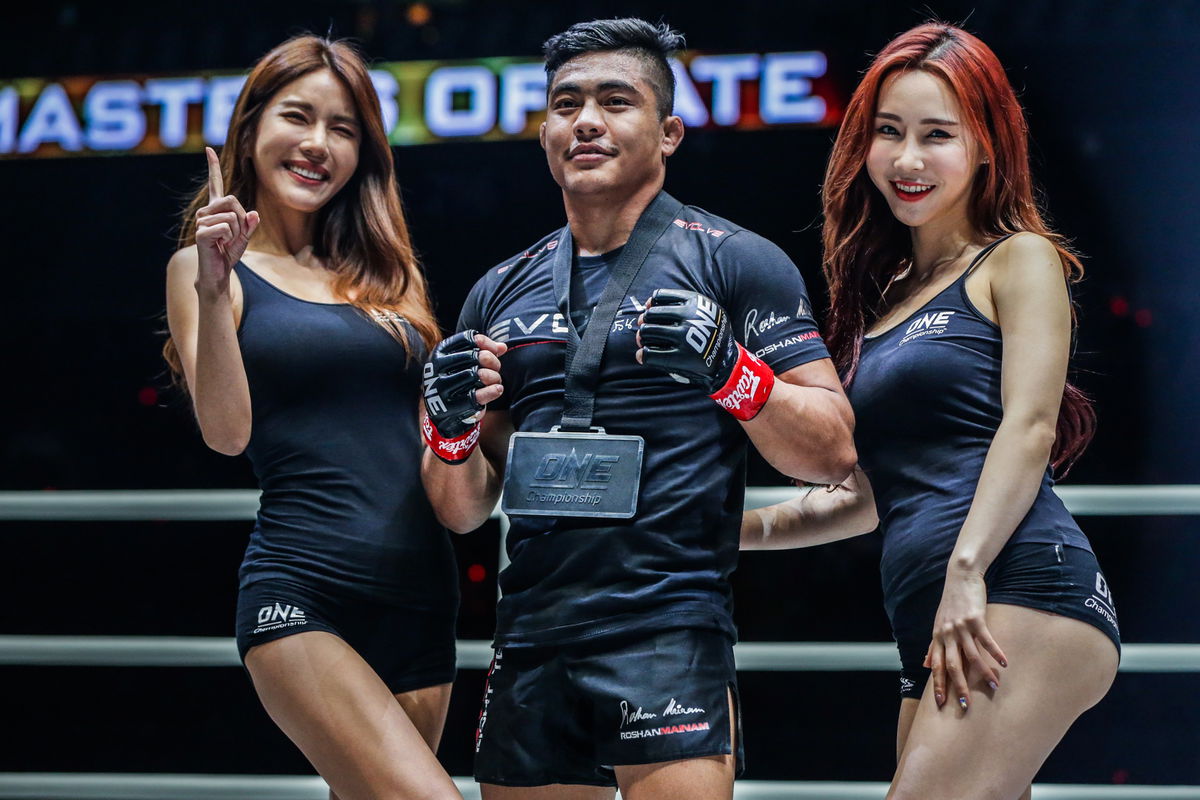 In the first of ONE: Reign of Dynasties results, India's promising prospect continues to blaze a trail for the MMA fighters of the sub-continent as he ends his night with a rear-naked choke in the second round.
Mainam remains undefeated in the promotion and extends his win streak to three in a row.
The Wolf of the Grasslands was Too Much for Kru Dej
The second fight of the night was a down to the wire affair as the enigmatic Hexigetu just barely managed to edge out the former Strawweight Champion with a Split Decision.
The native of Inner Mongolia definitely got the nod with his numerous takedowns and continues to make a name for himself in the division.
Eko Roni Saputra Showed No Mercy
Ek Roni Saputra versus Murugan Silvarajoo was supposed to be a classic grappler against striker bout. But it turned out to be a fighter against a punching bag.
Silvarajoo couldn't even throw a single punch as the wrestler outstruck the boxing champion before finally ending it all with a submission in the first round.
Amir Khan's Amazing Return to Form
Though regularly touted as the man with the most KO finishes in ONE Championship, it has been a long while since Khan's last finish. Getting one now is a stellar return to form.
A first round knockout alone is impressive, but to do it against a surging Kerala Krusher is even more so. This may be a sign of better things to come for the Singaporean.
Reece Makes Lightning Strike
Similar to Amir Khan, Reece was not at the best point in his career entering ONE: Reign of Dynasties. But he ended the night with a quick finish in the first round with a knee to the body in the first round.
Though there was some initial controversy of a possible lowblow, they were quickly dispelled by the replays.
Sam-A Defuses the Time Bomb
Sam-A retains his Muay Thai Strawweight title against #1 Contender Josh Tonna, denying the Australian his Cinderella ending.
The veteran Champion tee'd off in the second round knocking down Tonna several times before the referee finally waved it off.
These are all the ONE: Reign of Dynasties results. Congratulations to all the winners. We look forward to ONE: Reign of Dynasties II.
---
Follow me on Twitter at @BjornPossel and follow us @OT_Heroics for more great content!
Also, be sure to check out the Overtime Heroics Forums page to join in on the discussion!