The finalists for the 2020 MLB Awards have been announced. Let's take a look at who deserves to win each MVP, Cy Young and ROY award.
MVP Awards
Neither of the 2019 winners are finalists to repeat in 2020, but these are some of the greatest players in MLB, who had great seasons despite all of the chaos of the 2020 season.
Fernando Tatis Jr. may seem like a snub to many, but I actually agree that he's not a top-3 candidate. Machado finishing top-3 in MVP voting seems surprising to me, especially with all the hype that his teammate received.
Freeman had a late surge, finishing with a 187 wRC+ (2nd in NL) and 3.4 fWAR (1st), leading the Braves to the NL East crown and the #2 seed in the National League.
Manny Machado had potentially the best season of his nine-year career, but he doesn't really compare to the Braves' first Baseman or to Mookie Betts. Betts is the only of the six finalists to already have an MVP award, and he now has a shot to win his second.
Before I reveal my picks, I would like to acknowledge what Juan Soto did in 2020. His 200 wRC+ (100% above league average) was the best mark since Barry Bonds' 233 in 2004 and is the 31st best single-season wRC+ of all time. Soto played 47 games in 2020, missing time due to a false-positive COVID-19 test early on in the season, but he still had a 2.4 win season.
Mookie Betts' Dodgers won their first World Series championship since 1988 and he posted a 3.0 WAR and 149 wRC+ (paired with his always-elite defense) in 55 games, but Freeman is the choice here, and I also believe that the BBWAA writers will get this one right.
My ballot for the NL MVP Award:
1. Freddie Freeman (ATL)
2. Mookie Betts (LAD)
3. Juan Soto (WSH)
4. Fernando Tatis Jr. (SDP)
5. Manny Machado (SDP)
American League Finalists: Jose Ramirez (CLE), Jose Abreu (CWS), D.J. LeMahieu (NYY)
Shane Bieber was seen as the favorite to win the MVP as well as the Cy Young for much of the season, but he faltered towards the end of the year. His teammate, Jose Ramirez went on a tear in September, just as he did last year, for a 237 wRC+ and 1.294 OPS. Ramirez put up numbers that were even better than his eight-win season in 2018, leading the league by .7 in WAR with 3.4 and finishing fifth in wRC+.
DJ LeMahieu was considered one of the favorites to win the MVP award in 2019, although he didn't really compare to Mike Trout or Alex Bregman. This year, however, he absolutely deserves to be considered a top candidate and isn't being talked about enough. LeMahieu's 177 wRC+ led the league, which is even more impressive as a second baseman, a very weak offensive position (95 wRC+ average). LeMahieu's case is hurt by him missing 10 games due to an injury, but he should still be considered one of the top candidates.
At age 33, Jose Abreu, had a season similar to his ROY Award-winning 2014 campaign. He had an identical .317 BA, .411 wOBA and 167 wRC+, but put up a lower walk rate and higher strikeout rate. Abreu had a great year, but I think Ramirez and LeMahieu were better.
The Angels' duo of Mike Trout and Anthony Rendon were both left off of this list despite finishing in second and tied for third in WAR in the American League. Rendon has flown under the radar as one of the best players in the league for years, and contention for an MVP award would've helped him gain some more recognition.
Obviously, Mike Trout has no shortage of MVP awards, with 3 in his career, and never finishing below fourth in the voting.
My ballot:
1. Jose Ramirez (CLE)
2. DJ LeMahieu (NYY)
3. Anthony Rendon (LAA)
4. Jose Abreu (CWS)
5. Mike Trout (LAA)
Cy Young Awards
| | deGrom | Darvish | Bauer |
| --- | --- | --- | --- |
| ERA | 2.38 (7th) | 2.01 (2nd) | 1.73 (1st) |
| FIP | 2.26 (3rd) | 2.23 (2nd) | 2.88 (6th) |
| K-BB% | 32.1% (1st) | 26.6% (6th) | 29.9% (2nd) |
| SIERA | 2.70 (1st) | 3.14 (3rd) | 2.94 (2nd) |
| fWAR | 2.6 (2nd) | 3.0 (1st) | 2.5 (3rd) |
In parenthesis are NL ranks among pitchers with 50+ IP
This could be the closest out of any of the awards races. There is an argument to be made for each of these pitchers, and there was one for a few more, including Corbin Burnes and Dinelson Lamet. Burnes missed out on qualifying by just one out, at 59.1 IP on the season, so it would be tough for him to finish in the top-five.
Luis Castillo of the Reds and Kevin Gausman of the Giants also had great seasons, but I think the finalists chosen for the Cy Young Award were the best three. For me, it's tough to look past Bauer's inflated FIP, due to his struggles with the homer, which has been a major issue for him throughout his career. Bauer was great in the other two true outcomes, and the top three of these are practically interchangeable.
I think deGrom should take home the award, due to his astounding 32.1 K-BB% and 2.70 SIERA, the best of the two time Cy Young winner's career. If he does win, deGrom would join Randy Johnson and Greg Maddux to win three Cy Young awards in a row.
My ballot:
1. Jacob deGrom (NYM)
2. Yu Darvish (CHC)
3. Trevor Bauer (CIN)
4. Corbin Burnes (MIL)
5. Dinelson Lamet (SDP)
American League Finalists: Kenta Maeda (MIN), Shane Bieber (CLE), Hyun-jin Ryu (TOR)
| | Bieber | Maeda | Ryu |
| --- | --- | --- | --- |
| ERA | 1.63 (1st) | 2.70 (8th) | 2.69 (6th) |
| FIP | 2.07 (1st) | 3.00 (4th) | 3.01 (5th) |
| K-BB% | 34% (1st) | 28.2% (3rd) | 20.0% (12th) |
| SIERA | 2.52 (1st) | 2.92 (2nd) | 3.67 (9th) |
| fWAR | 3.2 (1st) | 2.1 (T-2nd) | 1.9 (7th) |
In parenthesis are AL ranks among pitchers with 50+ IP
This is an obvious choice; the AL Cy Young is going to be Shane Bieber. As far as the rest of the ballot, there were definitely some snubs from the 3rd place finish. Maeda had a great year in his first with the Twins, and he deserves to be a top-three finisher as well.
The real problem here is Ryu. Don't get me wrong, he had a great year, but pitchers like Gerrit Cole (4th in SIERA, K-BB%), Zack Grienke (2nd in FIP, WAR), Dylan Bundy (3rd in FIP, 4th in WAR) and Framber Valdez (5th in SIERA) all didn't finish top -three in voting for the AL Cy Young.
My ballot:
1. Shane Bieber (CLE)
2. Kenta Maeda (MIN)
3. Zack Grienke (HOU)
4. Gerrit Cole (NYY)
5. Dylan Bundy (LAA)
Rookie of the Year Awards
Padres' second baseman Jake Cronenworth seemed like the favorite to win all season long, but he cooled off in September (54 wRC+). He still finished with a 125 wRC+ and 1.4 WAR on the season, but Bohm and Williams ramped it up to finish out the year. Bohm had a 138 wRC+ and 1.2 WAR in 44 games, split between first and third base and should be a focal point of the Phillies' lineup for years to come.
The Pirates' rookie Ke'Bryan Hayes brought his elite defense to the major league level and was said to already be on par with some of the great defenders at the hot corner in Major League Baseball. The question for Hayes has always been his offense, but he put up great offensive numbers in a 24 game Major League stint in 2020. His .682 SLG, 195 wRC+ and 1.7 WAR (24 games) are great, but obviously not sustainable over a full campaign. He is still eligible to win the NL ROY next year, and he could be one of the favorites.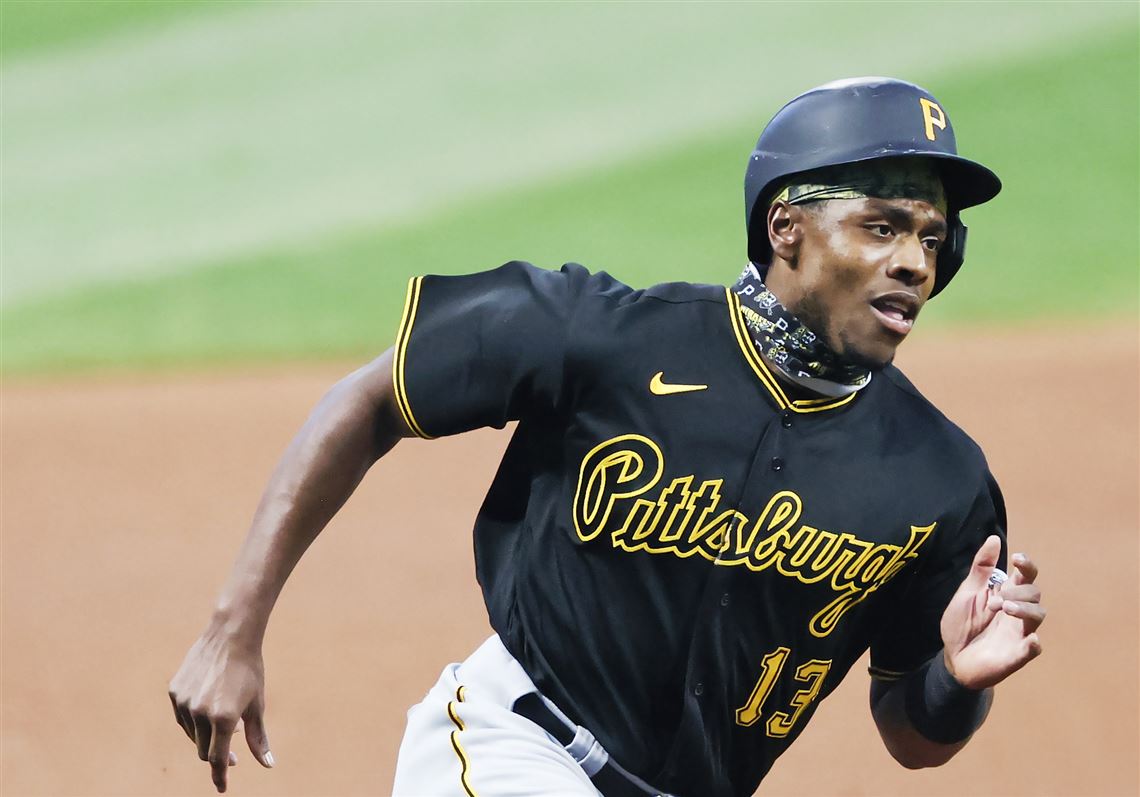 Dodgers rookie Tony Gonsolin also had a great year, with a 2.29 FIP and 2.31 ERA in 46.2 IP. His 1.8 WAR ranks higher than all three of the other candidates, but his 4.0% HR/FB rate is a sign of some luck and it looks like Gonsolin is due for regression in 2021.
Williams gave up just one earned run all season long, and his changeup was the best pitch in the league this season. His 1.4 fWAR in 27 IP is high, and in a 162 game season projects to be just under four. A four-win season from a reliever is unheard of in modern baseball. The 26-year-old rookie just had one of the best seasons from a relief pitcher that we have ever seen, posting a 0.33 ERA, making him my choice for the NL Rookie of the Year Award.
My ballot:
1. Devin Williams (MIL)
2. Ke'Bryan Hayes (PIT)
3. Tony Gonsolin (LAD)
4. Alec Bohm (PHI)
5. Jake Cronenworth (SDP)
American League Finalists: Kyle Lewis (SEA), Luis Robert (CWS), Christian Javier (HOU)
Javier helped lengthen the Astros rotation with 2019 Cy Young award winner Justin Verlander only pitching six innings, but this is a two-man race, as it has been all season long. This is going to be a test of whether the BBWAA values offense or defense more, as Lewis was a significantly better hitter and Robert's defense was among the best in the league.
The 25-year-old Mariners rookie built upon a strong debut in 2019 with a 126 wRC+ and 1.7 WAR in 2020. He wasn't great in the field, but with Jarred Kelenic working his way up through their system, Lewis projects as a future corner outfielder/DH for an up-and-coming franchise. He has also had a .321 xwOBA in his career and has only shown signs that he'll improve in the coming years.
Luis Robert was a highly anticipated call-up who has been one of the top prospects in baseball for a couple of years. The 23-year-old did not disappoint in 2020, pairing elite defense with average offense to put up a respectable 1.5 WAR in his rookie year. He had a low batting average at .233, but an 8.8% BB rate for a rookie is promising. Robert had a great rookie year, but I think this award will (and should) go to the Mariners' centerfielder.
Some other players that should receive votes are Twins' and A's pitchers Randy Dobnak and Jesus Luzardo.
My ballot:
1. Kyle Lewis (SEA)
2. Luis Robert (CWS)
3. Jesus Luzardo (OAK)
4. Randy Dobnak (MIN)
5. Christian Javier (HOU)
Follow me on Twitter at @ValentinasJames for more of my content! Don't forget to join our OT Heroics MLB Facebook group, and feel free to join our new Instagram – @overtimeheroics_MLB. Also, take a listen to our baseball podcast, Cheap Seat Chatter!. We'll see ya there!

Come join the discussion made by the fans at the Overtime Heroics forums! A place for all sports!